Representative photo: A still from Yeh Jawaani Hai Deewani
Holi hair care — how to protect your crowning glory
A bhang hangover isn't the only thing to be wary of
Holi is all about celebrating the excess — of food, colours, Chachaji's homemade bhang and listening to 'Rang Barse' on loop for 6 hours. It's also that time of the year when Roadside Romeos inch closer to you under the pretext of "Bura na maano, Holi hai".
But they are not the only ones to steer clear off. The aftermath of Holi is just as colourful, complete with bhang hangover, pink ears like a langur, food babies, and most importantly, bejaan baal.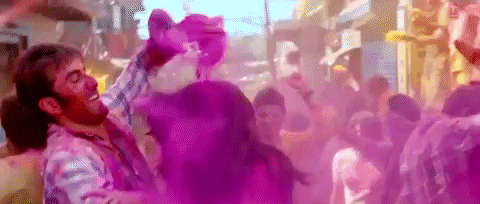 But instead of self-imposed house arrest, we turned to trichologist Dr Jeet Gore, Jean Claude Biguine to break down the best holi hair care rituals to combat the damage.
"Since we play Holi outdoors, the sun's UV radiation can have an adverse effect on the tresses. It takes away all the moisture from our hair and leaves it dry," he says. "Colours contain mica and lead. They irritate our scalp, damage the cuticle and lead to hair fall in the long run."
The Holi hair care regime we all need
Pre-Holi regime
Oil your hair and scalp creates a coating that prevents the colours from penetrating. You can use either almond, olive or coconut oil.
Hydration is key. Your hair needs more water than your body does. Drink 3-4 litres of water in a day. Wash your hair in lukewarm water.
If possible, cover your hair when you step out to play. It's a better prevention technique than all the cures available.
Post-Holi regime
Use any moisturising conditioner which has natural ingredients to protect your scalp and hair. Additionally, you can add drops of lemon to your shampoo to avoid all sorts of scalp infections.
Don't be too harsh on your hair. If you can't wash all the colour at one go, try a second round the following day.
Professional haircare treatments
Hair spa and scalp treatments are very different things. Hair treatments will nourish your tresses and condition them, but it won't care of the damage to your scalp. It's advised that you go for a scalp exfoliation treatment or a scalp detox session in addition to your hair spa routine.
DIY nourishing hair pack
You can also take matters into your own hands and raid the kitchen for a scavenger hunt of ingredients. For this DIY hair mask, all you need is yoghurt, honey, oil and lemon.
3 tsp yoghurt
1 tsp honey
1 tsp olive oil
Few drops of lemon
Mix the ingredients and apply it on your scalp and hair.
Leave it for 30 minutes, and rinse. The pack deeply nourishes and moisturises your hair.