Photo: Mayank Mudnaney
We tried 8 internet-breaking makeup remover hacks for every skin type, and the votes are in
Our Tweak writers sacrificed their faces for this honourable cause, so you don't have to
As life inches towards normalcy, and we're cautiously venturing out of our homes to socially-distanced brunches and post-vaccine birthday parties, you can spot the Carpe Diem in the air. Peek into your favourite neighbourhood restaurant on a Saturday night, and you're likely to see fresh-faced, mask-free people indulging in good food and even better alcohol. This newfound feeling of freedom has also unearthed a treasure that we'd stashed away in the dingy corner of our wardrobe — our makeup kits. Because who knows when life will end so why save that Charlotte Tilbury lipstick for the aliens who will probably invade the planet soon?
On one hand, we're itching to raid our makeup kits and use every expensive product that lay untouched for months. But when it comes to taking it off, the pandemic laziness kicks in. Numerous pillowcases and bedsheets have faced the brunt of this.
To cope, we decided to put our doomscrolling on Instagram to good use and try out all the whacky, DIY hacks people use to remove their sharpie-like liners and smudge-proof lipsticks after having a night…err, day out. Our Tweak writers sacrificed their faces for this honourable cause, so you don't have to.
We turned to homemade versions of makeup removers like honey mixed with baking soda and coconut oil that may or may not require you to scrub your face raw.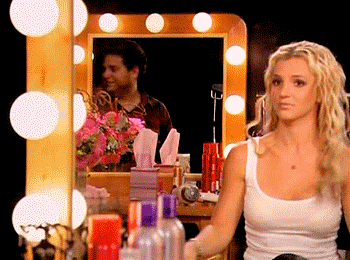 We tried and tested 8 DIY makeup removers
For those who think their skin isn't clean until they scrub it
Honey+ baking soda
IG reels promise that this mask of honey and baking soda will be a great cleansing and exfoliating agent to take off stubborn makeup because of honey's antibacterial and humectant properties, and baking soda's skin cleansing effect.
Although it did remove our digital writer Rishika Singh's makeup successfully, it also ended up giving her sensitive skin a smattering of zits.
"Yes, I know all the skincare aficionados out there will say the joke's on me for using a scrub on my sensitive skin, but what can I say? I was feeling hazardously adventurous," she says.
Unless you too want to end up with a bucketful of pimples on your face too, Dr Madhulika Mhatre, consultant dermatologist at Wockhardt Hospital, says, "Always do a small test patch behind your ear or on your neck area to see if it suits your skin. People with sensitive or dry skin should avoid this form of makeup removal as it may cause irritation."
Ingredients:
1 tbsp of your choice of raw honey
1 tsp baking soda
Method: 
Mix and massage the mask onto your face. Let it sit for 5 to 10 minutes, and then rinse off with warm water and a cloth.
Tweak Tip: This method should not be used on the delicate skin around your eyes.
Brown sugar+ vegetable oil
According to the makeup blogger community of YouTube, a mixture of brown sugar and vegetable oil is the Taimur Ali Khan of homemade scrubs.
Singh says, "This scrub was considerably less harsh than its counterpart, but the friction from the brown sugar granules still caused a slight irritation. No more physical scrubs for me from now on."
Mhatre says that brown sugar, being a mechanical exfoliant, can act as an irritant for people with dry and sensitive skin.
She added that acne-prone people should steer clear of using oils on their faces. "If you have acne-prone skin, using any kind of oil on the face may aggravate it"
Ingredients
1 tbsp. brown sugar
2 tbsp. coconut oil
Method
Combine the brown sugar, vegetable oil in a jar using a spoon or stir stick. Apply to the skin in very gentle circular motions using your hands or a brush.
Dr Rinky Kapoor, cosmetic dermatologist and dermato-surgeon, The Esthetic Clinics, says you must look out for signs of over-exfoliation, like recurrent breakouts, irritation, redness, inflamed skin, dry complexion, and flakiness.
Tweak Recommends: 
When it comes to oily skin, over-exfoliation may dry out the skin, which increases sebum production. Try Dermalogica Mini Daily Microfoliant (₹975)
If you have dry skin, remember to use a decent moisturiser after you exfoliate. Try Fabindia Neem Tulsi Gel Scrub (₹360)
For combination skin, try Kama Ayurveda Kumkumadi Brightening Ayurvedic Face Scrub (₹945)
For the worshippers of oil-cleansing
Cotton pad wipes soaked in baby shampoo+ olive oil + castor oil 
When our lifestyle writer Mitali Shah decided to take up this challenge, she knew that her sensitive skin would not react well. "I knew using anything except my trusted makeup remover was risky. But after taking on this challenge and watching countless DIY makeup remover videos on YouTube, I couldn't help but try this one out."
Ingredients:
2 tbsp baby shampoo
1 teaspoon olive oil
1/2 cup water
1 teaspoon castor oil
Cotton pads
Method:
Pour the water into a bowl
Add 2 tbsp of baby shampoo (she used Johnson's No More Tears baby shampoo)
Add 1 tsp of olive oil and 1 tsp of castor oil
Soak cotton pads in this mix and then store them in a jar. Pour the remaining mixture into the jar.
Shah's experience with these DIY makeup wipes was bittersweet. "The cotton pads removed the makeup easily. The lipstick came off without me looking like a chimpanzee. But my face felt like a thali at a Punjabi restaurant — slick and sticky. I half-emptied my face wash trying to wash it all off and then sat with an ice pack on my face for the next hour to soothe the irritation. The next morning, a zit was lazing around on my chin."
While her sensitive skin didn't react well, according to makeup and hair expert Neha Parmar, this combination of oils would suit someone with dry skin. Parmar says, "The benefit of oil cleansing is that it hydrates the skin. It cleans out dead skin and dirt, along with makeup."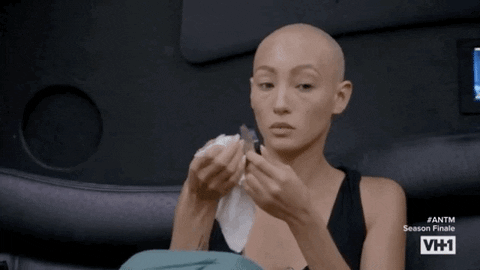 Coconut oil
Parmar says oil cleansing is one of the most effective ways to remove makeup. Even so, Shah was wary of using another oil on her face. But her experience with coconut oil was far, far better than the DIY makeup wipes.
She says, "I put some coconut oil on a fresh cotton pad and started wiping my lips. The stubborn super-stay matte lipstick I had on didn't stand a chance. Neither did my foundation or concealer. It melted like ice cream on a hot summer day."
But her eye makeup was a different story. "It took me a few tries to get all the mascara lumps off, and the coconut oil burned. In hindsight, I probably shouldn't have gotten impatient and tried to scrub it off."
Parmar says, "Coconut + castor oil is a good combination and particularly works well for dry skin types. It could be a little heavy for sensitive skin. But generally, any good oil works well to get rid of the makeup."
Try these oil-based makeup removers that won't leave your skin feeling raw.
Tweak Recommends: 
Using an oil-based make-up remover may not necessarily be your first choice if you have oily skin, but the DHC Deep Cleansing Oil (₹2,999) is a cult favourite.
If you have dry skin, the Forest Essentials Floral Make-Up Remover Oil (₹975) will lock the moisture in and leave you with a fresh, hydrated glow.
If you're looking for a good oil-based makeup remover for your combination skin, we recommend the Biotique Almond Oil Soothing Face and Eye Make-Up Cleanser (₹158)
For the ones who love having soft, slippery skin
Shea butter
Shah says, "After using a shea body butter most of my adult life, I can tell you that it works harder at hydrating your skin than most of us do at our jobs. Shea butter has antioxidant and anti-inflammatory properties. It is packed with vitamin A, E and F that leave your skin feeling as supple as a baby's cheeks."
Until she was presented with this challenge, she had never thought of using shea butter as an effective makeup remover.
After being convinced by various blog posts, she started by emulsifying some shea butter in her palm and applying it all over her face. After letting it sit for about a minute or so, she wiped it off with cotton pads.
Shat says, "Using shea butter after all the oils was a refreshing change. My skin looked moisturised and not greasy. The face makeup came off in two or three swipes. But my eyes were on fire and the lipstick spread. Before I could even realise what was happening, my chin matched my blush."
Despite the lipstick fiasco, it's a good product to use on all skin types, especially dry or combination skin. Shah said she would probably use it again as a lazy girl hack.
Vaseline petroleum jelly
When Shah saw someone on Youtube wiping off their eye makeup with Vaseline, she was admittedly frightened to try it. While it looked like the girl in the video had waved a magic makeup removing wand, she had a feeling it wouldn't work quite so well.
Shah says, "I started out by applying some Vaseline to my eyes and lips, and massaging them like it was shown in the video. Once the product on my face changed colour and turned grainy, I took a cotton pad and wiped it all off. To my surprise, I was wrong. Not only did Vaseline take off my eyeliner and mascara easily, it didn't burn my eyes. My lips felt softer than the cotton I was using."
Parmar believes that the best way to remove makeup is to double cleanse. She says, "Let it (the product) sit for a minute or two, then gently take the makeup off with a cotton wipe or simply cotton. Finish with your face wash."
Tweak Recommends: 
For oily, acne-prone skin the Embryolisse Lait-Creme Concentrate (₹3,740) will work wonders. Parmar says, "Not many know the multi-functionality of this amazing creme. It's a personal favourite. Commonly used as a primer or moisturiser. Very few know its magic as a makeup remover."
Cream-based makeup removers lock the moisture into your dry skin. We recommend the Kaya Hydra Cleanse Makeup Remover (₹196)
For combination skin, try the Plum E-Luminance Simply Supple Cleansing Balm (₹409)
For the water-loving babies
Aloe vera gel
Tiktok has time and again stuck up for the all-curing powers of aloe vera gel. While aimlessly scrolling through skincare TikToks, Singh saw someone use aloe vera gel to remove their makeup. Putting herself on the line, she decided to don a full face of makeup just for this experiment.
"Although it didn't remove the makeup completely, the aloe vera gel felt like an ice cream sorbet on my skin after the ordeal of the Great Scrubs From Hell," she says.
Not just for burns, ladies. Aloe vera is great if you have oily skin and don't want to make it worse. It'll get your makeup off just fine, and is recommended for tough-to-remove mascara. It's very gentle on the skin, especially around the eye area, and will provide a non-greasy moisturising effect. As an added bonus, if your eyes are feeling irritated or puffy, the aloe will calm down any inflammation and help decrease redness.
According to Mhatre, aloe vera gel has excellent moisturising properties, however its use as a facial cleanser or an effective makeup removal agent has not been proven. "It is advisable to use a suitable cleanser, followed by a face wash depending on your skin type, then use an aloe vera-based gel to seal in the moisture and hydrate the skin," she says.
If you think it's normal for aloe vera to make your skin numb, think again. Mhatre says the usage of aloe vera gel must be discontinued immediately if it is causing itching or burning your skin.
Ingredients: 
Method:
1. Cut an aloe vera leaf down the middle and remove all the (useful) goo from it. Make a paste of this by mixing with water and apply it to your skin in a circular motion.
Tweak Tip: If you're too lazy to make the aloe vera gel from scratch, we recommend you buy Lakme's 9 To 5 Naturale Gel Makeup Remover With Pure Aloe Vera. You can also invest in this cold-pressed aloe vera gel by Vilvah if liquid gels are not your cup of tea.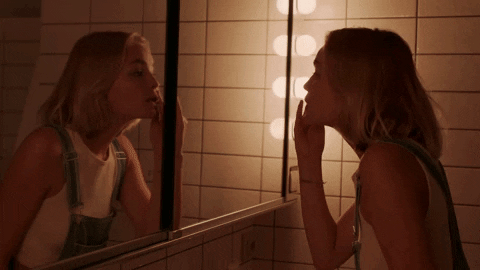 Rose Water + glycerin
Convinced by the beauty bloggers on Facebook espousing rose water as a mood enhancer, Singh was pushed to try this concoction of rose water and glycerin for makeup removal.
"This mix does absolutely nothing to remove makeup — or sad thoughts — unless your definition of makeup is a tinted lip balm that can masquerade as a blush and eyeshadow," she says.
But she does vouch for the toning capabilities of rose water. So does Kapoor. She says using a facial toner can help clean your skin in a natural way, and remove dirt and other impurities.
Mhatre agrees. "It works as an excellent toner and helps clean the pores of oil and grime. A combination of glycerine and rose water works well together because glycerine provides hydration and moisture, while the rose water acts as an astringent."
Ingredients
1 tbsp. glycerin
1 tsp. rose water
Jojoba oil (optional)
Instructions: 
Take both glycerin and rose water in a small bowl and mix them well together.
You can add a drop of jojoba oil to this mixture if you have dry and sensitive skin because of its anti-inflammatory and antioxidant benefits.
Tweak Tip: Always conduct a patch test before using essential oils.
Instead of DIY options, you could try these Tweak recommendations.
Tweak Recommendations: 
The Clinique Take The Day Off Makeup Remover For Lids, Lashes & Lips (₹2150) will clear away your stubborn eye makeup and lipstick without leaving a greasy residue. It's ideal for someone with oily skin.
For dry skin, invest in Bioderma's cult-favourite Sensibio H2O Makeup Removing Micellar Cleansing Solution (₹990). 
If you have combination skin, try the Neutrogena Oil-Free Eye Makeup Remover (₹1,439).