Photo: A Still from Conference Call: The Musical
India's first Zoom musical is exactly what you've been dying to tell your boss
Is this the new normal?
While the world stares at a common horror story, Coronavirus, the entire workforce is united by another nightmare: morning conference calls. You can mute yourself, turn off the video, but you cannot escape them. So put your professional face on and suck it up, we tell ourselves. Our misery has found creative expression in what is, arguably, the country's first Zoom musical.
Musicians Tejas Menon and Dinkar Dwivedi collaborated with four other friends to produce the 12-minute Conference Call: The Musicall! that reveals the true story behind every Zoom meeting.
The production was mounted entirely on MS Word, Google Drive, Studio One, Adobe Premiere Pro, Adobe Photoshop and WhatsApp.
"I have always wanted to write musicals and have also written a few bad ones. During lockdown, the musical bug bit me again and I took the one common experience most of us are having – Zoom calls with clients – and decided to explore the idea," says the songwriter, who wrote five numbers for the Zoom musical in four days.
They further charted out a script – replete with a bad boss, tired employees and their unfulfilled dreams — contacted their friends and shot it in isolation.
"It took us two months to put this together, and none of us have met in the last two months. Limitation certainly boosts creativity," Menon adds.
His Zoom musical raises the second question of the hour (first one being when will we be Corona-free, obviously): Is virtual filmmaking the way forward?
After all, we are already witnessing movie releases on Netflix and Amazon Prime Video. Perhaps, they'll even  begin making the movies from their couch.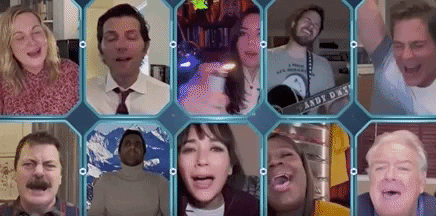 Menon responds in the affirmative. Judging from the success of the Zoom musical, he believes that when there's a crisis, there's an opportunity.
And this new working style will benefit smaller, independent businesses too. "Not everybody wants the big-budget slick productions. This lockdown has given creative people enough boost to rethink approaches. There's this new medium to explore, and hopefully, we will see more of this in times to come."