A still from Kapoor And Sons/ Dharma Productions
The party survival guide for humans who hate them
Faking your way to a fun time
"My dog ate my paperwork, and I have to spend the evening redoing it." "My sinusitis gave me a migraine and now I have blurred vision." I have excuses ready in the evil mastermind part of my brain for when I need to reject a party invite.
An ambivert at best, I like going out to big parties and weddings where you can blend into the crowd, or just hang by the buffet.
But those house parties that are too big for you to know everyone, yet small enough for long awkward silences to feel like the invisible elephant farting in the room?
Or those special occasion do's that start out intimate but end up with the baby-to-be blessed by the husband's sister's mother-in-law?
Those are the worst.
Maybe it stems from being a quiet kid who used to curl her hair in a corner at parties, instead of mingling with other sugar-fuelled monsters. Maybe it was the fact that my father caught me being a snob and threatened to shave me bald.
My defence? Faking my way through a social gathering I don't really want to be at.
Husband's friend's barbecue, that one time your BFF decides to mesh groups, a dinner at your kid's overachieving classmates' home — no matter the occasion, here's a party survival guide for humans who hate them.
Know before you go 
New-age parties can be weird. Boyfriend bonfires, crystal healing sessions, pet's birthday — you might find yourself at a party where there's no alcohol and more cats than you signed up for.
Make like the inimitable OZ, and find out if it's a "gathering, shindig or hootenanny."
Introverts, take a minute to decide if the party is really worth the effort. If it is, meditate to calm down and arm yourself in advance.
Zero in on a party pal
Think of this person like a skydiver's parachute. Your rescue plan when you're about to go splat.
Partner, reliable friend or acquaintance who hates parties as much as you — going to a party together is an unspoken agreement that you're each other's go-to while there.
The key is to find someone who understands your party vibe. You enter together, mutually separate, and can flit back to each other when you run out of things to talk about with others.
Anyone who doesn't agree is obviously an extrovert who needs valium.
Alternately, open up about your party-fear, hone in on someone else who is alone and looks awkward, and your vulnerability might just be the glue that holds you two together.
Put your helpful hat on and play to your strengths
There's nothing worse than finding yourself awkwardly staring down at your phone as the conversation around you dies down. The moment, in a panic, you pull out the, 'You know the Govt…"
To avoid starting a fiery political debate, put your helpful hat on.
Play to your strengths. Ask the host if you can bring over snacks, help the host circulate said snacks, become the party's unofficial plandid photographer, offer to play DJ or bartender so you have something to do with your hands other than wringing them.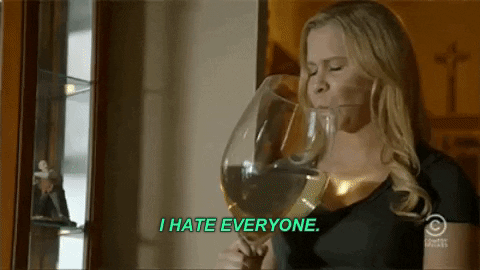 Come prepared
Mad breakdancing skills and the ability to drink jaeger shots without puking on someone, is great, but you need more to survive a party.
Embrace small talk, even if it makes you more uncomfortable than watching Elon Musk do a striptease. Read the news, get updated on pop culture. The more small talk you make, the higher the chances of discovering which of your fellow party-attending heathens you have most in common with. This exercise also works at finding your next party pal.
Pro-tip: Carry a bunch of board games, or teach the group drinking games that'll make you all forget that you're trying to survive a party. Everyone likes that. Just not so much the next day.
Narrow down on spot to take a break (read: hide)
There's only so much small talk you can make, only that much you can dance without exposing those pit stains.
Those memes about your social battery running out are *so* real. So scope out the area, and find a nice quiet spot to take a break in.
Balconies are great, but bathrooms? Even better.
If you get caught taking way too many trips to the loo, point at the nearest snack platter, then your stomach… and wince slightly.
Insinuating the host has poisoned you will guarantee you probably won't be invited to their next soiree, anyway.
Have a solid escape plan – go global
Ghosting isn't just for cowards on dating apps. Or for the lady in the white sari.
Get acquainted with the Irish Goodbye, aka, the French Exit — slip out without saying goodbye.
Send the host a text the next day thanking them for a good time.
If questions about your whereabouts arise, just go with the same thing you've been telling your mum about curfew since high school, "I was there the whole time."