Zeenat Aman and Dev Anand in a still from Hare Rama Hare Krishna
The Zeenat Aman you didn't know existed
Bollywood's bad girl returns to acting after 15 years to play Kasturba Gandhi
In a sea of pativrata, sari-clad sanskari women of the '70s, actor Zeenat Aman stormed in like the much-needed siren of rebellion when she played the chillum-puffing flower child in Hare Rama Hare Krishna.
No pallus attached, the femme fatale embraced all the 'vices'. She drank and smoked (cigarettes and marijuana), fought bad guys, and was in no mood to please the patriarchy.
Bollywood didn't know what box to slot her into, and Aman became every director's pet experiment. She went from playing a hippie to essaying Bollywood's Bond girl in Don and followed it up with her sultry village belle act (with a burn scar on her face) in Satyam Shivam Sundaram.
In another ahead-of-its-time experiment, Insaf Ka Tarazu, the actress played a rape survivor. Aman cemented her place in the industry as the damsel who sent men into distress.
She was the sex symbol whom Indians loved to watch on screen, but weren't the most comfortable with their wives becoming a version of Aman.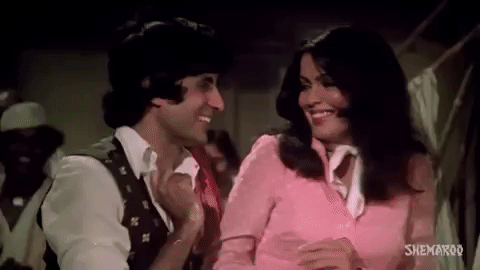 Earlier this month, when I met the actor, she was excited about her latest experiment.
In director Saif Hyder Hasan's historical play, Dearest Bapu, Love Kasturba, Aman will play the titular role of Gandhi's wife alongside Arif Zakaria's Mahatma.
The play will premiere on February 21 in Mumbai before making pit stops at Delhi, Hyderabad and Kolkata.
Zeenat Aman: Mrs Robinson to Mrs Gandhi
It's the first time in 15 years that we will watch the veteran actor take centre stage thanks to "the dearth of age-appropriate roles" that came her way.
The character came as a shock to her. "My image is quite different, you know. People remember me as the bold temptress. Naturally, I was intrigued when Hasan narrated the script to me," says the actor in her lilting American accent.
Our minds also struggle to process Aman in a not-so glamorous role, too. Even in her last outing, she was true to her filmography, and played Mrs Robinson, the ageing seductress, in a stage adaptation of The Graduate.
But we owe this mental hurdle to the fact that our history curriculum didn't reveal much about Kasturba.
It took her months of research and reading to understand the "invisible force" behind Gandhi's life and decisions.
Kasturba was a little girl when she got married. It was inculcated into her psyche that she had to be the perfect, model wife. "But within the parameters she was raised in, she was opinionated and rebelled for the right reasons. That's what makes her modern," she says.
In fact, Gandhi has written in his autobiography that he got the ideas of Satyagraha and non-violence from his better half.
Her experiments with truth
Aman believes that Mrs Gandhi is the first character of its kind that she has been offered. Perhaps, when you've spent most of your career reinventing the "good bad girl" stereotype and fans remember you as "the girl who did bad things to people", it takes a 15-year break, and a diametrically opposite character to leave a more honest depiction of your core for the audience.
"I've been traumatised in my life on several occasions, but I never lost my integrity. Of course, we all have our flaws, but like Kasturba, I believed in honesty. I identified with that aspect a lot," says Aman.
During our chat, I couldn't help but confess how she gave me my first career goal when science and math only presented me with nightmares.
At 14, I watched Dum Maaro Dum on TV, and wanted to be a hippie. I incessantly researched Timothy Leary, Purple Haze and LSD. Of course, the 8th grader had no resources to find the 'stuff' anywhere except for Google.
These aspirations caused my parents' insomnia.
She laughed before convincing me that her new character will offer life goals approved by all. "Your parents won't be troubled when they see me play Kasturba Gandhi," she laughs.