Representative photo: Pexels
Want to build a home bar that's the envy of your social bubble?
For those who like Piña colada and getting caught in the rain
For many of us, having a bar at home meant papa's not-so-secret, double-locked liquor cabinet. The more…trusting parents had a more elaborate set-up. Bottle-lined shelves stretched across a wall and a very particular kind of crystal glassware that was off-limits for our butterfingers.
When you first moved out of your parental home and into your own place, having a bar at home translated to bottles of wine and Old Monk in a corner of the kitchen which would get washed and recycled into water bottles. Quickly stashed away before any family members came to visit. You narrowed down on a favourite pub to hit for happy hours with friends, the title song of Cheers playing in your mind every time you walked through those familiar doors.
As the outside world started shutting down and we bid adieu to our favourite watering holes, we resorted to day-drinking our sorrows away (responsibly) . At that moment, it hit us that we could recreate our home pub feeling at home. And it doesn't have to be very extravagant either. It comes down to how much of an effort (and money) you want to put into it.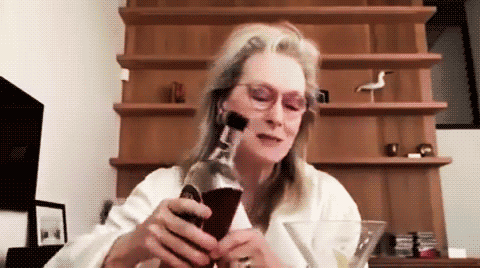 You can go all out and invest in teakwood bar islands with all the thrills and frills of fine glassware and well-aged spirits. If you don't want to spend crazy amounts of money but still looking to elevate your adult beverage experience — so you don't feel like a college student sneaking whiskey in a coffee cup anymore – there's something for you too.
Picking the right products to put together a bar at home will give you the option to have a lazy day with your partner with premixed drinks that require minimal effort, but also have all the parts you need to tickle the fancy of your inner mixologist who wants to master the art of blending a fine cocktail.
Our selection caters to every mood.
9 products to help you create a world-class bar at home
Trolley bar 
Take the party with you to whichever room you decide to vegetate in for the day. This mango wood piece works if you're looking for something functional, or to add to your home decor. It's got six cubbies, three slots to hang up wine glasses and two trays to hold all your spirits, snacks and glasses.
There is a chance that the bottom tray will become a nap spot for your pet. So it's really a win-win for everyone.₹17,606 (on sale)
Space-saving wall-mounted rack
Creating a bar at home as parents can be a bit difficult when you have inquisitive kids who want to get into everything. You'll need something out of reach or pretty indestructible. Taking your adult beverages to the wall would be the best way to stay safe and still be able to partake in some well-deserved R&R.
While technically called a wine rack, you can basically store bottles of your drink of choice. This one is also more budget-friendly and ideal for people who are low on space in their homes. ₹4,490 (on sale)
Bar tools set
What's a bartender without his tools? This particular set from Bar Box is a 13-piece stainless steel kit, that has everything you need whether you like your drinks shaken or stirred. It's got a stand as well to keep all your tools in one spot after you're done with your cocktail experiments.
You can finally try making all the extravagant cocktail recipe reels that keep popping up on your Instagram's 'for you' page. This would also make a great gift for your friends waiting to unleash their inner mixologist. ₹2,550
Flavoured tonic 
Sure you could go for standard, simple tonic water for your drinks, but why not get playful and add a new flavour to the mix? We're particularly fond of Sepoy & Co's tonic waters.
You can get a regular tonic water with a hint of citrus or mix things up by opting for the others in their selection, which feature spiced grapefruit, hibiscus, mint and elderflower tonic water. Buy them in a pack of 6 or 12, or you can try their tasting box which includes tonic waters and their ginger ale too. ₹570 (pack of 6) and ₹1,140 (pack of 12)
A great(er) gin
A cool gin and tonic on a hot day – you can never go wrong. Or maybe you prefer it the Snoop Dogg way with juice. Your gin-tellectual friends will tell you that good gin is all about the juniper.
This one in particular uses juniper and citrus sourced from Macedonia and Spain, fennel, coriander and ginger from Goa and New Delhi. Greater Than is one of the most popular London Drys in the country. ₹1,450 approximately, check in with your local stores
Flavourful infusions
It may be time to raise the bar, and infuse your drinks with something a little extra. Otane makes customised infusions that mix amazingly with vodka, rum and gin. Their flavours are loaded with hibiscus, peach, spices and creamy vanilla.
All adding another layer of flavour and complexity to your choice of poison. We recommend adding a bottle (or two) of Laidback Scarlet and Sooper Spiced to your bar at home. Price on request
Cocktail mixes 
Lazy drinkers who want to remain energy efficient and lie back with a stellar drink, we recommend stocking up on cocktail premixes. You get more for less with the mixes from &Stirred and have many options to choose from.
They do single drink packs of most of the MVPs in the cocktail world – Bloody Mary, Cosmopolitan, Whisky Sour, Pina Colada, and more. Their bigger pitcher packs serve eight and they also make concentrated cocktail drops which can easily be added to any drink to add an extra flavour punch.₹50 – ₹600
Patterned whiskey glasses 
If you really want to feel like you're at a bar, in the comfort of your home, a special whisky glass will definitely elevate your experience. Hey, we'll take a drink from a coffee mug if we're lazy enough, but that might give the more prim drinkers high BP.
You can keep things simple with the ones from IKEA. If you want to indulge and invest in some beautifully crafted ones, each with a different design, then we say go for the set from Nicobar. (L)₹129 per piece and (R) ₹4,200 for a set of 4
Extra-large ice cube tray
There's something about these giant ice cubes that we find really amusing, but they're also really useful for those who like their drinks on the rocks. Well, in this case, it's one big rock.
It still fits perfectly into your whisky glass and because of the sheer size, takes longer to melt so it won't water down your drink and dilute the flavour. That also means it takes a little longer to freeze, so remember to fill it up well in advance. They're your regular ice tray's fancy London-returned cousin. Good sir, bring me my top hat and monocle, at once!
Pro tip: If you're using ice for cocktails, add some cut-up mint leaves and lemon zest to the water before freezing it. ₹349