Representative photo: A still from Ajab Prem Ki Ghazab Kahani
6 monsoon recipes we have saved for a rainy day
In the mood for chai, with a side of everything deep-fried
In all positivity, when it rains, it pours… chai with a heaping of Mummy ke haath ke snacks, pulled from her trusty book of monsoon recipes.
Farewell to summertime sadness means welcoming the deluge of rain-soaked memories.
Lost umbrellas, out-of-the-blue rainy days, monsoon playlists featuring 'Ek ladki bheegi bhaagi si' , jumping in puddles and stuffing your face with deep-fried anything.
Roads to the gym are flooded; raincheck after the cheat season ends.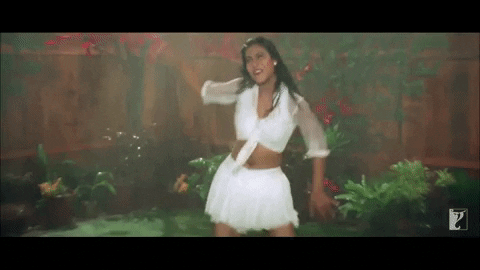 Adrakwali chai with mom's special bhajias gives stiff competition to cutting chai with pakodas outside the school gate. In college, chai-samosa with your first love is the stuff filmy blockbusters are made of.
Ultimately, you settle for the doodhwali chai-Maggi combo at your office canteen. Desperately wanting the day to end, while dreading the swim back home (Mumbaikars will agree).
This year though, the clouds have a shinier silver lining, as far as the commute is concerned. Pandemic means many of us are still working from home.
So choose your chai, breathe in some freshly brewed petrichor and storm into the kitchen to give a lockdown spin to our favourite monsoon recipes – the shapeless bhajias and no-one-can-eat-just-one pakodas.
6 monsoon recipes to satisfy your monsoon chai-time cravings
Parippu Vada by Chef Marina Balakrishnan of Oottupura
Trust these tiny dal vadas to test your self-restraining powers. And then see yourself fail as you gobble up a dozen every chai hour. These chana dal vadas are more addictive than our all-time favourite 4pm snack – butter chaklis.
Ingredients 
1 cup chana dal
¼ cup onion chopped
30gm ginger, chopped
5-6 curry leaves, chopped
1 green chilli, chopped
Salt to taste
Oil for frying
Directions
Soak chana dal for two hours.
Grind dal to a coarse texture without adding water. To the coarse chana dal paste, add green chillies, curry leaves and ginger. Mix well. Add salt.
Make portions in the size of a lemon. Flatten each portion.
Drop into hot oil and fry until golden brown. Serve hot with a chutney of your choice and some hot tea.
Palak Patta Chaat by executive chef Nitin Mathur, Taj Santacruz, Mumbai
Did someone mention chaat? While we've been ugly-crying for over two months now without Raju's pani puri and sev puri fix, here's an easy and healthy chaat option to DIY. Add to your monsoon recipes list, and unleash that Popeye energy with this spinach snack.
Ingredients
450gm spinach
150gm gram flour
50gm rice flour
5gm ginger, chopped
5gm green chilli, chopped
1/4tsp carom seeds (ajwain)
1/2tsp cumin seeds
1/2tsp turmeric
1/4tsp red chilli powder
20gm tamarind chutney
Coriander sprig for garnish
Oil for frying
Salt to taste
Directions
Remove 10 to 15 even spinach leaves, keep them aside. Shred rest of the leaves.

Take 50gm gram flour and 10gm rice flour. Mix with red chilli powder, turmeric, ajwain and a pinch of salt. Make thin batter to fry the spinach leaves.

In another bowl, mix shredded spinach with all the ingredients.

With above mixture, make small dumplings and steam. Crispy fry whole spinach leaves that were kept aside.

On a plate, keep two-three whole fried leaves, and present small pakodis beside them after tossing them in tamarind chutney.

Garnish with coriander spring.
Lamb Kheema Samosa by Prashant Issar, chef and co-founder, Ishaara
Nothing spells monsoon better than that steaming hot cup of chai and spicy samosas. Until of course, you add a generous helping of meat into the mix. Solve your protein intake crisis with these samosas and stop guilt-tripping yourself.
Ingredients:
300gm lamb (preferably boneless pieces from the leg)
2tbsp oil
2 medium-sized onions
2tbsp red chilli paste
1tbsp ginger garlic paste
¼ cup water
2tsp cumin powder
2tsp coriander powder
2tbsp dill leaves
2tbsp coriander leaves, finely chopped
Salt to taste
Directions:
In a pan, add oil. Add chopped onion and sauté lightly. To that, add ginger-garlic paste and red chilli paste. Add hand-pounded boneless meat and salt to taste.
Add coriander powder and cumin powder, water and cook.
When cooked, finish with chopped dill leaves.
Let the mixture cool down. Roll out readymade filo pastry and hold in a cone in your palm
Fill in the mixture.
Stick the open side with water and flour paste
Refrigerate for 3 hours.
Fry in hot oil or air fryer.
Thalaserry Masala biscuits by Chef Marina Balakrishnan
And there goes one item off your grocery list. At least for this entire season. Chai's oldest partner, biskoot, gets a spicy upgrade that will make you forget all the Britannias and the Milk Bikis of the world.
Ingredients
110gm wheat flour
110gm all-purpose flour
150gm unsalted butter
40gm castor sugar
1tsp baking powder
1/4 tsp salt
For the masala
6 dry chillies
2 green chillies
1 ginger, grated
1tsp peppercorn
1 sprig curry leaves
Directions
Sieve all the dry ingredients. Make a smooth paste of the masala without adding water.
Cream butter and sugar until smooth and add the masala paste into it.
Add the dry ingredients and mix well. Put the dough on a work surface and make it into a smooth ball.
You can put the dough between two parchment papers and roll the dough into a circle of 1-inch thickness.
Using a cutter, cut into desired shapes and bake at 180ºC for 25 minutes. Cool the biscuits on a cooling rack.
Serve with chai.
Masala Aloo Puri by chef Taruna Mav of Mom & Co.
Monsoon recipes without aloo puri is borderline blasphemous. They have already flooded your Insta feeds, now let them grace your kitchen and plate, too.
Ingredients
1.5 cup wheat flour
1 potato, boiled
1tsp red chilli powder
3/4tsp turmeric powder
1/2tsp oil (for the dough)
3tbsp milk
Salt to taste
Directions
Grate the potato. Mix it with wheat flour. Mix rest of the ingredients. Knead into a dough. (It should be slightly harder than a regular chapati dough).
Make small puris from the dough on a rolling pin.
Deep fry it in oil.
Serve.
For a healthier version of this monsoon recipes classic, make a paste of 1/2 tsp coriander leaves and 1/2 tsp mint leaves. Add this paste to the mixture along with 1/2tsp ajwain (carom seeds) before kneading. Make small parathas out of it with a rolling pin and instead of deep frying it, cook it on a pan like a paratha.
Arbi cutlets by Vernika Awal
While arbi may not be high up on our list of favourite vegetables, these melt-in-the-mouth cutlets from our curation of monsoon recipes will trick someone into having their month's quota of arbi in a day.
Ingredients:
250gm arbi/taro root boiled and peeled
1 finely chopped onion
1 inch ginger
4 garlic pearls
2 green chillies
2 tbsp roasted besan
1 tbsp bread crumbs (optional)
1tsp jeera powder
2tsp red chilli powder
1tsp coriander powder
Salt to taste
Oil
Directions
In a bowl, add the boiled and peeled arbi and add finely chopped onions to it.
Add coarsely pound green chillies-garlic-ginger, roasted besan and bread crumbs.
Add the dry masalas and mix.
Roll into small tikkis.
Keep aside in the fridge for at least 30 minutes.
Deep fry them in oil and serve with ketchup or chutney.