Photo: Prachi Palwe/Unsplash
7 modak recipes to make the most of Ganesh Chaturthi at home
Get the baggy clothes out, it's modak-top season
Ganesh Chaturthi preparations are no joke – the house needs to be scrubbed clean, new clothes have to be stitched, decorations have to go up, and all the sweatpants need to be pulled out from the depths of your wardrobes to get your modak marathon uniform in place.
Confused about the last bit on the checklist?
Well, that clearly means that you, Ma'am, are not a modak maniac.
The song, dance and dressing up that comes with Ganpati season — the Hindu festival which is celebrated for 10 days every year, is without a doubt, a joyful experience. But the sheer happiness that takes over as you see your mother unboxing moulds to shape your favourite sweet, and laying out an array of ghee tins is unparalleled.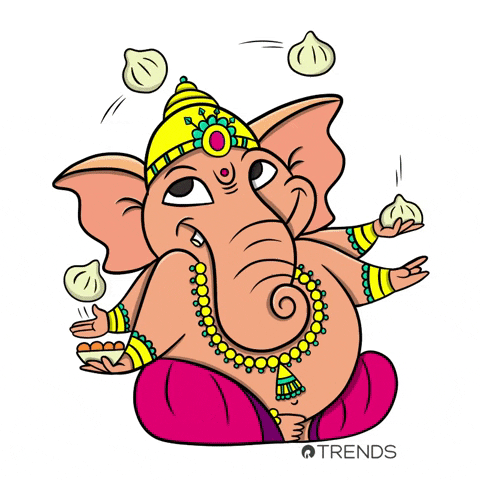 How can a modak not be the most beautiful thing to have ever happened to you?
The perfect little domes that look almost too good to eat, and the divine filling, so sweet, moist and flavourful, that it makes your toes curl – a modak is nothing short of an edible work of art.
So this Ganesh Chaturthi, we decided to make the most wonderful time of the year for modak lovers, even better.
From healthy to doubly decadent, we curated a list of unconventional modak recipes that will make your annual binge a little more dynamic.
7 modak recipes to try this Ganesh Chaturthi
Start strong
What werewolves are to a full moon, borderline maniacal modak lovers are to Ganpati season.
Once they set their eyes on the delicate domes, the bite-sized goodness is all they want and need.
For all these people, we've found the perfect start to your day – modak for breakfast.
This recipe combines the flavours of a widely loved breakfast staple – a healthy granola bowl – with misthan bhandar aesthetics to make for a healthy start to your day that will be punctuated with copious amounts of sugar.
Granola modak
Ingredients
2 cups granola with dry fruits
2 tbsp peanut or almond butter
2 tsp honey
1/2 tsp vanilla essence
Directions
Add the granola and honey into a bowl.
Then, heat the peanut or almond butter for 15 seconds to get a sauce-like consistency, and add it to the bowl, along with vanilla essence, and mix well.
Use a mould to shape them like modaks.
Recipe: Munchilicious/Instagram
Spice it up
So what if you don't like sweets?
Just kidding. Why are you doing this to yourself? Do you not like feeling happy aka a sugar-rush induced food coma?
Anyway, you do you.
Just so that you don't feel left out while your dessert loving friends enjoy their modaks, here's a spicy counterpart that will help you stick to your no-sugar diet.
Spicy steamed modak
Ingredients
For stuffing:
50 g sprouted moong (whole green gram)
1-inch-long piece of ginger
1 cup chopped coriander leaves
3 tsp chopped green chillies
1 tsp cumin powder
1 tsp coriander powder
1 tbsp jaggery
1 lemon
1/2 tsp salt
1 tbsp oil
A pinch of turmeric powder
For outer covering:
100 g rice flour
A pinch of cumin seeds
A pinch of salt
1/2 tsp oil
For garnish:
Basil leaves
Lemon slices
Cloves
Directions
For stuffing:
Put the ginger, coriander leaves, and green chillies in a mixer, and blend till it forms a smooth paste.
In a pan, heat oil and add the moong and the ginger, coriander, and green chilli paste.
Mix well and cook for about 10 to 12 minutes or till the moong is well cooked.
Add turmeric powder, salt, jaggery, coriander powder and cumin powder to the pan. Mix well and cook for five to six more minutes.
Take the pan off the flame and let the mixture cool entirely. Then mash the mixture lightly.
For outer covering:
Heat a cup of water in a deep pan, and add salt, cumin seeds, and oil to it.
When it starts to boil, add rice flour, and mix well.
Kneed the flour into a dough using a spoon.
Heat for 10 to 15 minutes or until the rice flour is cooked and looks glossy.
Take the pot off the heat and set aside to cool.
Divide the dough into equal portions and keep aside.
For preparing modaks:
Take a modak mould and grease the inner walls with very little oil.
Put a portion of the dough in the mould and press it against the walls to make a hollow covering.
Put a portion of the filling into the covering.
Seal the base with some dough, and remove it from the mould.
Repeat these steps for the rest of the modaks.
Place them in an idli steamer and steam for 10 to 15 minutes.
Garnish with basil leaves, cloves, and lemon slices, and serve hot.
Recipe: Tarladalal.com
Don't be afraid to experiment
What happens when a modak lover meets a mango lover? You get recipes worthy of Michelin stars.
This recipe combines your favourite fruit with your most-loved Indian sweet and throws chocolate in the mix. And as the American cartoonist Charles M. Schulz rightly stated – "All you need is love. But a little chocolate now and then doesn't hurt."
Mango and chocolate modak
Ingredients
1 cup milk chocolate, roughly chopped
3/4 cup mango pulp
1 cup dark chocolate, roughly chopped
Edible gold dust as required
Directions
Heat mango pulp in a non-stick pan. Bring to a boil on low heat.
Melt milk chocolate in a double boiler.
Add dark chocolate to the hot mango pulp, mix well, and let the chocolate melt on low heat. Remove from heat and mix till smooth. Transfer in a bowl and refrigerate to chill.
Stir the melting milk chocolate. Remove from heat and keep mixing till smooth and tempered.
Pour melted milk chocolate into individual modak moulds. Tap lightly and scrape off the excess chocolate with a scraper.
Refrigerate for 30 seconds.
Pour the chocolate back into the bowl from the moulds. Scrape off the excess and refrigerate for one minute.
Fill a piping bag with the prepared mango-chocolate ganache and pipe into the moulds, leaving a little space. Refrigerate for one minute.
Pour the melted milk chocolate in the left space in the moulds, tap lightly, scrape off the excess, and refrigerate till fully set.
Unmould, dust the chocolates with edible gold dust and serve.
Recipe: Sanjeevkapoor.com
Mix and match
It is absurd for a dessert-loving Indian to yearn for a beach bod.
Ain't gonna happen, Sheetal. And honestly, no beach vacation is worth giving up glistening gulaab jamuns for.
Things take a turn for the even more gluttonous when experimental Eelas decide to traverse borders and create offerings that will blow your mismatched socks off.
Shrikhand modak
Ingredients
1 cup hung curd
2/3 cup sugar
1 tbsp icing sugar
1/4 tsp cardamom powder
2 tbsp coarsely powdered nuts (cashews, pistachios and almonds)
1/4 tsp nutmeg powder
1/4 tsp saffron dissolved in 1 tbsp milk
Ghee to grease modak moulds
Directions
Cook the hung curd and sugar in a pan on medium heat for 10 to 12 minutes or till it starts leaving the sides of the pan.
Remove from the flame and transfer it to a bowl. Keep aside and cool for eight to 10 minutes while stirring occasionally.
Add the icing sugar, cardamom powder, nutmeg powder, powdered nuts and saffron, and mix well.
Divide the mixture into six equal portions.
Place a portion of the modak mixture in a greased modak mould to shape it. Do the same with the remaining portions.
Recipe: Tarladalal.com
Stay (kinda) healthy
Now you can inhale modaks by the kilo without feeling an ounce of guilt — meet the healthy Hetal version of the little parcels of joy.
Sugar-free momos
Ingredients
For stuffing:
2 tsp ghee
2 tbsp cashew, chopped
2 tbsp almonds, chopped
2 tbsp raisins
1 tsp poppy seeds
1/2 cup date, finely chopped
1/4 cup milk
1/2 cup milk powder, full cream
1/4 cup coconut, grated
1/4 tsp cardamom powder
For covering:
11/4 cup water
1/4 tsp salt
1/4 tsp ghee
1 cup rice flour, fine
Directions
For filling:
In a pan, heat half a teaspoon of ghee and roast the dry fruits until they are golden brown.
Then add poppy seeds and roast well. Add dates, mix well and cook until the mixture begins to combine. Set aside.
In a large pan, add a teaspoon of ghee, and milk. Stir well until the ghee and milk have combined entirely.
Then add the milk powder, mix well, and stir continuously on a low flame.
The mixture will thicken and in about eight minutes, it will begin to separate from the pan.
Keep stirring and mixing till the mixture begins to turn lumpy to form khoya.
Add coconut, the dry fruit mixture, and cardamom to the khoya and mix well.
Mash the mixture to make sure it is smooth.
For covering:
In a large kadhai, heat one and quarter cup water with a quarter of a teaspoon of ghee and salt, each.
Get the water to a boil on medium flame.
While keeping the flame on low, and add one cup of fine rice flour.
Mix the flour well with water, don't worry if the dough is dry.
Turn the flame off, cover and allow the dough to rest for three to five minutes.
Now transfer the rice flour mixture into large mixing bowl.
When the flour is still hot, knead with your hand to form a smooth and soft dough.
Prepare the modaks with the filling and place them in a steamer while leaving gaps in between.
Cover and steam the modaks for 10 minutes or till they begin to look shiny.
Recipe: Hebbarskitchen.com
Go for the gold
What's an Indian festival without some bling?
All Indian festivals have three things in common – good food, grand celebrations, and gold, gold, gold!
Dress your modaks up to ooze liquid gold with this recipe.
Caramel modak
Ingredients

For covering:
2 cups rice flour
2 tbsp refined flour
A pinch of salt
Hot water
1 tbsp ghee
For filling:
1 cup sugar
½ cup mixed dry fruits, finely chopped
Directions
Sieve the refined flour and rice flour, add them in a bowl and mix.
On the other side, boil water along with salt and ghee.
Once boiled allow to cool down a little bit.
Pour over the flour mix and knead into a dough.
Cover the prepared dough with a damp cloth or a muslim cloth. Set aside for 10 minutes.
Heat sugar in a pan on low heat and allow to caramelise. Add in the chopped nuts once the sugar is golden brown and of a liquid consistency. Mix well.
Transfer the prepared caramel mixture into a greased bowl and allow to cool down a bit.
Shape the filling into tiny round balls and set aside.
Divide the prepared dough into equal portions and shape into small lemon sized balls.
Make a cavity in the dough ball, add the prepared filling and seal the edges.
Shape using a modak mould.
Steam for 10 minutes, and serve immediately.
Recipe: Ranveerbrar.com
No paan, no gain
Everyone knows that one uncle who decides that it's time for paan right when everyone is ready to turn in for the night.
Instead of making the long drive to Pankaj uncle's paan wala, just give him a platter full of these gulkand-flavoured modaks.
It should take care of both his paan craving and your beauty sleep.
Gulkand modak
Ingredients
For stuffing:
1/4 cup gulkand
2 tbsp mixed nuts, chopped
1 tbsp desiccated coconut
For outer covering
2 cups mawa or khoya, crumbled
3/4 cup powdered sugar
2 tbsp rose syrup
Directions
For stuffing, combine all the ingredients, mix well, and keep aside.
For outer covering, heat a heavy bottom pan on low flame.
Add mawa and keep stirring for a minute, the mawa will start melting.
When it melts, add sugar, and stir for another minute.
When the mixture starts releasing fat, add rose syrup, and cook till the mixture starts to leave the sides of the pan.
Turn off the flame and transfer the mixture to a plate, and allow it cool.
When the mixture is still warm, gently knead into dough.
Divide the dough into equal portions, and make smooth balls.
Grease the modak mould with ghee and stuff a mawa ball in it.
Press the ball so as to cover the sides of the mould and make a cavity in the centre.
Fill in the stuffing and with a small portion of dough, cover the base of the modak.
Gently unmould the modaks and repeat with others.
Recipe: Ranveerbrar.com