Photo: Jennifer Pallian/Unsplash
We're spreading joy with 5 dips to suit every kind of snacker
Recipes that are healthy, decadent and even vegan — we got you covered
Indian households offer optimum conditions for serial snackers to thrive in. Barnis brimming with farsan, papads being dried on rooftops, an array of aachars to accompany your choice of finger food for the day – the possibilities are endless, but unfortunately the elasticity of our jeans isn't. But well, that's where tights come in.
Somewhere between the endless supply of usually oily, and always delicious Indian fare, a continental favourite moseyed its way in, and found a place for itself on the snack table.
Pot lucks, anniversaries, birthdays, and now everyone's Instagram feed – dips from hummus to guacamole and everything in between are now a permanent fixture on all special menus.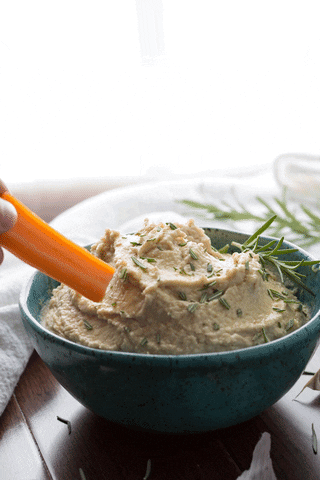 So we decided to offer our PR services to dips, aka aachar ka foreignwala cousin, and make them accessible to all snack lovers. These five dips are deeply satisfying and segregated based on your snacking personality type.
Go forth, and dip into our selection…
5 dips that cater to every kind of snacker
For the breakfast obsessed: Bacon and egg dip 
There is a special section of human beings who believe that there is no greater comfort than chomping down on breakfast food at all times of the day.
We see you. We hear you. We are you.
From working tirelessly to uplift pancakes to socially acceptable dessert status, to inventing a whole new meal (brunch) just so that you can eat a second breakfast half an hour after eating breakfast – we salute these crusaders and thank them from the bottom of our stomachs.
To convey our appreciation, our first dip is for those who just can't get enough of breakfast food.
Ingredients:
226 gm (8 oz) cream cheese, softened
1 1/2 cups sour cream
1 1/2 cups shredded cheddar, divided
1/2 cup bacon, cooked and chopped
2 tbsp chives, chopped
4 eggs, softly scrambled
Directions:
Mix softened cream cheese with one cup of shredded cheddar, bacon, and chopped chives.
Fold in the scrambled eggs.
Put the cheese and egg mixture in an oven-safe pan, and top it with the remaining half cup of shredded cheddar.
Bake at 350°F for 20 minutes.
Serve with hot toasted bread.
Recipe: Soyummy.com
For the calorie-counting snacker: Roasted red pepper dip
The smell of freshly fried pakoras wafts into your room, and just when get up to get yourself a handful, you stumble over your yoga mat and think about the 50 suryanamaskars you did this morning.
So you sit yourself back down, have a bite of your fat-free yoghurt, and get back to work with an ache in your heart.
But before this boils over into you writing an over-dramatic obituary in memory of finger food and snack time, we would like to offer you a recipe for a healthy dip that packs in maximum flavour and minimum calories.
Ingredients:
2 large red bell peppers
Low fat cooking spray
1/2 small onion, finely chopped
1 tsp ground coriander
1 tsp ground cumin
400 gms canned chickpeas, rinsed and drained
2 garlic cloves, peeled and crushed
1 red chilli, deseeded and roughly chopped
1 tbsp sweet chilli sauce
1/2 lemon, finely grated zest
Salt and pepper to taste
Directions:
Turn on grill to a high heat and cover an oven tray with aluminium foil. Place the bell peppers, whole, on the tray. Then place the tray in the upper-third section of your oven.
Let the peppers roast for approximately 20 to 25 minutes, turning them every five minutes, until they are charred black and crispy. Remove from the oven to cool.
Whilst the peppers are roasting, you can prepare the other ingredients, whilst still keeping a close eye on the peppers.
Spray a small frying pan five times with the low fat cooking spray and add the onion, coriander and cumin, stirring all together. Add small drops of water if the ingredients begin to stick.
Once the onion mixture has cooked, place it in a food processor bowl to cool.
Once the peppers have cooled enough to handle, de-seed and peel them, then cut them up into smaller pieces.
Add the pepper pieces, chickpeas, garlic, red chill, and one tablespoon of sweet chilli sauce and lemon zest to the onion mixture in the food processor bowl and blitz the mixture until as smooth as possible.
Check and season with salt and pepper and add more sweet chilli sauce if required.
Recipe: Neilshealthymeals.com
For the lazy snacker: No-cook beetroot dip
You love snacking, but you love your couch more.
So, understandably, your favourite food comes vacuum packed, and ticks zero boxes off your essential nutrients list.
We found a zero-effort and no-cook beetroot dip recipe that tastes divine, can be whipped up in no time at all, and also pumps you with your weekly quota of fibre, iron, potassium and vitamin C.
Ingredients:
250g beetroot
1/2 tsp ground cumin
2 tsp chopped mint, plus a few leaves for sprinkling
Lemon juice as per taste
3 tbsp half-fat crème fraîche
A few pinches nigella seeds (kalonji)
Directions:
Put beetroot and cumin in the small bowl of a food processor.
Season and blend until smooth.
Tip into a bowl, add the mint and lemon juice, then gently stir through crème fraîche to get a rippled effect.
Sprinkle with mint leaves and nigella seeds.
Recipe: Bbcgoodfood.com
For the vegan: Mushroom and spinach dip 
For all those who believe that creamy, rich, and delicious no longer exist in a vegan's food vocabulary, try this recipe.
A perfect substitute for cheesy dips, this packs a punch with all the flavourful herbs, and has a creamy texture all thanks to the divine cashew cream.
Ingredients:
For the cashew cream:
1 1/2 cups raw cashews
1 1/2 cups hot water
2/3 cup unsweetened cashew milk (or almond milk)
1 clove garlic
1 tsp kosher salt
For the mushroom mixture:
3 tablespoons extra virgin olive oil
450 gm mushrooms, cleaned and sliced (1/2-inch thick)
1 medium-sized yellow onion, sliced or chopped
3 cloves garlic, finely chopped or minced
1 tbsp coconut sugar
1 tbsp balsamic vinegar
1 tbsp fresh rosemary
3 cups packed fresh spinach
Directions:
Add the cashews and hot water to a glass dish or jar. Cover and let it soak for 20 to 25 minutes. While you wait, start making the mushroom mixture.
Add the oil to a large skillet and heat over medium heat. Add the mushrooms and onions and reduce heat. The skillet will be full but the mushrooms and onions will cook down.
Cover and let cook for about 10 to 15 minutes, stirring occasionally, until the mushrooms and onions have softened. The mixture will be a bit watery.
Stir in the garlic, sugar, vinegar and rosemary. Increase the heat to medium-high and sauté for a few minutes, or until the garlic has softened and the liquid in the skillet has burned off. Stir frequently and be careful not to burn the garlic.
Remove from heat and stir in the spinach. Cover and let the spinach wilt for a few minutes.
Meanwhile, drain your cashews and make the cashew cream.
Add the cashews to a blender with the cashew milk, garlic and salt. Blend on high until thick and creamy.
Once the spinach has wilted, add the cashew cream to the skillet and stir to combine. Serve warm.
Recipe: Crumbtobaking.com
For the sugar lover: Tiramisu dip
You are a pseudo social butterfly and make sure you attend every single birthday party you are invited for. Not because spreading joy is your thing, but because well, cake.
So, when it comes to finger food, you obviously gravitate towards the sugary option, but finding recipes for desserts as snacks can present a challenge.
We have just the thing you need.
Ingredients:
1 cup mascarpone cheese
1/2 cup heavy whipping cream, very cold
1/4 cup granulated sugar
1 tbsp Kahlua, chilled
Unsweetened cocoa powder for dusting
Directions:
Using a stand mixer or a hand mixer and a large bowl, whip mascarpone cheese on medium-high speed until fluffy, for about two to three minutes.
Keeping speed on medium high, add heavy whipping cream, granulated sugar, and Kahlua to bowl.
Mix for another two minutes or until dip can keep shape. Be careful not to over mix.
Scoop dip into serving bowls and dust the top with cocoa powder.
Recipe: Homemadehooplah.com