Representative photo: Joel Valve/ Pexels
How to build a butterfly garden in your concrete jungle
Metamorphosise your home
Perhaps, you don't know this yet, but you've been a natural AirBnB host for years now. Your window, porch and balcony don't feature on the vacation rental site, but your planters have been a comfy bedroom – a boudoir for butterflies. So what if you could turn this temporary layover into a permanent destination, a butterfly garden?
Naturalist-photographer Rizwan Mithawala did just that when he moved into his new apartment in south Mumbai. The conservation writer of Wildlife Conservation Trust used to spend his Saturdays at the Sanjay Gandhi National Park, studying butterflies and watching them. "The lockdown put an end to that. So my little butterfly garden has been my antidote to anxiety and stress. Both my passions — photography and butterflies — have come together here," he says.
Using just a window as real estate, Mithawala bought the largest mugs available in the market (with a capacity of almost two litres) and planted a bunch of host plants and nectar plants to attract the frequent fliers.
A butterfly garden ensures conservation of other native critters which follow in its footsteps. And as the showy insect keeps plant-hopping, it aids pollination, boosting the growth of native flora too.
It's also free therapy at your windowsill, as natural historian Sir David Attenborough says, "Spending time in nature can have positive benefits for mental health and well-being. Watching butterflies is good for you."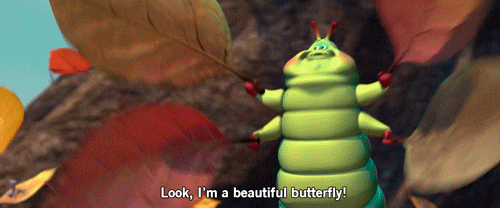 Tempted, we went to Mithawala flaunting our green thumb for some myth-busting and tips on being permanent roommates with butterflies.
Host protocol
You can live in a matchbox apartment in some metro or have a sprawling garden of Eden, the space doesn't matter. You'll find a butterfly buddy with a little help from larval host plants – the leaf beds of certain plants where the magical metamorphosis unfolds – that the young caterpillars hatch on and feed off.
But don't be that person who showers in strong deodorants and suffocates the roomies. Pesticides and insecticides can feel like a life-threatening asthmatic attack to these beautiful flying creatures.
On your next nursery run, you'll want to pick up these popular larval host plants:
Curry tree: The pantry staple is butterfly-friendly, low on maintenance and grows faster than the moustache you dread.
Kalanchoe: This one is a multi-hyphenate of the flora world. After attracting the butterfly to lay eggs on the leaves, it provides shelter to the caterpillar that burrows inside these leaves, and nourishes the caterpillar as it evolves. Entirely unrelated, Kalanchoe also helps cure kidney stones.
Passion vine: It's a passionate host to the Tawny Coster butterfly. This fast-growing, herbaceous climber grows several inches every day, and blooms best when exposed to sunlight.
Drop stronger hints with these nectar plants: vibrant flowers for butterflies to feast on energy-rich nectar.
Ixora: This tropical plant has a rich concentration of nectar and has the reputation to attract small as well as large butterfly species.
Pentas: All kinds of butterflies dig the Pentas. This attractive cluster of star-shaped flowers brims with nectar and adds a dash of colour to your landscape. With regular exposure to sunlight, Pentas blooms in both – ground and planters.
Blue snakeweed: You've seen this butterfly catcher for sure. The thick green leaves resemble a textured blanket, and they have a jagged margin. They bear deep blue and purple flowers. Fun-fact: Each nectar-rich flower opens only for 24 hours and attracts a host of butterflies.
Inviting butterflies and creating a home for them is a one-time investment, cheaper than the Apple watch you're eyeing.
"Each sapling costs around Rs 80-100. You can start with four plants. The mugs or pots won't cost you more than Rs 100 each either," Mithawala says. "Read about the different butterfly species to make it a better experience for both the winged visitors and you."
Know your native butterflies:
Common Mormon (Papilio polytes)
In 2013, it defeated the Common Jay to be elected as 'Mumbai's Butterfly'. This low-maintenance black-bodied flying insect with a flashy tail (females have red designs on their tails) is the easiest to attract. Flash a bunch of curry patta or lemon leaves, and it will come flying to you. They lay about 20 to 25 eggs on the surfaces of leaves.
Red Pierrot (Talicada nyseus)
Believe it or not, you've seen this small yet prominent butterfly with a colourful tail. The caterpillars feed and grow on Kalanchoe, which is easily available at any local nursery.
Common Jay: (Graphium doson)
This green-and-black beauty is the Pradhyuman of the butterfly community. It moves swiftly, rarely ever settling down, except for when it spots the leaves of the Ashoka tree, and decides to briefly halt to lay eggs.
The male Common Jays get a kick from mud rush. You'll often see them puddling on wet soil, in search of nutrients, which they then transfer to the females to improve the health of their eggs.
Tawny Coster: (Acraea terpsicore)
Like the Indian tourist on the global map, this species is widespread. You'll find Tawny Coster wherever you go. The one with the handsome orange brown wings flaps its wings at a glacial pace. It's slow, steady and striking to look at. The tawny-coloured butterfly also loves to trek up a good climber plant. Look for a passion vine, and you'll find a Tawny Coster close by too.