Representative image: Leslie Soto/ Unsplash
Step away from the McDonalds, this is how you can crack healthy weight gain
The extra fries aren't going to do much for your gut health either
Depending on who you ask, the most wonderful time of the year is either Christmas or the build-up to Diwali. But we want to nominate another holiday for the title: Alaska's Katmai National Park & Preserve's annual Fat Bear Week. Every year as bears gain weight and pad up their fat layer in preparation for the upcoming winter hibernation, a social media competition is hosted by Katmai which allows users to vote on who gets crowned 'Fattest Bear'. 
Bears eat about 40 kilograms of food per day, roughly the same amount of fruit your father buys after you told him you like chikoo that one time. When they surface post-hibernation they come out looking like lean, mean grizzly machines. You'd think there's an underground gym they're secretly hitting while lying to us about napping.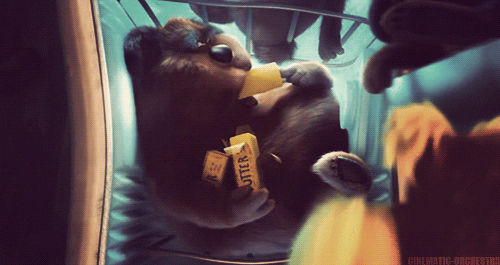 Via GiphyBut they undergo this amazing process of fat metabolism where nitrogen from waste urea is used to build proteins which adds to their muscle mass. Yup, bears are getting ripped while sleeping. If there was one superpower we'd sign up for it would be to binge, sleep, and arise ready for hot bear summer. 
Unfortunately for humans, it's a balance of a healthy diet and exercise that keeps our joints, muscles and organs healthy and functioning at their optimum level. Though there's one kind of body transformation that we don't talk about a lot and that's healthy weight gain. Maybe because most of us think putting on weight is so much easier than losing it. It's not a complete misconception, to be fair. If our weekly menu consisted of only pav bhaji, cheese-burst pizza and shahi tukda, then weight gain is inevitable. It's losing this weight that has many of us huffing and puffing on a treadmill and struggling to swing kettlebells.
"People often think eating larger quantities of foods will help. But we need to understand that healthy weight gain is important. Unhealthy ways will lead to severe health conditions," says Dr Siddhant Bhargava, fitness and nutritional scientist, and co-founder of Food Darzee.
Being underweight may not sound like a big problem to some. After all, we're self-accepting, and body positive, but at the back of our minds still sits an image of the kind of body type we desire: slim. It's what we've grown up being told is ideal and it's hard to shed that label. But it's not just a matter of aesthetics. Being underweight, medically out of the range of what is considered healthy for you, can weaken your immune system, cause immense fatigue, fragile bones, hair loss, skin issues, teeth issues, anaemia and heart disease.
Why do people struggle with healthy weight gain?
Rapid weight loss for no discernible reason can be indicative of an underlying health condition. Bhargava says that the inability to gain weight can be due to genetics or conditions such as hyperthyroidism, Type 1 diabetes, inflammatory bowel disease, or an eating disorder.
It's best to consult a healthcare provider if, despite making lifestyle and dietary changes, you're still not being able to gain weight gain. This way you can rule out potential health risks, nutritional deficiencies (these are some of the most common ones), and medications you're on that could be suppressing your appetite.
What should be on my plate if I'm trying to achieve healthy weight gain? 
Healthy weight gain is primarily made through creating a calorie surplus – the opposite being the case for weight loss. A surplus would mean consuming more calories than you are burning throughout the day. You can start slow by adding one more spoonful of whatever it is you're eating to your plate at every meal. On top of the three meals of the day, add in-between snacks.
It's also important to think through what we're featuring on our plates and bowls. Rather than supplements, Bhargava's advice would be to get the protein and calories you need from natural sources. We need to consume enough macros — which are carbohydrates, fats, and proteins — mindfully.
"By simply adding certain foods to our diet, we can make our weight gain efforts both healthy and more effective," says Bhargava, sharing more points on healthy weight gain. 
You can get protein from dairy products like milk and yoghurt, eggs, chicken, tuna, beans and lentils.

Eat rice, it's a great source of carbohydrates

Have nuts and nut butter for snacks.

Boost your calorie intake by consuming potatoes and other starchy foods.

Drink homemade smoothies such as a chocolate banana nut shake or a vanilla berry shake.

Whole grain bread, dried fruit, dark chocolates, cheese, and eggs are also helpful in gaining weight effectively.
Fibre is important for our digestion but you don't want too much of it since it can make us feel satiated before we meet that higher calorie requirement. Save any accompanying drinks for after your meal to avoid the feeling of fullness.
People work out to lose weight, so I should stop, right? 
For a long time, people believed that sweating more while exercising somehow meant that you were burning more fat. The more you sweat, the more effective the workout. But sweat is just our body's way to regulate body temperature.
It's probably the most popular misconception when it comes to exercise. The other is that it's only for weight loss.
While it does play a part in weight loss and/or fat loss, exercising also helps us train and strengthen our muscles. Sure, one KFC bucket after another will help you pile on the kilos, but healthy weight gain is about your body composition rather than numbers on a scale. You could be 50 kgs, start to put on weight because of increased junk food only and become what is known as 'skinny fat'. "Don't stop exercising. Physical activity is important for building muscles and healthy weight gain," says Bhargava.
If you're new to exercising, you may feel hungrier than usual after working out. And if you eat the right kind of food, your calorie intake can help you build muscle. You'll be putting those calories to good use and getting stronger, rather than letting them get stored as fat.
I'm ingesting more calories and exercising but still not gaining weight, now what? 
You spoke to a professional, ruled out diseases, and calculated the optimal BMI. You increased your calorie intake and you've been strength training too, but you just can't seem to keep the scale up. Have you been getting your eight hours at night, though?
You can't snooze on the importance of sleep when it comes to weight regulation and overall health. Whether it's for weight loss or healthy weight gain, adults need 7-8 hours of good sleep at night (try turning your bedroom into a sleep sanctuary).
Sleep is critical for not only our organs to rest and reset but for our muscles to grow and our body to repair it selves.
Healthy weight gain is about maintaining a healthy fat-to-muscle ratio. Treating yourself now and then to mithai and aloo parathas is fine but filling your weekly meal plan with just that will only help you gain fat and potentially disrupt your gut health. This could cause a plethora of other health ailments. As Bhargava says, eat frequently and make every bite count. Choose nutrient-rich food and balance it with strength training which will help you gain weight by working on your muscles.
A note of caution: This story is for educational purposes and contains inputs from experts and personal experiences. Please consult your healthcare provider if you're in crisis for a treatment plan that works for you.