Photo: Freepik
A beginner's guide to creating a kitchen garden
So far, sow good
Urban farmers aka kitchen gardeners scare me. They come close second only to my Mom in identifying my limitless laziness and over-dependence on e-commerce. "Why grow your own produce when you can Big Basket it?" I have tried to reason with my Maa often. It's like speaking to a wall.
But over the last few years, the urban farming squad has taken over.
Apartments in metro cities may be obnoxiously small, but people are adamantly making space to grow herbs, micro greens and vegetables. In bottles of Old Monk, in takeaway containers and pots, which were erstwhile showpieces. 
It's a sign. After all, with the Coronavirus outbreak, the existing kitchen gardens have found a way to point at us and smirk, "Told you so." Now that we are deciding against ordering in our meals, it really would have helped to grow our own veggies in our own kitchen, balcony or porch. 
So if you're planning to finally grow your own food, Priyanka Amar Shah, a nature activist at IKheti, says that it's never too late.
"You just need to start small. Aim for herbs because they will give you quick results, and then move on to vegetables like tomatoes, ladies fingers and so on," she says. 
Decide the crop and pot:
Deciding the seed depends on two major factors: the kind of space you have and the amount of sunlight available. The three kinds of crops are simple herbs, microgreens and vegetables. 
The most common Indian herbs include curry leaves, lemongrass, pudina and ajwain, while more exotic varieties include peppermint and Italian basil.
These don't require as much maintenance and are faster to harvest than vegetables. You'll require containers or pots with a diameter of at least 6-10 inches. You can reuse your old plastic bottles too. 
Microgreens are baby plants, or small shoots of leafy vegetables. You can get microgreen versions of spinach, mustard and methi, and often, they are more nutritious than their full-grown versions.
These need even less sunlight than herbs and under two weeks, you'll see results. The diameter of the pot doesn't matter, but microgreens require a depth of 2-3 inches.
Vegetables such as tomatoes, chillies and eggplant require more expertise in terms of maintenance and harvesting. You also need to be more patient as they can take up to several months to bear fruit.
The dimension of pots is crucial and directly proportionate to the produce you'll create. The container needs a diameter of at least 12 inches. 
If you're a debutant in the scene, it's advisable that you start with micro greens or herbs because faster results will motivate you to expand your kitchen garden.
You can start your garden without even stepping out of the house if you go with micro greens since plastic containers and seeds of mustard and methi are readily available at home. 
Make the soil mix:
Getting the perfect soil mix — cocopeat, red soil and compost — is only the stepping stone towards building a fruitful kitchen garden. Cocopeat derived from coconut husk is important to retain moisture and control the soil temperature.
The coconut husk will protect your plant when you decide to travel for a couple of days without assigning watering duties to anybody. It also helps in aeration and makes the soil lighter.
Help them grow:
Maintenance is a three-fold journey: watering, trimming and harvesting with frequent pest management. To be the right kind of pothead, you must ace all of them.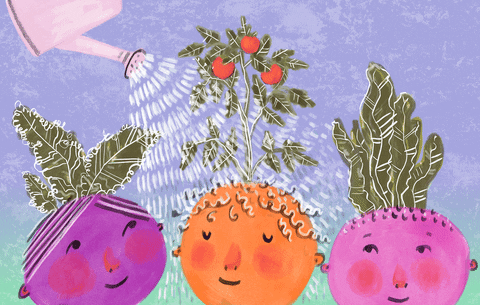 Watering: More plants die due to overwatering than the lack of it. And most people tend to overwater their plants. Our overcompensating ways get magnified especially when we are gardening. Due to overwatering, roots of plants begin rotting. It's difficult to revive them. Dry leaves will start to wither away, but will be bounce back to life with extra water.
Best practise is to keep a pebble on the soil. Check the bottom surface of the pebble to see if it's moist. If yes, then you can skip watering the plant for a day, and a dry pebble is an indicator of the plant's hydration needs.
Trimming: If you thought your Dadi was joking when she said that the quality of hair and leaves only better with every round of trimming, well, the joke's on you, because she is absolutely right. Trimming the leaves at regular intervals is very important for the plant's growth.
Along with trimming, giving the right nutrients is essential. When you're growing vegetables, fertilising the plant every three months is mandatory. Because when you water the plants, the fertiliser eventually drains away.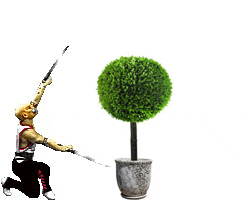 You can start composting your wet waste and use it as essential nutrients for your kitchen garden. Alternately, you can employ leftover teabags and egg shells, too. Dried cow dung is always a great option.
Harvesting: While you can harvest herbs and micro greens all around the year, you need to be more careful about the vegetables that you grow. Follow the seasonal crop rotation pattern and harvest accordingly to get the best produce.
Pest management: If there are pots, there will be weeds and pests sooner or later. That's the law of the kitchen jungle, erm, garden.
To counter these extras, buy neem oil from your nearest pharmacy. Dilute it with water and a little bit of soap. Spray the concoction every month as a preventive measure. However, if the pests have already become territorial, add some red chilli powder or crushed garlic to the neem mix and spray on your plant.
For more kitchen garden or any gardening inspiration, you must, we insist, follow Jackie Shroff's pothead adventures