Hindu wedding couple walks along the ocean shore
30 married women on the wedding advice they wish someone had given them
Wear sneakers, stay hydrated and just let it go
Remember that time(s) you refused to eat lauki as a 6-year-old? The entire neighbourhood advised your mom on the innovative ways to cook the lame lauki. In the years to follow, they sprinkled their vishesh tippanis on all your life choices—what you should wear to your graduation party, why you shouldn't colour your hair and why you should immediately change your Facebook DP  because 'pouting with a boy?' Sharam nahi aayi?
You reminded yourself on loop that "Nothing is free in life except bad advice" (we even put it on a T-shirt). But then you decided to get married and experienced yet another kind of hell: wedding advice. "Don't forget the glass of milk on suhag raat", "Way to your husband's heart is via his stomach; learn to cook", "Saas toh maa hoti hai", "Don't be so blunt with your in-laws. They'll send you back".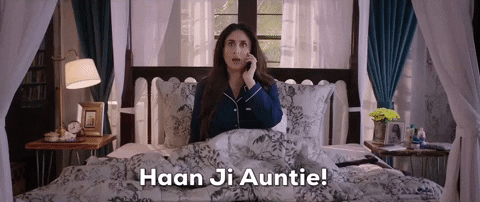 As the big day approaches, your partner, too, has fallen prey to his family's last-minute demands and unsolicited wedding advice. Perhaps you're on the verge of channeling your inner Runaway Bride, but don't get on that horse quite yet. For eons, brides have fought this urge and emerged happier than the shell-shocked photos in their wedding albums claim. They cursed, secretly downed tequila shots, tolerated that extra layer of make-up and survived the madness.
We reached out to our Tweak fam on Instagram and to our friends who've been there, tried that for the wedding advice they  wish someone had given them.
PS: keep that strip of tranquillisers handy, and you'll survive.
Wedding advice you'll be thankful for:
Don't waste your money on real flowers which are expensive and die in less than 24 hours. Nobody will remember the flowers. — Jenny Mazumdar
Sign up for meditation classes when you start planning your wedding because you are going to be getting very angry, very often. — Diana Rodrigues
A wedding planner is expensive, but you'll be thankful you made the investment when your stress levels are at a minimum on the big day. — Kripa Shenoy
Get off social media for at least two months before the wedding. Nothing is more annoying than people sending you options for clothes they think will suit you. — Neha Vijay
The best wedding advice I can offer is don't get drunk the night before the main wedding – Tabbu Verma
Don't invite the whole village if you can avoid it. Only the people who are as happy as you are. — Rabia Tiwari
Make sure you get a good night's sleep before your wedding day. — Margaret DaCosta

Photo: Pixabay

Amidst the chaos, make time for you and your partner, whether it's a couple's massage or walks on the beach or even a coffee catch-up. Quiet time to reflect, remember what's important and celebrate making it this far — Serena Botelho
Plan way ahead and tick things off slowly so you're not running in circles closer to the date. I was almost bored in the week before my wedding. — Jonquil Sudhir
Do not worry about the number of guests at the wedding. You don't have to control every minute of the function. Prepare for delays. And assign someone to handle them. I mean relatives (friends will either be with you, or inebriated). If anything goes wrong or isn't up to the mark, you'll have a funny story for anniversaries. Grin and bear unsolicited advice. — Gayathry Latheef
Don't feel pressured to buy wedding outfits from designer labels just because everyone else is. Wear what makes you feel beautiful without thinking of the label attached to it. — Simone P
No one asked me how I wanted my wedding to be and I hated everything about it, including my clothes.  So, decide what you would like your wedding to be like and do not let it be taken over by family members. Focus on your vision and hand out duties to friends and family to keep them happy. — Yasmeen Hussain
All the chaos might make you feel like you aren't making the right decision, and you might as well become the runaway bride. But trust me, it all will end soon and you'll have your peace. — Shilpa Lakhani
Keep up with the divorce laws. Just in case. You never know what could come handy and when. — Sindhu Raina
Cancel the stage set-up for reception. Invite limited guests so you can walk around and meet them. Saves time and clutter.— Smriti Chawla
Even if your best friend is a photographer, never ask them to shoot your wedding. They won't be able to enjoy any of the ceremonies, and will hate you forever. – Manisha Singh
Wear sneakers. Both of you. Period. – Shruthi Rameshan

Photo: Pexels

Negotiate on the mehendi ceremony scenes. Don't get sleeve tattoo-like mehendi designs. They takes ages to dry. – Tanaya Bansal.
Be shameless and create a gift registry. At least for your closest friends and relatives. – Vilcy William
Don't fast if you don't want to. The tradition of fasting on your wedding day could make you feel sick. No bride wants that. Do only what you're truly comfortable doing. – Manju Siliwal
Give your mother-in-law all the attention she wants. A smiling MIL is better than a grumpy one. At least for your wedding album. – Shweta Purohit

Photo: Ben Rosset/Unsplash

Don't splurge on gifts for extended-in-laws and family members; they will criticise them anyway. – Pallavi Kumar
Invest in good quality make-up or be prepared to look like a badly made mannequin in all your photos. – Gauri Vyas
Make sure your bridesmaid is as sassy as sass gets, to tackle annoying aunties. – Gurleen Kaur
Stay hydrated. Your friends will try and get you to drink cocktails and shots, so it is essential to keep drinking water. – Swati Nigam, Deepika Bhandari
Always prepare a prenup contract. It's important to take care of your finances — both for the bride as well as the groom. – Debarati Chakraborty
Eat whatever you want to. Don't force yourself to try some strict fitness regime or diet. You're going to be stressed about a lot of things, so don't add to it. – Hetal Chandan
Let go. People want a 50-dish menu, let them. People want Lillies, daffodils, lotus, let them. At some point, you need to stop being a control freak, and realise that the man you are marrying is all that matters. Everything else is just additional side things. Just go with the flow. This too shall pass. – Jharna Kumar
Don't cry; shaadi local ho rahi hai 😛 – Arash Brar
Be prepared to wear a lot of fake smiles. But you aren't faking it alone. Your husband doesn't recognise most guests too. – Shubhra Shah