Representative photo: A still from Aisha
Confessions of a shopaholic: Is retail therapy really therapeutic?
A psychologist weighs in and advises you on when to stop swiping
Twelve beer mugs, 12 wine glasses and 18 porcelain tea cups. Sharon Aranha filled her shelves to the brim while working from home last year. She doesn't aspire to open a bar or a tea room. As an engineer at Intel, she validates computer chips for a living. And seeks validation for herself and her soul in Ikea-sponsored retail therapy.
She explains, "I don't even have as many friends as I have glasses now. I can't ignore sale notifications but I never go beyond my budget. Am I in trouble here?".
Delhi-based freelance writer Jaishree Kumar feels "something takes over" when she likes a book somebody else is reading. She must own it immediately. Earlier, she'd commute from her college in Delhi, to her favourite bookstore for her own copy. "It would be a two-hour commute to and fro, but when I wanted a book, I needed it."
This retail therapy pattern has changed during the pandemic. Now she hoards makeup, and blames Nykaa's sale strategies.
Stationery, clothes, Tupperware, perfumes, scrunchies, socks, and so on. There's nothing wrong with a little retail therapy. Or is there? Clinical psychologist Akshita Shukla of Sukoon Health calls it a short-term, healthy coping mechanism.
Coping mechanisms are the strategies people use to face emotionally draining situations (like being in lockdown for 10 months with only your family and anxious brain for company), and retail therapy is one of them. "Buying groceries isn't retail therapy. It's the purchases you make to relieve emotional distress, and it can be quite therapeutic," she explains.
What happens to our brain during retail therapy?
According to a study conducted by Pennsylvania State University researchers, 62% of participants bought items to treat themselves and improve their mood.
And it's not just you, your shopping cart and your credit card at play; there are a host of other characters inside your brain who make shopping an emotionally gratifying experience. Shukla gives us a brief tour of our Medial Prefrontal Cortex – the reward centre of the brain, also the home turf of dopamine, the neurotransmitter of pleasure and happiness. Research on brain activity suggests that dopamine levels increase more rapidly with the anticipation of an experience than the actual experience.
Adding items to the cart in a jiffy gives you sheer joy, thanks to dopamine. Tracking your package as it reaches the nearest hub, dopamine kicks in. Starbucks texting you about their seasonal offer, another dopamine rush. And ultimately, when you read the subject line "60% OFF" (Yes, Baths And Body Works, I mean you), the chemical shoots through the roof.
This rampant release of brain chemicals is what gives us a "shopping high", and it can be beneficial on a short-term basis.
Antara Sengupta's life was upended last year when she left Glasgow and returned to Kolkata indefinitely and attended virtual classes. Walks in the parks were replaced by dragging herself to the building terrace and walking alongside intrusive neighbours. She wasn't prepared for this big shift. The only thing that calmed her anxiousness were some big purchases.
In came new Airpods, a printer, candles, crystals, Amazon Echo, Oracle cards, yoga pants, books and more. "I was too stressed. It was manifesting in physical ailments too. My IBS was triggered, there were joint pains. It sounds shallow, but at that point, a new package being delivered every day made me happy. Fortunately, the university paid my stipend in Euros, so I could splurge. I spent a lot on candles and crystals to find the bigger meaning of life, which I am still looking for," she laughs.
Shukla compares the act of buying something for yourself with that of treating yourself to a fancy meal. The effects are similar. "It gives you a sense of control in that moment. You choose what you want, and you get that. It enhances your mood, makes you believe in yourself and instils a sense of financial independence," she explains.
When retail therapy turns into a shopping addiction
Losing sight of fiscal responsibility and ending up in debt prison just to fuel your material cravings are good signs for starters, says Shukla.
Simply put, just take the Rebecca Bloomwood Test. Those en route to a shopping addiction, already know who we are talking about — the nonchalant protagonist of the 'Confessions of a Shopaholic' series.
The test is a cakewalk. Just ask yourself the following questions:
Are you drowning in credit card debt?
Are you lying about your serial purchases?
Do you live in denial about your shopping problem?
Are you justifying your purchase, whether or not people ask you for it?
Will you not mind borrowing money to buy yourself that perfume Gucci just dropped?
Are you overspending every month?
If you've answered most of them in the affirmative, you are crossing over to the dark side of shopping. Time to break your plastic money into two, and freeze your accounts.
Shukla also asks us to look out for emotional upheavals that help us acknowledge the problem. "A purchase should ideally uplift your mood. But if shopping fills you up with guilt and regret soon after, that's when it becomes a stressor too," she says.
When you start lying about your purchases, they cause intrusive thoughts that manifest as stress. Furthermore, when you're aware of your financial situation, and still can't stop buying things, it adds an element of anxiety, and the enhanced mood can take a u-turn.
"The amount of money I spent the last three times on Nykaa was definitely more than I could afford. That's when I gave myself a pep talk to control my impulses," says Kumar.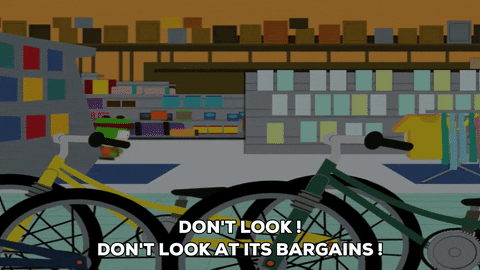 Shukla suggests some hacks to stitch the hole in those pockets:
Unsubscribe from e-commerce mails and uninstall shopping apps: Newsletters and sale announcements will never stop flooding your inbox, but you can stop yourself from going with that flow. Content writer Avantika Kumar opened a new email ID altogether.
"The older email address is not synced with my phone, and I never check it from my computer. It's a black hole where I sent links to whatever I want to buy in the moment," she says.
An extension of unsubscribing is deleting the apps from your phone so you aren't tempted to shop when stuck in traffic.
Project Pan: There's always a room for a new shade of red lipstick – sanguine, scarlet, ruby, Communist, Marxist, you name it. But after a glass of red wine, they all will look the same. If you're a fellow makeup hoarder, sign up for Project Pan. The idea is to not buy a second product until you hit the 'pan' or scrape the bottom. A variation of this can be adopted by book buyers. Kumar has decided to not get a new book until she finishes three unread titles on her shelf. This buys her time as well as stops her from hoarding.
Make a monthly budget: This may sound tedious, but is the financial blueprint our parents swore by. Track your daily expenses. Shukla says the moment the salary comes in, move a sizeable chunk of it aside and save it for urgent expenses or unforeseen purchases. "I have a separate column for retail therapy. I save some money for those purchases and make sure that I never cross that budget. This way, my finances have never taken a hit," says Aranha.
Window shop for hours: Dopamine, as we know, gets released at the mere thought of making a purchase. If you have the self-control, tease that brain molecule by scrolling through sites, adding items to your shopping cart, but looking realistically at the total amount and closing the tab.