Representative photo: A still from Ki And Ka
"Like most Indian men, I didn't know 70 % of the household chores"
The husband of an essential service worker shares his lockdown home-management story
I am your typical middle-class Indian man. The one who sleeps until breakfast is ready, enters the kitchen only to fetch food or beer from the fridge and doesn't know the difference between a fabric softener and a detergent. The women in my household (mum, wife and house help) take care of almost all the essential services at home while I'm out doing one job — earning money.
Or at least I used to be that man.
But life as I knew it changed last month. March 21, to be precise. I am a pilot (GoAir) and my wife is a gynaecologist at Eva Medicare Fertility and Endoscopy Centre, Mumbai. We live with my parents. This lockdown, I had to show up as the actual man of the house. But not before addressing some fears.
Our dinner-table conversations revolved around fatality, uncertainty of jobs and so on. We talked about the risk of essential service workers going out and how to get things done at home without any house help.
Turns out, I didn't know 70 % of the tasks that had to be taken care of at home. A lot of men will connect to this sentiment, I guess.
Life in lockdown when your spouse is an essential service provider
What they say about doctors being gods, is true. When you see them in PPE risking their lives to save others, you know they aren't like you and me.
It's the same for every other essential service industry. They are bravehearts. The least we can do is strictly follow lockdown rules, stay indoors and sanitise.
I worry but I know she has a bigger cause.
This lockdown has been an eye-opener. I wake up early now without exploiting the snooze button. Kitchen used to be an alien territory; I'd cook five-six times a year. It's now my permanent fixture.
My family has been kind though; they don't throw tantrums every time I overcook dal-chawal.
YouTube chefs and my mom save me all the time. Last week, I made some stir-fry vegetables. It's a tiny feat, but now I can make proper meals. It's a lifeskill we all should have.
Laundry days are confusing too. There are multiple detergents, it took me a few loads to decode this.
Strangely, I enjoy doing the dishes. It's my favourite chore. And jhaadu-pocha feels like an hour-long workout.
Nobody really talks about the money management at home. Honestly, the woman of the house is always the finance minister.
Any man, who says otherwise, is lying.
But now that I'm in charge of grocery shopping, I struggle while deciding how much dal to buy or how much chaipatti is required for a month.
It's (not) a man's, man's, man's world
This period has been a great learning curve for me and a lot of men, I hope (not just partners of frontline workers). Before this, most of us never cared about ghar ka kaam.
It's just how our society malfunctions. You can also call it social conditioning.
We'd go to work, and on holidays, take rest. This past month has taught me that managing a house is a full-time job, 365 days a year. There's no holiday.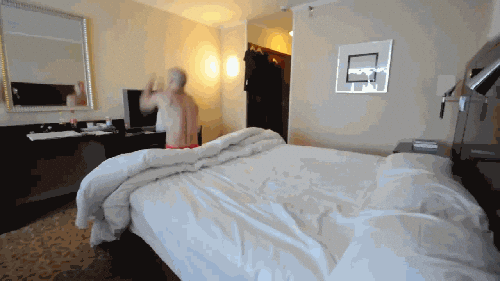 This phase has given us the perfect opportunity to recognise what women have been doing for ages. As a man, I feel ashamed that we don't appreciate them enough.
We must man up and lend a helping hand. It's all about creating partnerships at home.
If she is doing jhaadu-pocha, you can take up the dusting duties. Divide the work. During lockdown and otherwise. Regardless of whether she works for an essential service or not.
You know those times when women get annoyed and you can't figure out why? Running a household single-handedly can do that to you.
It's a plea to everybody — share responsibilities to maintain domestic bliss.
As told to Arundhati Chatterjee