"It was almost as if Will Smith was defending me"
What happened at the Oscars has triggered something deep inside of all of us
Will Smith Hulked out at the Oscars and slapped comedian Chris Rock after Rock mocked the actor's wife, Jada Pinkett Smith, for her alopecia-related baldness. Unless you've just landed from a trip to outer space, there is no way you missed the footage that's been on every trending list for the past 24 hours.
When we posted about it on Tweak's Instagram, it seemed like everyone had an opinion too. Some praised him for standing up for for his wife. Some were confused by his mixed reaction (he was laughing a second before walking onto the stage). And the rest were appalled at the gross act of violence, followed by his nonchalance minutes later when he won the Best Actor award. Whichever category you find yourself leaning towards, the wide variety of takes might say more about us than it does about Smith or Rock.
That's the realisation that 41-year-old Jonquil Sudhir, a journalist and a teacher, came to too. Having been body-shamed from a young age, her initial reaction to watching the incident was "Good for Jada". "I realised that I had deeply personalised this situation, reacting to it based on my own experiences. I've had to take a lot of jokes and comments on the chin. You grow up thinking that people will make fun of you, it's a part of life and you just have to accept it."
The incident triggered something deep inside her, a feeling that you may resonate with.
"It's time people stopped cracking crude jokes about appearances"
I generally believe in anti-violence and am uncomfortable with aggression. When people use abusive language, it makes me uneasy. But somehow, when I read about what happened at the Oscars, my first reaction was "Good for Jada".  
It's time that people stopped cracking crude jokes about appearances. And I was glad that someone stood up for her. Usually, that doesn't happen, people just laugh along. Even if they don't agree, no one takes a stand. This is why when Will Smith got up on that stage and smacked Chris Rock for his tasteless joke, my initial reaction was that it was good that her husband was standing up for her. 
Once my emotions cooled down and I had time to think, I realised that I had deeply personalised this situation. I would be uncomfortable with someone getting violent on my behalf, so I was actually shocked by my own response. 
You grow up thinking that people will make fun of you, it's part of life and you just have to accept it. Through the years, I've had to take a lot of jokes and comments on the chin, so I turned to self-deprecation and humour. I have heard things like "I knew you were coming from far away. Thanks to your weight, the earth was shaking." On one separate occasion, I walked out of a building with my son and a stranger came up to me and said, "How are you so fat and your child so thin?" I responded with "Well, I eat his food." I've had to teach myself to take these jokes in my stride and twist them around for my benefit. 
I have watched friends relentlessly take apart other people's looks, appearances, and how they dress up. I've also been in a relationship with someone who laughed along with everyone who mocked me. So my reaction to the Oscars incident was based completely on how I was feeling. It was almost as if Will Smith was defending me. 
I've been body-shamed and so has my 11-year-old son. During the pandemic, he grew his hair out. He was quite attached to his long hair. And people told him that he looked like a girl. Some people even said, "You look like someone's little sister." 
I stuck up for him. I told people that his gender had nothing to do with his hair. And that made me wonder why people never stand up for themselves and others who are being shamed. Why is it so difficult for people to understand that commenting on other people's appearance is wrong? 
I've had to use humour to cut up insults and not feel bad about them. Like I don't take them personally anymore. I just think, 'Wow, your life is so shallow that you feel like you need to make jokes about me to make your days better'. But the fact that I've had to think on my feet to respond to people who are actually cruel is crazy. 
I was once walking to a shop with my father. And that day, I was feeling particularly tired and low. This lady came up to me and said, "Oh my god, you're so fat!" I didn't know how to respond to it. I was stunned. That's when my father responded, "You aren't really thin yourself!" I laughed. I needed someone to do this for me because that day, I didn't have the energy to say anything to her. Usually, I always have a response. But even if someone else is standing up for me, I would love them to use words. Non-abusive, just really snarky words. Shut them down with your wit, not with your limbs.  
Even if we don't see it, social media plays a huge role. For me, the interesting thing is that all our senses are always overloaded. You can't scroll through anything without seeing everybody's opinion on it. Especially something like this. Everybody has an opinion. It's a debate. Is Will to blame? Are his actions justified because he was defending his wife? Was he totally and completely out of line?
No matter what our opinion though, the truth is we have all identified with this situation in some way. Everyone can relate and it is affecting everyone on different levels. Even if you're gorgeous, someone always has something to nit-pick on. Secondly, at various points in our life, we've all been bullied. And wished someone would stand up for us. Before we learned to do it on our own, of course. 
We all have insecurities and this incident highlighted that. This is why everyone seems to be triggered by it. And why I had the initial reaction that I did.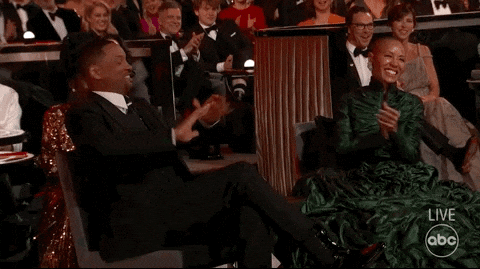 In the past, we would look at this situation and be like "this is crazy" and move on with our lives. But thanks to social media, we automatically react to everything. 
I would never be okay with someone doing for me what Will did for Jada. Using physical violence is a no-no. After my initial reaction, I thought to myself  "I don't need someone to fight my battles for me. I will do it myself and I will take you down with my words". 
*As told to Mitali Shah