Stills from Interior Cafe Night, The Crush
Long story short: 12 short films that are big on the feels
Big things do come in small packages
This weekend, I watched 15 incredible films. No, I haven't found some jaribooti to increase the number of hours in a day. But on the insistence of my cinephile friends, I discovered a viewing experience more effective for my hard-pressed-for-time routine: short films. The quickies of cinema. You get straight to the action, followed by a memorable climax, and you go about your day thinking about how good it was. And if it didn't live up to your expectations, you know you didn't invest too much time or energy, and move on.
What's not to love, right?
Our equation with short films is a lot like our relationship with regional movies. Lack of exposure and access have kept us away from short films for years. In the past, only our friends from FTII raved about them. Film festivals were super fans of the format.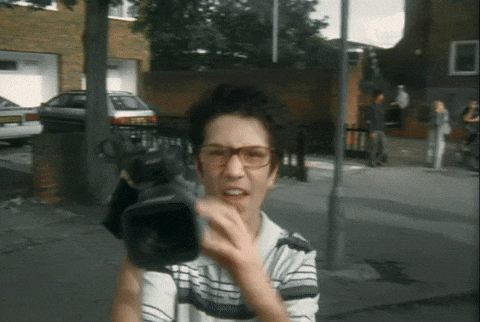 In earlier trysts, I found myself in an alien environment.
While I was working at a newspaper, Mumbai-based Shamiana: The Short Film Club, invited us to their movie showcase nights. I loved the short films, they were pocket-sized stories, and made you feel as deeply as three-hour-long movies.
Yet I'd always execute a French exit right after the end credits, to avoid the enthusiastic film folk who dominated the audience. They'd dissect the shorts at length, using complex jargon: aspect ratio, 70mm, Dutch tilt. It was overwhelming.
It didn't help that TV channels and theatres didn't care about these films. The duration was certainly a shortcoming of the format. With no song and dance sequences, short films didn't give us a two-hour-long escape with a tub of caramel-cheese popcorn.
But YouTube changed it all. And the OTT platforms jumped in soon after.
They realised that as a generation, we are tackling an endless to-do list every day. We don't always have the luxury to commit to a three-hour movie. But that doesn't mean we take sanyaas from movie watching entirely either.
Short films started migrating to YouTube channels and went viral. When known faces started cropping up in this territory (Radhika Apte, Naseeruddin Shah, Jackie Shroff, Neena Gupta and so on), it was no longer a film student's secret love language.
Today, as theatres continue to remain shut, and our routines are only getting more packed with every passing day, short films are becoming a timely escape. The duration, which worked against the format earlier, now is a boon. We can watch an entire story during a snack break, or finish one while waiting for all the members to turn up for a Zoom meeting.
Yes, we're low-key giving you ideas to steal a cathartic break with a handpicked bunch of short films to start with. Our short films watchlist packs in absurdity (a human-size turd, yes), a handful of reality checks, cute crushes and a touch of horror for amateur ghost hunters.
PS: This watchlist respects your time, more than your boss probably does.
12 short films that are a big deal
The Crush, 2010
Director Jim Creagh's Oscar-nominated short film is heart-warming yet stressful. Ardal Travis (Oran Creagh), the hero of this story, is in love. That doesn't sound like an earth-shattering problem, but it is for Travis.
He is eight, and is besotted with his second grade class teacher, Miss Purdy (Olga Wehrly). Miss Purdy gives him stars at the end of each class. That's enough for him to know that she loves him back.
But trouble in paradise arises when he meets her boyfriend. Travis isn't one to give up without a fight. He challenges the beau to a man-to-man duel.
Of course, we won't spoil it for you, but you'll wish a lot of men you know had the maturity of the eight-year-old Travis.
Watch on YouTube
Interior Café Night, 2014
What if the one that got away, comes back years later? And how do you keep the one from getting away in the first place?
This 13-minute emotional rollercoaster directed by Adhiraj Bose presents two very familiar stories.
Naseeruddin Shah (unnamed) runs a café in Kolkata. Shah and Shernaz Patel (unnamed) play two middle-aged estranged lovers who reunite after 30 years, and talk about a second chapter. In the same café, we see a young couple — played by Naveen Kasturia and Shweta Basu Prasad — on the brink of separation as they set out on their own paths in life.
The impact of both the stories are potent enough to make you teary-eyed in less than 10 minutes. Even the ones who claim they don't cry will find themselves choked up at some point.
Watch on YouTube
Alternative Math (2017)
Remember the time you tried to argue with your teacher that the Sun rises in the west, and got caned in school, and smacked at home?
Well, times are changing, and parenting sure is. In this baffling short film by David Maddox, a student screams at his teacher for marking him wrong in the math exam. The problem in question: 2 + 2 = ?
The boy believes the answer is 22, and teacher is amused at his confidence, but doesn't pay much attention. Over the course of the film, agitated parents show up, threaten to sue the school, media storms into the scene, and the principal is on the verge of firing the veteran teacher.
The movie examines the post-fact world where being open-minded and free-thinking is glorified beyond imagination. Is questioning everything really the right way forward? Is there a limit to free-thinking? The short film is a warning in disguise of the times we are heading towards, rapidly.
Watch on Vimeo
1500 Words, 2016
Director Andrew Chaplin's comedy drama is about a man of few words, not by choice, but the lack-thereof.
Stanley Franks (Marcus Garvey) is a young, happily married man, recently diagnosed with a terminal illness. The doctors can't tell how many months or days he has left, but they have a strange diagnosis. At 1,500 words, his life will draw to a close.
Punches, pinches, sighs and screams increase manifold, as Franks tries to extend his expiry date. The short film cynically explores how long we'd survive and how frugal we'd get with our words if there was a limit to our life.
Watch on Vimeo
Loop, 2020
Two teenagers row together in a canoe across an urban landscape to give you an experience of a lifetime. Pixar's first non-verbal autistic protagonist delivers on so many levels.
Chatty Marcus and Renee, who is autistic and non-verbal, are paired together at a canoe camp, and cannot make headway until they find common ground.
As the two start floating adrift, and try to look at the world from each other's eyes, learning to share and express, they forge a friendship, and even battle a crisis.
Though the protagonist treasures her silence, the nine-minute film speaks volumes of empathy and neuro diversity, reinforcing the belief that animated films aren't only for kids (remember Inside Out?)
Watch on Disney+ Hotstar
Nayantara's Necklace, 2015
In Jaiydeep Sarkar's short, neighbours Nayantara (Konkonsa Sen Sharma) and Alka (Tilottoma Shome) are two diametrically opposite women. Nayantara is the sophisticated, worldly-wise woman, while Alka is a simpleton. Their kids go to the same school, and they strike an odd friendship.
Alka aspires to be like her friend, and Nayantara takes her under her wing and teaches her fine-dining etiquette, introduces her to different kinds of wine and so on. On the latter's insistence, when Alka joins Facebook and reconnects with her school time crush, Nayantara teaches her to flirt.
But things take a drastic turn, and the short film holds up a mirror to society's double standards, judgmental attitudes and finds the right spot to point the moral compass. The 20-minute film packs in a lot of thoughts, and presents them beautifully, which even feature films struggle with.
We'd doubly recommend this for the stellar performances by the two leading ladies.
Watch on Prime Video 
Bouma, 2019
Language: Bengali
It's 1960s in Calcutta. Bidita Bag plays a young bride (Bouma) to a much older Mr Dutta (Rajatava Dutta). Mr Dutta is possessive of his wife, won't let another man look at her, and is insecure of her beauty. When an untimely diagnosis takes his life, things take a dark yet hilarious turn.
Bouma decides to donate her husband's organs, but with a Roald Dahl twist.
The Voot original sets out to smash the patriarchy with uncovering the 'shakti' of a woman, in the most unprecedented times and ways, with a heavy dose of humour.
Watch on Voot
Empty Spaces, 2020
Did director Geoffroy De Crécy have a premonition about the pandemic? It's tough to believe that he conceptualised and created this short before the world went into a global lockdown.
In his eight-minute short, an unexplained event has wiped humans off the planet. But the machines are still going about their routine life. At the airport, in supermarkets, at restaurants, clubs, everywhere.
What starts as an easy watch grows into an unsettling feeling giving us a sneak peek into a post-apocalyptic world. Beethoven's Moonlight Sonata as the background music only adds to the loopy atmosphere.
The short film will make you pause and wonder what's going on in the outside world while we are staying indoors. It's machine life at its disturbing best.
Watch on YouTube
One Day, 2001
Shit happens. It gets flushed and forgotten. But not in director Michel Gondry's (the one who made Eternal Sunshine of the Spotless Mind) hilariously deep short film, One Day.
A man (Gondry) answers nature's bigger call, finishes the task, and as he leaves the public washroom, he meets a giant human-sized piece of 'poop' (David Cross) scantily wrapped in toilet paper. No, we are not making this up.
This 'turd man' follows the protagonist, claims to be his child, and even asks, "Why did you abandon me?" Of course, the man is embarrassed, tries to escape this creature, but you'll have to see how they start bonding by the end of seven unbelievably, hilarious minutes.
We might as well call this biopic of a 'poop', as it does point out things we may not have considered about this everyday relationship we've had since the time we were born. This is probably the only kind of 'crap' we'd recommend, go watch it.
Watch on YouTube
Sitara: Let Girls Dream, 2020
Silence, used intelligently, is more eloquent than a thousand vociferous sermons. Two-time Oscar-winning documentary maker Sharmeen Obaid-Chinoy's wordless animated short does exactly that.
In Lahore, six-year-old Mehr and her 14-year-old sister Pari aspire to be pilots; together, they read about Amelia Earhart and make paper planes during their free time.
When their father gives Pari an ornate slipper, her mother fights with the father. Soon, we see the young girl's dreams getting crushed, as she is married off to a much older man. Pari does leave behind a paper plane on the sofa during the wedding — a nod to incomplete dreams.
It's a story deeply rooted in reality and social evils, and there are numbers to back it up too. According to the International Centre for Research on Women, one in five girls is married before age 15 in developing countries.
Chinoy's is a brave effort to share the message in the most sanitised manner without diluting the pain of the child bride. But don't skip the end credits; the animated film drives does leave a ray of hope.
Watch on Netflix
The Rule of Three, 2021
You may casually throw around the term 'OCD' for your mom's obsession with tidying up your cluttered desk every day, but the mental illness, Obsession Compulsive Disorder, is more debilitating than just putting things in order.
In Elwood Walker's 14-minute horror short, we face the horrors of living with the condition through the eyes and mind of Hannah Barefoot, an OCD patient.
Barefoot does everything thrice. Shuts the windows, locks the doors thrice every night before bed. Checks the kitchen stove thrice. Even dusts the bed thrice. On her therapist's insistence, she tries to take control of her behaviours, and breaks a ritual.
Coincidently, it's the same day when three masked slashers intrude into her house, and as she tries to survive and escape the horror of the incident in front of her eyes, she also tries to control her mind from falling apart.
Can she summon the inner strength her therapist keeps harping on or will she succumb to the invaders' sadistic plans? The spine-chilling film is as much a slasher horror as it's about dealing with a mental illness.
Watch on YouTube
Kamera, 2011
Nijo Johnson's award-winning short film makes you smile and cry simultaneously in a matter of 15 minutes.
Twelve-year-old Arjun, who works at the community's junkyard with his mother, just wants to make people smile. He aims to grow up and become a clown to spread cheer. His mother isn't excited about his plan.
When he finds a camera in the junk, he realises that everybody smiles in front of a camera. Just as the little boy goes around living his dream of spreading happiness around his neighbourhood, he loses the gadget.
As the film progresses, we see how far we will go to bring a smile to our near ones' faces. The heart-warming short is a reminder that at the end of the day, we find the greatest happiness in making others happy, and that it doesn't take a lot to do that.
Watch on YouTube