Remember when sex ed was sneakily reading a stolen copy of Mills and Boon
A throwback to innocent times
It's that moment of awakening, when you chance upon a book that becomes your first brush with sex. For some, older siblings or cousins show you a passage in a novel, and what follows is a series of sleepless nights and a long list of unanswered questions. On other occasions, curiosity makes you steal the dusty book on your mum's bedside table, and read it under the covers with a little help from a torchlight (If you didn't have a hidden copy of Mills and Boon in your home, are you even a 90s kid?).
Those were the days when 'incognito' was a word found only in Adventures of Sherlock Holmes, and spending time in the school library was still a thing. And you knew that on the fourth row in the Classic Literature section was a copy of DH Lawrence's Lady Chatterley's Lover with very, very bold cover art. Without the internet, a book cover could be your whole foundation course in the birds and bees. 
Here are some of those first-time experiences that these readers can't help but laugh over now.
Sara Husain: My first time was at a dentist's waiting room. I was around 11-12 and my mother had forced me to tag along while she brought my sister in for work on her braces. I was bored out of my mind and looked through pictures from the magazine pile. There was a copy of Cosmopolitan — I didn't know what that magazine was — and on one page, in big bold letters was the word ORGASM. The entire article was about the female orgasm and sex, but I was more intrigued by the accompanying image of a cartoon pin-up girl. 
Arundhati Chatterjee: All hail, Mario Puzo. I was in 7th grade (just turned 11), and instead of last week's homework, the only book being circulated was a battered copy of The Godfather with an equally ripped-up bookmark stuck on page 27. In a group reading session, I was introduced to a very vivid sex scene between Sonny Corleone and his mistress, Lucy Mancini. Was it disturbing? Yes. What went where? Why was she holding a man's muscle and weeping? It left a lot of unanswered questions, but we passed the book on to the next group and forgot about it until a couple of years later when I bought the book and read it in its entirety. It was for more than just page 27, I swear. Fun fact: That particular passage made it to the list of laughable sex scenes in novels.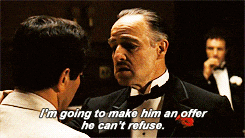 Chandni Sehgal: Being a giant bookworm, I was allowed to borrow three books a week from the library and usually I'd read them within a day or two of borrowing them. Left with nothing to read, I started snooping around in my mum's bookshelf, where hidden behind thick recipe books, I found scantily clad men and women groping each other on tiny, navy paperbacks. I'd found the mothership of Mills and Boon books. In retrospect, it feels like they were a guilty pleasure for both me and my mum. And my aunt… as I found out when I went over and found her Mills and Boon stash. I was intrigued, hooked and confused all at the same time.
Pradnya Chaturvedi: I was 12. My family moved to a new house, and I found this stash of old, second-hand books with no covers. Somebody had deliberately torn them. I started reading out of curiosity, but I think I had an awakening. It was a collection of shady erotic stories. I don't know why I kept reading, but I did and then bombarded my brother with queries about what I had just read. He was two years older, and conveniently ignored me. 
Shilpa Lakhani: You know we all have that one friend's house where we end up chilling a lot. We found a copy of Mills and Boon in her mother's collection. I think we wanted to read it out of curiosity. One of my bhabhis also owned that book. The cover had a hot dude and a damsel in distress. Excited by that cover art, we started reading it and it was my introduction to erotica. Strangely, I found it roo descriptive, long and boring. I never read any other M&B after that. It didn't leave a good first impression on me.
Rochelle Pinto: I've always had friends who were much older than me so long before my mother mustered up the courage to explain where babies came from, I had been apprised of the ground rules. My best friend had stolen a copy of Cosmopolitan from her older sister. As we pored over the pages — every headline was punctuated with an exclamation mark screaming for attention — we had to cover our faces with cushions so that our giggling fits wouldn't wake up the whole neighbourhood. One of the articles asked "When do I know it's time to let him see me without my makeup?" We both decided that relationships sounded quite tedious and boys were just not worth the effort. Famous last words…