This watchlist will make you the cool parent your teenagers can trust
11 onscreen gems to bridge the generation gap
Dear parents, mommy influencers and self-help books can't explain the pangs of empty nest syndrome or the free trial your teenagers gift you when they enter their tumultuous teens. Suddenly, you're reduced to an enthusiastic AirBnB host who offers free meals and other high-end amenities, and doesn't receive even a customary thank you.
Actor Shefali Shah summed up the feeling in her conversation with us, "The only time my kids call me is when they need an OTP".
View this post on Instagram

They are glued to their screens, living on the edge (at least their temperament is), and on bad days, even the sound of you breathing can trigger WWIII. The distance feels real, as they turn to their peers and Google to solve their life's problems.
Worst of all: They're never home, even when they are. But don't trip into this rabbit hole of existential crisis; think about your children's POV.
If we may borrow from Charles Dickens, the teens are "the best of times, the worst of times, the age of wisdom, the age of foolishness…" Raging hormones, first love, first heartbreak, advent of stifling bras, sprouts of facial hair, choosing college – in a nutshell, discovering themselves and the world, one difficult issue at a time.
Sure, you desperately wish to be the first responders to all their burning questions, but parents often have a hard time biting the awkward bullets, errr… the loaded queries about sex, consent, grief management, mental health and more. And the kids resort to finding answers on the oft-misleading Interweb.
Sex educator and founder of UnTaboo, Anju Kish says, "Imagine a child wants to know about sex, but the parents are not addressing it. Obviously, he or she will check the internet, and the kind of attitudes they will form by gathering information online may be all wrong. From a very early age, parents must establish themselves as the source of information by keeping the doors of communication open."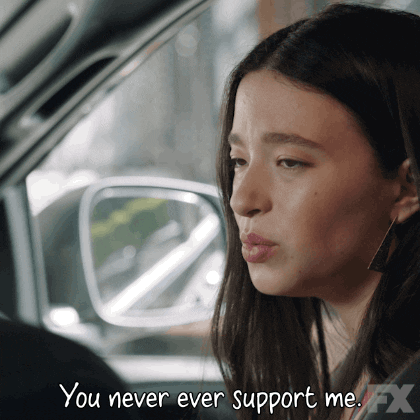 Earlier this week, when we asked our Tweak family, "How old is old enough to start discussing difficult and touchy subjects?", we were pleasantly surprised when so many of you picked 12 onwards as the right age to initiate these discussions.
If you're still trying to find the right channel to communicate with your seemingly estranged teens, who seek comfort in Netflix and Instagram Reels, we found a way to make you the cool parent in their discerning eyes. Since gender identity or polygamy may not be the best amuse bouche at the dinner table, amp up screen time and binge-watch content with them that ploughs through the rough side of teenage years and paves the ground for difficult conversations.
Clinical psychologist Catherine Steiner-Adair says, "Talk about the shows with them without being condemning. You can't demonise the world our children are growing up in but you can help them learn how to deconstruct the values. It's how you will know the cultural memes they're tuning into."
In fact, according to a 2017 study by Netflix, three-quarters of teens surveyed around the world say they'd love to talk to their parents about the TV shows they watch.
With the final season of Atypical here and the second season of Never Have I Ever dropping today, there couldn't be a more fruitful time to plan those binge-watching sessions.
We've put together the ultimate list of shows and movies to bring the family together for some group therapy and couch learning.
From mental health awareness and sex to grief management and broken families, we promise this watchlist for teenagers is the only catalyst you need to break the ice, cold wall between your antsy kids and a flummoxed you.
PS: Fire up your teen's favourite flavour of popcorn, and send them a Google invite (they won't ignore that).
Re-enter your child's close friends list with this watchlist for teens
Atypical for learning about disability and sexual orientation 
The characters look real, talk like your child's best friend from high school and are not covered in makeup.
Atypical follows dolphin- and penguin-obsessed Sam (Keir Gilchrist), a high school senior on the autism spectrum, who wants a girlfriend and a life of independence. His sister Casey (Brigette Lundy-Paine), school's star athlete, is coming to terms with her sexuality. The show follows their need for privacy and unravels challenges for their family members, especially for the overprotective mother, Elsa (Jennifer Jason leigh) .
Atypical's strength is its predictability. You know exactly what's going to happen, and the show delivers; it doesn't make you second-guess yourself. It's rooted in reality, without the crutches of any off-tangent, OTT plots.
The show sensitively handles the butterfly effect that somebody living on the autism spectrum can have on family members, friends and teachers, alike. The feel-good drama sure ended on a bittersweet note, while leaving pearls of wisdom on how to be a good ally and a support system.
Watch on Netflix
Helicopter Eela for setting healthy boundaries
Obsessive girlfriends, possessive partners, and stalking exes — we are all too familiar with them on screen and off. But what happens when your mom doesn't understand privacy, boundaries and is fixated on you?
In the film, single mother Eela Raiturkar's (Kajol) world revolves around her son, Vivan (Riddhi Sen). The boy has zero space to himself, as his over-protective maa never lets him away from her line of sight. To make matters worse, Eela joins her son's college to complete her education after a break of 22 years.
A lot of desi kids will relate to this 'suffocating presence', and watching the film together may stir up storms at home, but will also pave the channel to talk it out, instead of cramming the space between the two of you with resentment and hate.
Watch on Disney+ Hotstar
Never Have I Ever for decoding grief management and self-identification
Cultural identity is personal, but grieving is universal. And Mindy Kaling's US-based teen drama, Never Have I Ever, marries the two with a touch of magic and a whole lot of realism.
Indo-American Devi Vishwakumar (Maitreyi Ramakrishnan) is a sophomore student who prays to the gods for a hot boyfriend and higher social status. But what she is looking for goes beyond the boy territory: she lost her father recently, and is yet to come to terms with her loss. Her overbearing mother is only becoming more insufferable with every passing day.
As Devi navigates her home and college front, she ends up making a few questionable choices, and faces the brunt. She teaches us that nobody is perfect, and catharsis can come in varied forms. She makes mistakes, but is also open to making amends, and learns from them. In the end, as Devi tells her therapist, "Life is good now. I can basically forget about all that bad stuff that happened before."
PS: The new season releases today, and no, we can't keep calm.
Watch on Netflix
Generation Ami for advocating for themselves
Apu's (Arunava Bose) plight in Generation Ami is one too familiar a problem across the country. Apu is sheltered by his overprotective, disciplinarian parents, resulting in incredibly low self-confidence. As he prepares for his crucial board exams, he has even pushed his musical aspirations under the rug.
It's only when his rebellious and outspoken elder cousin, Durga (Sauraseni Maitra), diagnosed with clinical depression, comes to live with Apu's family, that the two find they have more in common than his parents presume.
As the two bond, despite Apu's Maa's warnings, Durga finds a friend in her little cousin and she finds a channel to communicate her feelings. There's a world of learning for the parents and teenagers in Generation Ami, especially in the space of mental health awareness and the importance of having channels of open communication at home, more than anywhere else.
Watch on Prime Video
Juno for dealing with teen pregnancies
Director Jason Reitman's teenage drama, Juno, takes on the serious issue of teenage pregnancy, but without the holier-than-thou treatment.
Juno (Elliot Page) is a 16-year-old social misfit who shields herself with wry humour. When she discovers she's pregnant after a one-time event with best friend, Bleeker (Michael Cera), she decides to give birth and to place the child with an adoptive couple.
She finds an oddball couple, opens up to her own dad and stepmother, and carries on with school.  The film doesn't portray teenage pregnancy as something necessarily ground-breaking. It's an "adult" movie but sensitively deals with issues like adoption, abortion and teenage pregnancy.
Since the movie doesn't celebrate or condemn teenage pregnancy outright, it leaves a lot of room for discussion on the other side of the screen with your teens. Make the most of it.
Watch on Prime Video
The Society for a hard look at social mores

Much like our teenage years, this dystopian drama is a heady concoction of influences: The Lord of the Flies, Lost and Animal Farm. What do teenagers do when no one's watching? Obviously, throw a party, vandalise religious places and texts, and start a new world order to survive.
In West Ham, Connecticut, a deathly bad smell that no one knows the origin of sends busloads of high schoolers on a field trip while the adults find a fix. Bad weather forces them to return to their home which is now a ghost town – people, mobile network and the smell have vanished.
The show serves as a perfect conversation-starter to talk about social constructs of ethics, law and order and the importance of being a law-abiding citizen. Ask your teen, "What would you do if you were the lawmaker?", and don't scream at them if they want to ban parents from Instagram and WhatsApp.
The Society will spark debates about dictatorship vs democracy, public versus private, law and order vs order without law – subjects that our civics lessons didn't cover, but we wish they did.
Watch on Netflix
Alex Strangelove to explore sexual identity
Alex Truelove (Daniel Doheny) is a slightly awkward and sometimes annoying high school nerd obsessed with animals. So much so that he compares high school to the animal kingdom, and calls himself a penguin — destined to mate for life. And that doesn't seem like a monumental problem considering his girlfriend Claire (Madeline Weinstein) and he have been going strong. Except for a tiny glitch: they have not had sex yet.
While they plan to change that aspect of their relationships, Alex is drawn to Elliott (Antonio Marziale), a charming guy, who makes him question his sexuality. Through the course of the film, he oscillates across the spectrum from being straight, gay to maybe bisexual. As the confused high-schooler goes about keeping his love's labour from getting lost, the bigger message is unmissable: everybody has the right to be true to who we are, even if it takes us a few failed attempts and some collateral heartbreaks to deal with in the process.
Through the film, Alex's classmates toss around gender jargon like trans, poly and open relationship like they're pursuing majors in gender studies — it's a sensitive stepping stone to have conversations with your teenager to broach the topic and perhaps, also to update your knowledge.
PS: For the one who love a good pun, the movie packs in one too many.
Watch on Netflix
Gilmore Girls for a slice of life 
Regardless of what you may say, Gilmore Girls showed what the life of any aam teenager is like, unfiltered.
Okay, we agree, the show took place in simpler times. No Instagram reels, cyber bullying or questionable Snapchat filters. Yet the comedy-drama show has stood the test of time in its own heartwarming ways. There's no denying that Rory Gilmore (Alexis Bledel) is the OG teenager on screen we hard relate to.
In the charming town of Stars Hollow, we meet Lorelai (Lauren Graham), who had her daughter Rory at the age of 16. The single mother has ever since, worked at an inn. The show follows the unusually candid mother-daughter bond as the two deal with their fair share of relationship and work trouble.
While teenage pregnancy is where the show's energy stems from, it graduates to the pressures of applying to colleges, the various degrees of relationship drama, giving you one too many opportunities to have the difficult conversations with your Rory. And if you get obsessed with the show like we did, you'll also inculcate an unhealthy habit of indulging in fast food, and a healthy habit of reading.
Watch on Netflix
Candy Jar to kickstart conversations about their academic future
Getting into the most prestigious college could be the purpose of life for some. Lona Skinner (Sami Gayle) and Bennet Russel (Jacob Latimore), the protagonists of this high-school drama will tell you why it's the only purpose that matters.
The two introverted high-schoolers are also great debaters who have debated against each other through their school life. They don't have any friends, and detest each other's guts until they are assigned to be on the same team for an inter-school debate.
The teenage drama follows the age-old formula of enemies turning lovers, with a generous side of life lessons — it's special because of the realistic portrayal of uncertainty of the future..
The inter-school debate competition explores class disparity, when the fellow debaters from another school, Jasmine (Antonia Gentry) and Dana (Ariana Guerra), point out the lack of opportunities in their school, and how they can't afford to dream of Ivy League admissions, when Lona and Bennet have made the Ivy League admission their sole reason to live.
When a twist in the film leaves them feeling shattered and questioning if Ivy League schools are the only way to be successful, despite years of society telling them they are, this is where, you as a parent can jump in and remind your teen that a degree isn't the end goal of life.
Watch on Candy Jar
Dumplin' to teach body positivity
Mothers make daughters, not duplicates. Next time anybody asks you, "Your mom is so pretty, what happened to you?", send them the link to this teen drama.
The Jennifer Aniston- Danielle Macdonald starrer Dumplin' graciously drives home this message loud and clear.
Aniston's Rosie is a former beauty queen and subtly body shames her daughter, Willowdean (lovingly known as Dumplin') and believes she shouldn't enter a beauty pageant. However, the self-assured daughter isn't one to reduce herself to a weight-loss narrative. The mother-daughter duo, with a little help from the Dolly Parton-championed OST, after a series of animated verbal battles reconcile in the final act.
Fierce Willowdean has a lesson for her mother and all the moms of the world — stop chasing conventional standards of beauty and everything else. This relatable story of navigating your teens drops truth bombs on sisterhood, bullying, body positivity and loving yourself for who you are.
Perhaps, you, as a parent, too, could use a lesson or two from this on-screen mother-daughter duo.
Watch on Netflix
Nil Battey Sannata to talk about class disparity
This is a must-watch if you're raising a brave dreamer.
Swara Bhaskar's Chanda is an illiterate maid, who has spent her entire life hearing that "a maid's daughter can only hope to be a maid, like a driver's son can only become a driver himself." Her 15-year-old daughter, Apeksha (Ria Shukla), also believes the same and uses this as an excuse when bunks school and avoids homework.
But Chanda is determined to change the narrative by educating her daughter, with a lot of help from one of her empathic employers. Director Ashwini Iyer Tewari's debut directorial is a sensitive and honest work that tries to bridge the gap between the rich and the poor and drives home an important lesson: class disparity doesn't define your limit to dream.
Watch on Prime Video
We recommend you exercise parental discretion when watching the shows based on your child's emotional development.