The Horrifying Weight Loss Program
A detox diet where you lose kilos as they lose limbs
It may seem hard to believe, but watching people get dismembered or possessed does have certain health benefits. In fact, the only side effect I have experienced due to a lifetime of watching horror movies seems limited to my skincare regime. You see, while other women cleanse their face carefully and then peer at their reflection, worrying about wrinkles, I am more frightened of seeing a ghoul appear in the mirror and just tend to avoid washing my face at bedtime. I put up with this minor inconvenience because my deep dive into the world of terrifying movies enables me to keep fit without moving a limb. I call this my Horrifying Weight Loss program.
This plan has been scientifically corroborated by the University of Westminster in a study that measured heart rate and oxygen intake. They discovered that watching scary movies can help burn more than 150 calories. The movie that they identified as the highest calorie burner happens to be The Shining. I would also add that this is possibly the greatest horror movie ever made.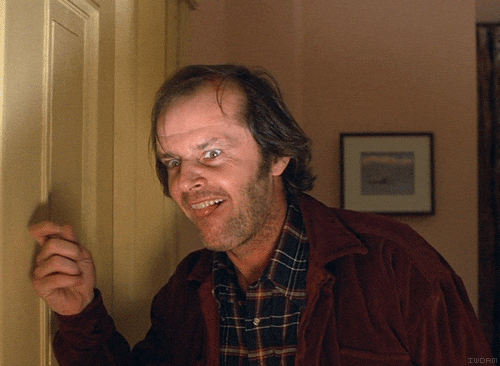 Jack and Wendy Torrance move into the isolated Overlook Hotel with their son Danny. Jack has been warned by his employer that a former caretaker murdered his family and then committed suicide in the snowbound hotel. There is an ominous quality to the deserted corridors where Danny rides his tricycle. There are ghosts but you are never sure if they exist in the hotel or only within the minds of the inhabitants.
This Stanley Kubrick masterpiece brims with gut-churning uneasiness and a movie that cannot be seen just once, especially because as the study revealed, it burns a whooping 184 calories.
The next movie I would like to recommend to those who want to follow the Horrifying Weight Loss program is ironically called It Follows. The premise is rather straightforward and could be summed up by Agony Aunt Ann Landers's circa 1963 regressive advice, "A girl can be nice even though she goes all the way? Yes. The girl can be nice, but the girl is not very bright."
Jay, a high school student has sex with her boyfriend and gets tethered to a demon. Unlike herpes, you can only get rid of this supernatural infection by passing it onto someone else through consensual sex. This nightmarish tale has enough jump scares to burn at least 150 calories.
If your goal is to ingest fewer calories rather than burning more, then you can amend the program parameters by throwing a few zombie movies into the mix. Seeing people stuff human legs and in one case, several ears into their mouths, does act as an appetite suppressant.
It was due to this factor that I gave my usual caramel popcorn a pass when I was watching Bollywood's first zombie movie, Go Goa Gone. Three losers get to a rave party where the drugs, instead of getting you high, turn you into a zombie. Saif Ali Khan plays a Russian drug dealer with hair the colour of tarnishing brass, who aids our trio in hacking their way out of Goa's zombie plague. I found the movie utterly butterly delicious and cackled away when the protagonists bypass a horde of the lumbering creatures by pretending to be zombies themselves.
Go Goa Gone tends to make you laugh rather than jump in your seat, so though you will not get enough heart-pounding moments to dislodge more than 2 of the dozen kaju katlis you consumed over Diwali, it has enough severed limbs and gory effects to stop you from stuffing your mouth further.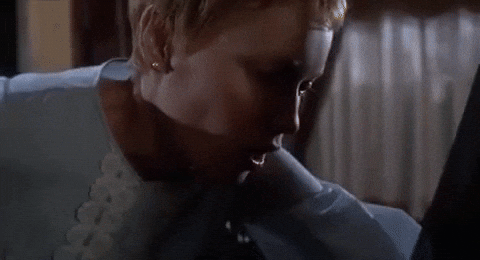 The next movie I would recommend as part of this program is Rosemary's Baby. This seems to be a huge calorie burner and I chanced upon it when like Sigourney Weaver in Alien 3, I was  carrying a blood-sucking parasite of my own, one that most people charitably refer to as a baby.
Based on a book by Ira Levin, Rosemary and her husband Guy move into an apartment building. They are befriended by their elderly neighbours and their luck concurrently takes an upward swing. Guy gets a coveted part in a play and Rosemary gets pregnant. Rosemary has hazy dreams of being raped by a scaly creature, thinks her neighbours are part of a satanic coven and finally becomes convinced that her husband has made a deal with the Devil.
I would not recommend, that like me, you watch this terrifying movie while you are pregnant, but in case you do take this bold step, then be assured that it does put certain things into perspective. Rosemary must grapple with her baby inheriting his father's yellow eyes with snake-like slits for pupils, while the worst that can happen to your baby is that she may end up inheriting your mother-in-law's bulbous nose.
At this stage, if you are still wondering what I am getting at, then I have two words for you — Get Out.
No, I am not being rude, but merely stating the title of our next fat burner. This Jordan Peele movie revolves around an African-American photographer, Chris, coming over to meet his Caucasian girlfriend's parents. Just as you begin to think that this is the new age Guess Who's Coming To Dinner, Peele places a drill machine on your skull and switches it on. Chris is repeatedly assured by his girlfriend, Rose, that her parents are progressively liberal. On arrival, he discovers that the staff employed on their family estate are not just all black, but bow and scrape as if they are still on a Southern plantation in the 1830s.
The one thing I would like to learn from this horror movie about race and supremacy, is a trick used by Rose's hypnotherapist mother. She has a method of mesmerising people using just a dainty teacup and a tinkling spoon. This takes the whole chai pe charcha to a new trance-inducing level.
The Horrifying Weight Loss program is primarily for those looking to lose some pounds. If you are one of the abominations gifted with the ability to have your cake and eat it too in a size zero dress, then let me assure you that there are other minor health benefits to this programme. A recent study in The International Journal on the biology of stress indicates that watching horror films may strengthen the immune system. Researchers have found that because the experience releases dopamine and serotonin, it could boost your sex drive as well.
Statutory warning: If my Horrifying Weight Loss program sets you ablaze and you decide to end your Netflix binge by starting a Tinder one, pay heed to It Follows and do proceed with caution. Condoms may be effective against most STDs but cannot protect you from catching a demon.
My program is merely meant to aid you in zipping up your pants easily. Unzip at your own peril.