Representative image: Rosemary Ketchum/ Pexels
A simple guide to understanding gender, sex and other confusing topics you may be struggling with
The rainbow that has more than just seven shades
Growing up, we believed that rainbows were a seven-hued umbrella, thanks to the mnemonic phrases we picked up like obedient parrots. But in reality, a rainbow is a spectrum with some hues invisible to the human eye. The parallels of the gender spectrum with the rainbow are unmissable. A 'gender spectrum' is where gender exists beyond a simple male/female binary. Far afield from pink for girls, and blue for boys.
Governments the world over have begun to pay attention, with the United States issuing the first passport with an 'X' gender designation. In India this year, following a Madras High Court observation on medical courses in India reaffirming queer-phobia, the National Medical Commission directed medical colleges to remove "unscientific" and "derogatory" remarks about the LGBTQIA+ community. Then in December, Kerala native Sruthy Sithara became the first Indian to win Miss Trans Global 2021.
Apart from popular culture, our understanding of the gender spectrum comes from personal experiences shared by members from the community. Dr Trinetra Haldar Gummaraju, who identifies as a trans woman, openly shares on social media about the trauma associated with gender dysphoria, and the liberation she feels after her transition. Same goes for fashion designer Saisha Shinde, whose transition grabbed headlines across the country.
View this post on Instagram
We spoke with clinical psychologists Prachi Vaish and Varsha Patkar about the differences between sex, gender, identity and the gender spectrum.
Vaish explains that the fluidity of the gender spectrum may be hard to accept because "our brain tries to make sense of things by putting them into categories. If we didn't have natural categories like food, plants, animals, etc encoded in our minds, we would have to freshly encode this information every day, to identify things around us and it would be impossible to function effectively."
As social animals, how others view us is inextricably linked with how we view and treat ourselves. "The 'need to belong' and a 'fear of rejection' are the two most common underlying issues of gender dysphoria," shares Patkar. "Being different meant fear of ostracism which means we could be abandoned. That threatens our survival."
If acceptance doesn't come from our closest social groups, self-doubt, self-esteem issues and more crop up. So in order to be respectful, use the name and pronouns a person asks you to use.
Understanding the gender spectrum
Sex: Vaish explains, "Sex refers to the biological organisation — reproductive organs, chromosomes, hormonal makeup and secondary sexual characteristics like facial hair etc." Mixing up sex with gender is the biological version of judging a book by its cover — sex is what someone is born with, but gender is how you feel on the inside.
Gender: Patkar explains that contrary to biological sex, gender is more complex. Sex is typically dimorphic (occurring in two distinct forms) but gender exists on a continuum, that is unique to the individual and separate from their biological sex. Your biological sex could be 'male' but your gender could be trans-female. One puts you in a box, the other frees you to be yourself.
Gender spectrum: According to Vaish, the gender spectrum is an understanding that gender is not binary, but a spectrum of biological, mental and emotional traits. That's why we talk about gender as fluid. And humans can fall anywhere on this spectrum.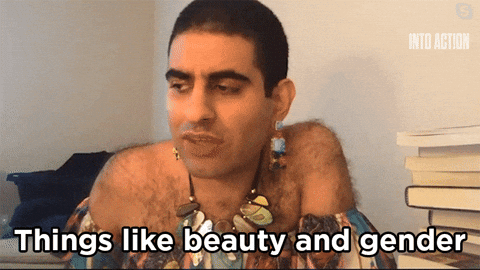 Gender identity: "Gender identity is an internal experience, and refers to how someone identifies themselves. Usually this starts to surface very early in life in how a child likes to dress, behave and act. Regardless of the (biological) sex, they can identify with any gender that feels natural to them. This identity is not always very static or rigid, and evolves," says Vaish. One's gender identity could be woman, man, transgender, non binary, or an infinite number of other possibilities.
Gender expression: How a person publicly expresses their gender. An individual may be a trans woman, but having biologically been born as a male, she may choose to express her gender as male, especially if she lives in a society where she is not accepted. GLAAD (Gay and Lesbian Alliance Against Defamation) describes gender expression as: "External manifestations of gender, expressed through one's name, pronouns, clothing, haircut, behaviour, voice, or body characteristics. Society identifies these cues as masculine and feminine, although what is considered masculine and feminine changes over time and varies by culture." Gender identity is internal, while expression is external.
Gender congruence: The feeling of harmony with our gender: experiencing comfort in our body as it relates to our gender. As in the case of trans women Gummaraju, and Shinde, they were able to feel a sense of gender congruence once they transitioned.
Gender dysphoria: As Patkar explains, it is where a person experiences discomfort or distress because there's a mismatch between their biological sex and gender identity. This is the opposite of gender congruence, and tends to cause psychological and emotional issues.
Cisgender: A person whose gender identity corresponds with the gender they were assigned at birth. Cisgender simply means that a biologically born female, identifies as a female. It does not reflect their sexual or romantic attractions. A cisgender woman can be gay.
Transgender: A person whose gender identity does not correspond with the gender they were assigned at birth. A parent of a transgender child shared their struggles with Tweak, and the difficult road to finding themselves.
Gender transition: A process a person may take to bring themselves and/or their bodies into alignment with their gender identity. Transitioning can involve medical treatment and hormones, changing your name and preferred pronouns, and coming out to friends and family.
Non-binary: It's an umbrella term for people who do not describe themselves or their genders as fitting into the categories of man or woman, or those who have an expansive and fluid gender identity. A range of terms are used to refer to these experiences; including genderqueer, or agender (having no particular gender), and gender fluid (has a gender identity and presentation that shifts between, or shifts outside of, society's expectations of gender).
Gender queer: Someone who is genderqueer, identifies with neither, both, or a combination of male and female genders.
Gender fluid: A person who identifies as gender fluid may move from male to female over time and mood, and feel that both gender identities make up who you are as a person. Gender fluidity refers to change over time in a person's gender expression or gender identity, or both. As singer Sam Smith explains, "When I saw the non-binary, genderqueer, and I read into it, and I heard these people speaking, I was like, 'F***, that is me.' That's how I take it: I am not male or female. I think I float somewhere in between. It's all on the spectrum."
Agender: Or genderless, is described as "lack of gender."
Intersex: An umbrella term that describes a variety of conditions, in which a person is born with a reproductive or sexual anatomy that doesn't fit the typical definitions of female or male. For example, a person might be born appearing to be female on the outside, but having mostly male-typical anatomy on the inside.
Many people confuse transgender people with people with intersex conditions because they see two groups of people who would like to choose their own gender identity and that tends to require hormonal treatments and/or surgery. They're not the same. Intersex can be described as disorders of sex development (DSDs) while being trans is when a person's gender identity does not correspond with the gender they were assigned at birth.
* These terms are not all encompassing as they are constantly being updated. Sources include NPR.org