BTS is one of the best- known and loved K-pop bands in the world BTPhoto: Instagram.com/bts.bighitofficial
How to become a K-pop star even if you're Indian
Being a fan means big business in the North-East
In the early naughties, Karan Johar was busy creating a world where college students wore crop tops. Meanwhile Aamir Khan's Dil Chahta Hai goatee was magically sprouting on faces around the country.
But a cultural revolution of a different sort was brewing in the North-East. As insurgent groups in Manipur had limited exposure to mainstream Indian entertainment, local channels aired Korean dramas instead. Pirated film DVDs had people hooked. This resulting pop culture boom, known as the Hallyu wave, flooded the neighbouring states from Mizoram to Arunachal Pradesh long before Psy's Gangnam Style gave us viral fever.
Kim Kum-pyoung, director of Korean Cultural Centre India remarks, "North-East is leading the Hallyu wave in India", which in its 2.0 version, is about the unprecedented popularity of K-pop music and idols (Korean equivalent of Bollywood superstars).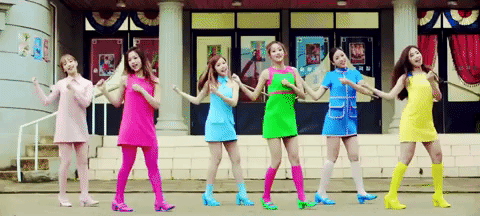 K-pop's slick videos, flawless styling, energetic synchronised dancing and catchy songs are a complete entertainment package, and the many reasons for this fervent fandom go beyond the obvious similarities in facial features. Although the aesthetic appeal is the first meeting point of two radically different cultures, K-pop's deep and lasting impact is rooted in a sense of empowerment, especially for impressionable teens and young adults.
"A shared passion for dance and girl power brought us together," says Jacinta Lalawmpuii of 5 Feet; one of the first K-pop girl bands from the Northeast that performed in Korea. Back home, they were shortlisted for India's Got Talent. As participants in the reality show with Karan 'culture king' Johar in the judging panel, she recalled how they were frequently called for promo shoots — "They liked our styling and Johar took interest, although we didn't win."
When Jacinta was a teen in 2011, young women like her were on a steady diet of K-pop girl bands, from 2NE1's I am the best to Girl's Generation's Into the new world.
"Unlike boys who are easily 'allowed' to step out of their homes, girls are sheltered. K-pop then becomes their source of entertainment and inspiration," explains Romita Ahanthem, a lecturer of Korean language in Manipur. Patriarchy has deep roots in the Northeast and women's safety is truly a concern.
But, the boys haven't lagged behind. In 2017, a boy-band from Mizoram, Immortals Army, won in the dance category of the K-Pop World Festival in Changwon, South Korea. They performed to BTS' chart-topping number Blood, Sweat and Tears, and brought home prize money amounting to $7,000.
Like football fanatics in India who weep over an Arsenal loss or Messi's evasive World Cup, distance makes the fan grow fonder. Social media has helped bridge the gap in air miles. Fan clubs on social media like Mizoram K-pop Fan Club and Arunachal K-pop Hub, or those named after bands like EXO and BTS, offer a safe space to declare your undying loyalty.
Apart from being cult fans, young North-eastern K-poppers even learn Korean to form bands. Though they practice relentlessly to emulate their idols, there's a lack of original music. Instead, they create covers of K-pop, English, and the odd Bollywood number, that are uploaded on YouTube and unleashed on the internet.
So, what spurs North-easterners to harbour ardent dreams of being K-pop idols? The proliferation of K-pop contests by regional event management companies and government-recognised organisations, such as the Korean Cultural Centre India (KCCI). It gets wildly competitive.
KCCI's contests span various regions, and the countrywide winner then competes at the K-pop World Festival in Changwon, South Korea. In short, it's a talent-scouting mechanism and the winners are chosen by entertainment agencies in South Korea.
Here's the catch: Like the parts in your iPhone, there's nothing organic about how K-pop bands are created. An entertainment company carefully handpicks each member, writes songs, choreographs dance routines, styles them, produces videos and strategises marketing before launching a band. This rigorous training period can last anywhere between 1-10 years. Perhaps, no other entertainment industry in the world is as committed to creating global superstars.
In 2019, for the first time ever, two Indians debuted as international K-pop idols — Assam's Priyanka Mazumdar and Delhi's Siddhant Arora. Priyanka was a winner at the K-pop World Festival in Changwon in 2016. They are now part of two different groups — Z-Girls and Z-Boys from Korea.
From local addiction to global ambition, the Hallyu wave in the North-East is bringing big bucks and the promise of stardom with it. With any luck, the next K-pop idol filling stadiums and breaking Billboard records might have an Indian passport.