Stills from Panchayat; Derry Girls
15 clever comedy shows to help you roll with life's punches
They take on death, the after-life, dating, and delirium of everyday
Broaching the subject of your death casually is the equivalent of telling people you have Covid-19. It's shock-inducing, leads to whispered chatter, and everyone wishes you hadn't told them, as they awkwardly try to placate you. Yet, both are inevitable. Considering the pandemic, I've been thinking about my mortality way more than usual. Maybe it's also because I've been binge watching Upload — a series about life after death. Here, you can buy a space, a "digital afterlife program" for your consciousness, and depending on the chunkiness of your wallet, choose the level of luxury your forever-after self gets to live in for, well, ever after.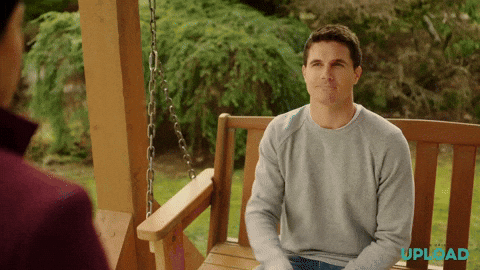 Having spent nearly 15 months in a lockdown situation, I'm not enthused about being trapped somewhere for all eternity. No matter how fancy the breakfast buffet is. The show is meant to be funny. And it is, but along with guffaws that come with trying to watch an alive person have virtual sex with a dead person in a decidedly un-sexy suit, the very real pitfalls of technology and consumerism are hard to ignore.
But that's the thing about clever comedy shows. They're not satisfied making you laugh at cheesy jokes, or forced physical humour. Like smart comedy movies, they bring you in for the punchline, and knock you down with a left hook.
Like life itself.
Across my many lockdown moods, I have devoured saccharine sweet sitcoms like Country Comfort, Family Reunion, and Young Sheldon but ultimately, my brain needed circulation, not comfort.
According to Janet Gibson, professor of psychology, Grinnell College, Iowa, my coping mechanism of turning to dark humour is predictable. She explains, "Though it seems even more counterintuitive, dark humour might be an equally viable method of anxiety reduction in dire situations that seem completely hopeless or out of a person's control." Like a never-ending pandemic.
I found the OTT world obsessed with death, the after-life, dating conundrums and the delirium of everyday life. Superhero show Wanda Vision isn't a comedy, but with its nuanced take on grief and self-awareness, humour creeps in subtly and in spurts. Other picks like The Boys, are clever, but on the darkest end of the comedy spectrum. The rest are sweetly funny, some give in to sitcom tropes, but what unites them is an underlying realness — a glossy rear view mirror reflecting some of life's hardest truths back at you, amidst absurd setups.
Because, objects in mirror are closer than they appear.
Like I said, life is all about rolling with the punches. Enjoy these, for now.
15 clever comedy shows for when your brain needs circulation, not comfort
Call My Agent, 2015
Language: French
Harried talent agents (and they always tend to be) would affirm that there's nothing remotely funny about dealing with publicity crisis, juggling hectic schedules, and celebrity 'requests', but if the French comedy created by Fanny Herrero, Call My Agent is anything to go by —  it's funny. At least for the people watching.
Featuring a motley group — Andrea (workaholic ballbuster), Mathias (scheming, charming veteran), Gabriel (sweet man child), and Arlette (the oldest agent in France) — at a French talent agency, the show features satirised versions of a real celebrities, while going behind the scenes of the agents' lives.
Delicately balancing the expected glamour of the entertainment world with the gritty reality behind what it takes to make things seem as shiny as they are. The show that isn't afraid to call out celebrity culture for its failings has catapulted into a cult sensation.
And sarcasm, in French, is even saucier.
Watch on Netflix
Crashing, 2016
Friends was the idealistic group of 20-somethings we wanted to be, with problems that melted away by episode end, rent-controlled apartments and jobs that allowed you to lounge in a coffee shop at 12pm on a Tuesday. Crashing is closer to real life.
Written, created and starring Fleabag Phoebe Waller-Bridge, the six-episode miniseries follows the life of six 20-somethings who live in a disused hospital as property guardians — keeping the building safe in exchange for cheap rent, and a strict set of rules.
It's binge worthy for Waller-Bridge's classic dark sense of humour and crisp writing — grief, sex, denial, self-consciousness linger under the veil of lost adults aching for a connection. Blunt truths about loneliness and longing come crashing to the surface of what appears as a frothy comedy.
Watch on Netflix
Fleabag, 2016
Dirty, infested with life lessons, shamelessly acting out most of our, "Yes I thought it, but I can't believe you did it' fantasies and fallacies, written (starring) and created by Phoebe Waller-Bridge, Fleabag is the prize dog of clever comedy shows.
Fleabag is a free-spirited, sexually active, angry and confused young woman, trying to 'heal'. Across two seasons, Fleabag does exactly what she wants, even as you silently watch and hope she really doesn't.
With the addition of complex family dynamics — widowed father, a passive-aggressive step mother, a high-strung sister, a range of love interests, a dead best friend and Fleabag's poor decisions, the show realistically depicts the trials of grappling with grief, loneliness, self-esteem, and family.
Waller-Bridge based this two-season show on her one-woman play and routinely breaks the fourth wall to look you deadpan in the eye. Nothing is taboo. Not even a blasphemous relationship with a hot priest.
Watch on Prime Video
The Letdown, 2016
Having a sense of humour is crucial to motherhood. Just ask any mommy who has had pee shooting into her face while changing her son's diapers.
With this overarching theme, Australian comedy series The Letdown delivers on its promise of exploring the trials of new motherhood. The title, a play on the word letdown, and the let-down reflex in breastfeeding, signals that this dramedy isn't afraid to get real.
Created and written by Alison Bell and Sarah Scheller, with the former playing the lead Audrey, the 2 season show starts off with her attending a parents' group moderated by an unsympathetic maternal health nurse. She's trying to establish a rhythm with this new creature in her life, while desperately craving the normalcy of her former life with her long-term partner.
Sure motherhood can be glorious, but it can also be gory.
New moms, this will remind you that misery, and motherhood, both love company.
Watch on Netflix
Workin' Moms, 2017
In the Canadian show, four 30-something women – Kate Foster (Catherine Reitman), Anne Carlson (Dani Kind), Frankie Coyne (Juno Rinaldi) and Jenny Matthews (Jessalyn Wanlim) – meet at a Mommy-and-Me group in Toronto, and connect over soiled nappies and sleeplessness.
Tackling issues of post-partum depression, breastfeeding, physical changes, mom guilt, it gives you enough comebacks the next time someone offers you unsolicited motherhood advice.
It's so relatable that it's made it to five seasons, and I'm sure viewers are hoping they're workin' on more.
Watch on Netflix
Barry, 2018
Bill Hader stars as Barry, a depressed, low-rent marine turned hitman from the Midwest. Lonely and dissatisfied, he heads to Los Angeles to take out an aspiring actor.
PLOT TWIST.
He finds himself drawn to LA's theatre scene and takes on amateur dramatics himself. He's drawn into a dangerous double life, and the not-so-heroic protagonist embarks on a series of decisions that not only keep him entrenched in the life of crime, they threaten to submerge his new coterie.
The droll, deadpan comedy shines the spotlight on Barry, showing shades of PTSD — he appears empty of emotion and perhaps is drawn to emoting to try and express his complicated feelings. And perhaps even discover why he's so drawn to killing.
With two seasons under their belt, and a third and fourth promised, we're not sure where Barry is going, but we're waiting for him to act out.
Watch on Disney + Hotstar
Derry Girls, 2018

Sometimes clever comedy shows masquerade as teenage sitcoms featuring fake pet deaths, lying parents, fake miracles in church and stowaway border crossers.
The shows follows Erin (Saoirse-Monica Jackson), her cousin Orla (Louisa Harland), their friends Clare (Nicola Coughlan aka Lady Whistledown on Bridgerton) and Michelle (Jamie-Lee O'Donnell), and Michelle's English cousin James (Dylan Llewellyn) navigate their teen years during the end of The Troubles in Derry, where they all attend a Catholic girls' secondary school.
The irreverent, brilliantly cast show with political undertones, balances the heavier subject matter with tongue-in-cheek zingers. The poignant portrayal of both adolescence, and the troubles that families go through during conflict, somehow, kind of makes you want to go back to school.
Or at least, miss your own motley crew. And yearn for greasy fish and chips.
Watch on Netflix
Dead to Me, 2019
Like I said, it's hard to find the humour in death. Yet, in Liz Feldman's Dead to Me, death unites two grief-stricken women in Los Angeles.
Jen (Christina Applegate) is a widower, Judy (Linda Cardellini) is a sympathetic free-spirited artist whose fiancé breaks up with her. They meet at a grief support group, and after rounds of awkward small talk, decide they are good for each other's fragile mental health at the moment.
Jen invites Judy to move in with her as they navigate loss and share deep secrets.
While the show about grief, coping and sisterhood takes on many dark twists, it offers small relief in silliness, and light moments.
Sometimes, it's a bird that your kid is convinced is the avatar of your dead husband.
You're going to have to watch to understand.
Watch on Netflix
After Life, 2019
Written, directed, created by and starring Ricky Gervais, the show follows journalist Tony, whose life is turned upside down after his wife dies from breast cancer.
Instead of trying to simply cope with his loss like a normal person, he decides to punish the Universe for his wife's death by "saying and doing whatever he wants."
Across two seasons of the sarcastic, sometimes dreary deadpan drama-comedy, the Universe fights back, urging him to be better, and cope with his grief.
Watch on Netflix
The Boys, 2019
Yes, this is another superhero story. But it isn't.
Here, no masked heroes save the day. They're now working for the powers that be (aka The Man, aka Vought International), are hero-worshipped, go on chat shows, endorse energy drinks and hold auditions for people to join them. The best and the brightest are 'The Seven'.
But below the surface of this modern day utopia created by Eric Kripke (of Supernatural fame) the Seven are unveiled as corrupt, flawed and sometimes, evil. In come The Boys, vigilantes looking to bring down Vought and its corrupt superheroes. Across two seasons, laced with dark satire, the two groups come into chaotic, violent, frenzied conflict with each other.
More importantly, we're forced to rethink our admiration of celebrity culture, over dependence on corporatization and its pitfalls — and deconstruct the heroes we so idealise in real life.
I told you it wasn't just a superhero story.
Watch on Prime Video
Panchayat, 2020
Language: Hindi
Some clever comedy shows plunge you into incredibly dark worlds and with subtle nuances, force you to wryly chuckle. Others, like Panchayat are just about nuance.
It follows Abhishek Tripathi (Jitendra Kumar), an engineering graduate who joins as a Panchayat secretary in a remote village Phulera of Uttar Pradesh due to lack of better job options. This slice of life is drastically different from our world — here, days are spend looking for office keys in fields, stolen computer monitors, investigating haunted trees and fighting for one more street light to be added to the town.
From addressing grassroot corruption and dowry culture to the birth of andh vishwas, the shows dives deep into the realities of this life. A life we maybe far removed from, but one that still desperately persists.
 Watch on Prime Video
Woke, 2020
Keef Knight (played by Lamorne Morris, aka Winston on New Girl) is a black cartoonist who keeps it light, and shies away from controversial subjects — but being being racially profiled by aggressive policemen leads a traumatised Keef to being able to see and hear inanimate objects talking to him.
Now more sensitive to racism, the live action meets animated show follows Keef as he navigates his relationships and career as a now 'woke'-en up black man. With a premise that hits close to home in our admittedly dark times, it may not be the most eloquent take on the subject, but it's definitely a conversation starter. It has been renewed for season 2.
Watch on Sony Liv
The Great North, 2021
Will family escapades ever not be funny?
The show is centered around single father, a gruff fisherman Beef Tobin (played by the always amazing Nick Offerman of Ron Swanson fame) who lives in the fictional town of Lone Moose, Alaska with his four children Wolf, Ham, Judy, and Moon.
One of the sweeter, warmer picks on this list of clever comedy shows, the The Great North is definitely witty but at the end of the day it's about a regular(ish) family trying to be better to each other, while living in a not-so regular place.
Like they say: "Happy families are all alike; every unhappy family is unhappy in its own way."
Watch on Disney Hotstar
Why Are You Like This, 2021
Move over millennials. The 20-somethings who are navigating adulthood in this old-wine-in-a-new-bottle show are no longer the hipster heroes we're so used to bashing. They're the much darker mysterious creatures known as Gen Z.
Yes, the newer crop of clever comedy shows is here to remind you that you've gone from watching boomers and millennials navigate their 20s, to Gen Z. This Australian show follows Mia, Penny and Austin, as they navigate the "the divisive sociopolitical hellscape that is 2021", come to terms with their own sexual identities and personalities, and grapple with their sometimes admittedly awful actions.
The show's creators insist the aim of the show isn't about redeemable arcs or condemning characters but rather holding up a mirror to who we are today. So, why are you like this?
Watch on Netflix
Wanda Vision, 2021
This is a show about grief. It's a show about coping. It's a show about trying to fill that dark void that our loved ones leave behind when they disappear from our lives. It's a show about finding hope in the depths of darkness.
It's also a love story of a super-powered human being and an android. If you're still wondering why it made it to our list of clever comedy shows, it's because this Marvel miniseries set after the events of Avengers: Endgame pays homage to sitcoms through the years as it goes from black and white Lucille-ball type humour to the dark, layered cynicism we've all come to expect in contemporary comedies.
Following the love story of Wanda Maximoff (Elizabeth Olsen) and Vision (Paul Bettany), as they nest in an idyllic suburban town, where obviously not all is as it seems, it uses all the tropes, chucklingly inwardly at its own cleverness while reminding us of how far we've come from the things we used to find funny.
Watch on Disney + Hotstar