Photo: (L) IMDB and (R) Jim Sarbh
Jim Sarbh invites you to plop down on his couch and share his watchlist
"Lately, I want the good shit. The really good shit"
We fear the day that our watchlist runs dry, and our bank of shows and films teeters to the bottom of the barrel. They've kept us entertained and engaged, filled with something for every mood.
Bless the Wi-fi Gods for giving us this escape when we're shuffling between our living room and bedroom, and the only company we have is Bubbly the ball of hair living under the sofa.
We've become accustomed to this new way of life in front of our screens, whether for work or play. But what about the ones on the other side? The people we're used to watching have joined our club of couch potatoes in lockdown. With their insider knowledge, creative eye and experience, asking for a peek at their watchlist is irresistible.
For Made In Heaven star Jim Sarbh, online streaming used to be about passing the time when the lockdown started. "But lately, I want the good shit. The really good shit. The best shit. Genre is less important – the overall experience is king."
Jim Sarbh's watchlist for lockdown
Paatal Lok
"With one of the finest performances in a web series I have ever seen, Jaideep Ahlawat as Hathiram Chaudhary had me right from his opening speech.
The show, directed by Avinash Arun (Killa) and Prosit Roy (Pari), and written by Sudip Sharma (so many great films), is an engaging, vicious look at the violence inherent in every level of our society. How this violence is born, and the dirty class-based or caste-based politics that seeps down and between these divides. Shoutout to Naren Chandavarkar, Benedict Taylor, Ishaan Divecha, and Mallar Sen for the great score."
Streaming online on Prime Video. 
What We Do in the Shadows
What We Do in the Shadows is a witty comedy show made in the style of a mockumentary. It follows the shenanigans, struggles and daily gaffes of four roommates living in modern-day New York. Oh, and they're all vampires.
It's based on a 2014 film with a similar premise. The writing is spectacular with the perfect balance of dark humour, blood, bodies and bats.
"Created by Jemaine Clement, based off the movie, this show is fucking funny," says Sarbh.
Streaming online on Disney+ Hotstar.
Jeffrey Epstein: Filthy Rich
Partially based on a 2017 book written by James Patterson and directed by Lisa Bryant, this four-part Netflix documentary is trending on the global watchlist. It's not because there's any new information as such about Epstein, that is if you've previously read up on the case.
What gets to you is the harrowing testimonies of survivors talking about their experiences of intense manipulation, abuse and exploitation.
"The information presented in this documentary is sickening. Jeffrey Epstein was a serial child molester and operated a spiderweb of underage prostitutes across cities and countries.
It is fairly mind-boggling and terrifying to understand just how much can be covered up if you are rich enough," says Sarbh.
Streaming online on Netflix.
The Office (US)
The US remake of The Office may have ended in 2013 but it has left us with a lifetime worth of memes. The show is a mockumentary that focuses on the antics of office-goers in Pennsylvania making the most of their work at a paper company, Dunder Mifflin.
We've all encountered one of these characters in our real lives. Whether it's an overbearing boss with no boundaries like Michael, grumpy coworkers like Stanley, or office romantics like Jim and Pam. "Dwight. Need I say more?" adds Sarbh.
On the surface, the show may seem frivolous with Michael's dad jokes and who cares about a paper company, really? But as you follow their journey over the seasons, we see the characters grow and evolve to become the favourites we still hold in our hearts.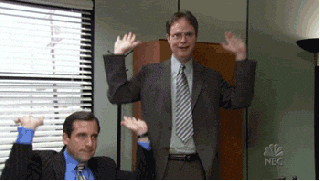 The Last Dance
The Last Dance is a 10-part sports documentary unlike any other. Directed by Jason Hehir, this watchlist favourite focuses on the career of basketball icon Michael Jordan. Viewers become companions on his last season with the Chicago Bulls with footage from a film crew that was granted an all-access pass to the team behind the scenes.
We get a glimpse of the making of the legend of Jordan. There are highlights from across his career, the highs and lows, the relationship dynamics with his teammates and peers in the NBA who were also interviewed for the show. We see the rivalries that kept his career going, the personal tragedies that made him take a turn as well as the faults of his personality – like the intense competitiveness that led to blows with another player.
Sarbh says, "I love basketball. I love Michael Jordan. I can be intensely competitive. The Bulls team of Jordan, Pippen, Rodman, and Kerr, was the Bulls team I loved as a kid. I had all the basketball cards. I missed playing."
Streaming online on Netflix.
WATCH NOW – Radhika Apte chose sharks over sex