Still from 'Sacred Games'
Scandal, drugs and superheroes: 13 TV shows to stream before censorship takes over
The government's new ruling is going to change your watchlist
The burst of online streaming platforms gave India a space to explore subjects that might have been too taboo to talk to Rajiv kaka about over dinner. Without fear of censorship, we saw life in all its gritty reality — scandal, sex, violence and politics. While some took the opportunity to raise eyebrows with nudity and bloodshed that regulatory boards wouldn't let pass, other voices started conversations that we were too shy to have out in the open.
Up-and-coming writers, actors, directors and musicians got a chance to showcase their talents without the constraints of mainstream channels and nepotistic string-pulling.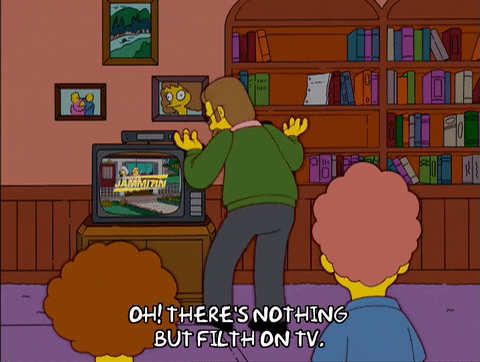 But now it looks like the moral-policing uncles and aunties who complained to our parents about us talking to boys in the park late at night (*cough* it was 8 pm) aren't just going to be playing hall monitor for TV programmes and films. Like pesky Pokemons, they've taken on their next form to join us in our living rooms through censorship on our phone and laptop screens as well.
Streaming platforms like Netflix, Amazon Prime Video and Disney+ Hostar have been brought under the I&B ministry's regulations by the Government. Making them subject to the same censorship rules that control television content.
It's too soon to tell just how this is going to play out and affect quality online content. But given the track record, we prefer to stay on the side of caution. We're binge-watching all the TV shows we added to our watchlist, swearing that we'd get to them at some point. Because who knows what could possibly be changed or taken down completely.
Grab an extra-large bowl of makhana and line up these controversial, R-rated and provocative shows before Big Brother starts censoring content.
13 tv shows to watch before censorship ruins them for us
Leila

Based on the novel by Prayaag Akar, Leila became a highly controversial Netflix series. On the surface, the dystopian story is about a mother's search for a lost daughter, but you dive deep into so much more than that.

Protagonist Shalini's (Huma Qureshi) privileged life is turned upside down when her inter-faith marriage comes under fire. Her daughter is lost to the bureaucracy as she escapes the facility for women where she was sent for reformation and hunts for her, navigating garbage, smog, thugs and high walls.

It's a world run by a fanatic totalitarian state where people live in different sectors, separated on the lines of caste, class and religion and judged on a rigid concept of 'purity'. Water is rationed unless you're among the elite who can easily get it and high surveillance makes mobility among communities a tough task.

Audiences were left divided. On one hand, there was a group that touted it as a stark reality check of fanaticism and climate change. On the other were protestors citing that it was spreading Hinduphobia. So much so that some believe the controversy halted the renewal of the series.

Watch on Netflix

True Blood

True Blood, the supernatural horror drama is based on a series of novels titled The Southern Vampire Mysteries by Charlaine Harris. The show centres around Sookie Stackhouse (Anna Paquin), a telepathic waitress in a small town of Louisiana, USA, whose life changes forever when a vampire Bill (Stephen Moyer) walks into the bar she works at.

It's set in a world where vampires live out in the open, alongside werewolves, shapeshifters and more. We've also got gratuitous display of violence, blood, full-frontal male and female nudity and a whole lot of sex.

This show had people around the world clutching their pearls for all the sex you're shown – heterosexual, homosexual, groups, covered in blood and soaked in violence. We wouldn't be surprised if this is the first one that gets taken off the air.

Watch on Disney+ Hotstar

High Maintenance

Created by former husband and wife duo Ben Sinclair and Katja Blichfeld, High Maintenance started as a short web series before it was picked up by HBO and turned into a full-fledged television series in 2016.

We get to meet 'the Guy', an unnamed loveable marijuana dealer who cycles around New York City for deliveries to a variety of clients. In each episode, you get to meet people that the guy interacts with and through them, learn a bit about life in the city, relationships and the human condition as a whole.

It's a light-hearted show that talks about love, loss, loneliness and sexuality through all the characters the guy meets. But a show about people getting high and a drug dealer who makes it very hard not to fall in love with him? It might get a bit iffy for the powers that be.

Watch on Disney+ Hotstar

Mirzapur

Since its first run in 2018, the audience has been hooked on Akhandanand Tripathi (Pankaj Tripathi), better known as Kaleen bhaiya, the don of Mirzapur whose family has been running the show with the sale of drugs, local guns and power.

In come two brothers, Bablu (Vikrant Massey) and Guddu Pandit (Ali Fazal) who threaten the boss's son's ego and position themselves as leaders of Kaleen bhaiya's business. The show revolves around mafia rule, politics, violence and crime in the Purvanchal regions of Uttar Pradesh.

Some shrugged it off for being an over-the-top violent extension of Anurag Kashyap's celebrated Gangs of Wasseypur films, while others joined the gang of admirers for the local flavour, power plays, machismo and general violence the show depicts.

It's quite an unabashed look at gang rule in India which quickly caught eyes across the country, and it's just-released second season is even bloodier, and bigger.

Watch on Amazon Prime Video

Sex Education

Season 1 of the Netflix original introduced us to late bloomer Otis Milburn (Asa Butterfield), the son of an unapologetic sex therapist (Gillian Anderson).

Through the course of the season, Milburn, along with his classmate Maeve Wiley (Emma Mackey), is shown trying to set up an underground sex therapy clinic at their high-school. Millburn uses the expertise learned from his mother to counsel his classmates through their sexual woes.

There are a lot of topics the show manages to touch upon over its two seasons that mainstream media tends to stay clear of. From abortions and queer love to sexual assault and sexual desire in older women from a gentle, kind perspective. All subjects that would make your sanskaari aunties blush a bright tomato red.

Watch on Netflix

Sacred Games

The first original series created under the Netflix banner after it entered the Indian market, this adaptation of Vikram Chandra's book was directed by Vikramaditya Motwane and Anurag Kashyap.

For those unfamiliar with Chandra's book, we follow protagonist Sartaj Singh (Saif Ali Khan), a down-on-his-luck policeman struggling with his colleagues' corruption and his own fumbling career. A phone call from notorious gangster Ganesh Gaitonde (Nawazuddin Siddiqui) changes his life after he's told by Gaitonde that he has 25 days to save the city.

The two seasons follow his journey down a rabbit hole of conspiracies deep into the belly of the underworld running the city.

The series faced a number of controversies, managing to piss off people across political lines. The last time we checked, the show and its creators had 3 cases filed against them by different parties for enraging people from various groups.

Watch on Netflix

Patriot Act with Hasan Minhaj

Patriot Act had slowly become one of the best TV shows to watch if you want to get your news with a side of comedy.

In each episode, comedian Hasan Minhaj takes a deep dive into topics ranging from cricket to Saudi Arabian politics with his signature humour. With quick wit and a team of sharp observers, writers and investigators, week after week, he tackled news from across the globe with in-depth analysis while ensuring it was understandable to all.

Tapping into his South Asian heritage for references and relevant pop culture jokes, Minhaj became incredibly relatable to an Indian audience.

It's clear that his popularity came with a fair share of negative attention and censorship as well. With many people happy to see the show ending, some of us are still rage-watching the remaining episodes while we can.

Watch on Netflix

Wild Wild Country

This docuseries gave us an inside look, through personal experiences and testimonials, at Rajneeshpuram, Bhagwan Shree Rajneesh AKA Osho's utopian community in Wasco County, Oregon.

Ma Anand Sheela became our favourite villain and we got a look into the life of godman Osho, revered by millions around the world.

This series showed a different face of the guru that got under a lot of people's skin. Osho followers were up in arms over this negative depiction while others started questioning their belief in their guru.

Others claimed the series didn't go far enough into the claims of sexual assault at this 'cult' and even painted Ma Sheela in a softer light than her real self.

Our society has a tumultuous relation with godmen – love them or hate them, there's a chance you won't get to see this again so stream it while you can.

Watch on Netflix

Paatal Lok

In the opening episode, Delhi cop Hathi Ram Chaudhary (Jaideep Ahlawat) carefully explains mythical geography to his young colleague: Swarg Lok (abode of the Gods), Dharti Lok (a world for humans) and Paatal Lok (netherworld that nobody cares about).

As the show unfolds, these three worlds collided and we follow Hathi Ram as he investigates the attempted murder of a celebrated journalist and gets embroiled in a dark web of power plays, political agendas, bureaucratic loopholes and more.

Incredible amounts of violence, depiction of sexual assault, lynchings, media manipulation and spreading Hinduphobia – the show and its producer Anushka Sharma were flooded with a number of accusations and calls for censorship. Still, the show became one of the most-watched and critically-acclaimed series in the country.

Watch on Amazon Prime Video

Ghoul

People called for the ban of the TV series Ghoul, among others, for its "incorrect picture of Hindus and India globally".

The show features Nida (Radhika Apte), a military interrogator who is sent to a detention centre to face sect leader Ali Saeed (Mahesh Balraj). Suspecting that he's been possessed by a ghoul, she tries to convince her colleagues about this supernatural occurrence as Saeed unleashes hell.

The presence of the ghoul unravels people's secrets and Nida's allegiance to her country and faith are called into question. Some viewers initially believed the show demonised Muslims, while others cried afowl over the negative portrayal of military personnel, persecution of Muslims and overall communalism in the country.

The critical reception to the show was mixed but as a dystopian horror series, it makes you think in-between a few jump scares.

Watch on Netflix

Bad Boy Billionaires

In this docu-series we get to dig into the minds of scandalous men — Vijay Mallya, Subrata Roy, Nirav Modi and B Ramalinga Raju. They are household names infamous for building their individual empires on pillars of lies, fraud and scams.

With the help of influential insiders, the investigative show attempts to dissect the brains of these genius-turned-wanted criminals to figure out how they pulled off some of the biggest scams of our times.

For weeks this show was caught up in legal troubles, finally coming out with permission to air three out of the four episodes. The case regarding the episode about software tycoon B. Ramalinga Raju is still pending.

Watch on Netflix

Messiah

Messiah set out to be a thought-provoking show about faith, fanaticism and politics but ended up being shut down for Islamophobia and depiction of the Prophet, though the creators say the character is not meant to represent any one person.

The show features a CIA agent (Michelle Monaghan) who is looking into the emergence of a new enigmatic leader known as Al-Masih (Mehdi Dehbi) who quickly gains a large following. Questions emerge regarding this new alleged prophet's intentions and ultimate goal as mystery continues to surround his origin and end game.

There are points in the show where you're taken aback by the poignant dialogues of Al-Masih and other instances when you yawn at the non-action. Even with him performing 'miracles' and winning over an American audience was ravaged by a cyclone and looking for something (or someone) to believe in again.

Watch on Netflix

The Boys

This show exists in a world where superheroes are part and parcel of daily life. In fact, they've become part of an organisation, capitalised and monetised with TV shows, films, merchandise and more.

Based on a comic book by the same name, instead of the superheroes, this show focuses on a group of vigilantes out to seek revenge against the 'supes' who abuse their powers.

It sways between being witty and offensive with depictions of assault, gaslighting, misogyny and racism. But its popularity remains due to its relevance, with the plot often mirroring reality.

In the latest season, for example, the organisation is *spoiler alert* infiltrated by a Nazi superhero doing her best to 'make America great again' with the help of the shows complex lead villain, Homelander.

There is so much graphic violence in this show that it's understandable why some people have been put off by it. Take the first episode as an example where one of our vigilante's entire trajectory is driven by the fact that a lightning-fast superhero literally runs through his girlfriend on the street, causing her to burst into a million little pieces in front of his eyes in a split second.

It's a lot to process and not for those with a weak stomach.

Watch on Amazon Prime Video