Photo: Wikimedia Commons
Why Lord Shiva is the coolest God in the pantheon
He was in touch with his emotions, didn't believe in feudalism and had a wardrobe quirkier than Ranveer Singh's
When you grow up in a commie household, religion often comes second or third, but never first. Mine wasn't any different, though I definitely prayed before my science exams. Not that it was of any help. I knew the protagonists and authors of Ramayana and Mahabharata. And my favourite mythological story till date is Kali's killing spree which was stopped by her husband, Lord Shiva. I've always had a thing for action dramas.
I'm not the only one who loves stories featuring Shiva. He seems to be a crowd-puller. For his better-than-Prabhu-Deva's dance moves, his iconic man bun and his leopard-skin dominated wardrobe.
And in 2010, Lord Shiva introduced a new avatar via Amish Tripathi's debut series, The Shiva Trilogy, a three-part love letter to the eponymous God. The Shiva fanboy has more knowledge on the subject than Wikipedia and is arguably more trustworthy.
Being a religious noob, I did have a bunch of questions for Tripathi. Considering Hinduism has around 330 million deities, I thought I'd ask "Who is the coolest God?". "Ah, I am a biased person for this question. Of course, Shiva is the coolest," Tripathi replies. "He is the kind of God we need today without any disrespect to other Gods and Goddesses of all faiths. Lord Shiva is such a rebel. He treats all as equal. Is the Lord of the arts. The originator of Yoga. His values resonate so much with everything that the modern world believes in."
My blind claims were perfectly in sync with Tripathi's thoughts. It wouldn't be stretching your imagination to breaking point to consider that the sanathan dharma was promoting 'You Do You' before millennials in slogan T-shirts. One person can feed milk to snakes (as a prayer offering for Naag Devta) and the other can tie a thread around a peepal tree, and yet, both are equally Hindu. "There's so much violence committed in the name of the 'True God'. So they will kill someone for simply worshipping the 'False God'," explains Tripathi. "This is wrong. In the Sanatan Dharma, there are no False Gods. Your God is true for you, my God is true for me. So, to each his own. Or as you said in millennial speak, 'You Do You!'"
The writer also believes that modern #woke schools of thought go back to the Vedas. "Lessons of inclusivity, LGBTQIA+ and women's rights can be found in our scriptures," he explains, recounting a legend of Shiva and his baarat. Nobody gatecrashed his wedding because there was no guest list. It was an open ceremony and everybody could participate. "He didn't differentiate on any basis — caste, colour, economic background. In fact, there are legends that Lord Shiva used to chill with the destitute and hang around cremation grounds rather than interact with the affluent," says Tripathi.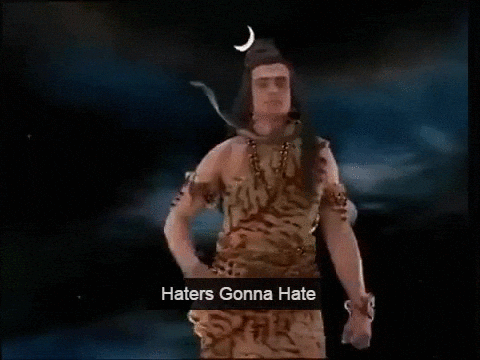 As impressive as this anecdote was, I couldn't help but wonder why my 5th-grade history teacher told us women aren't allowed to read the Vedas? Not that I enjoy the luxury of time to add them to my reading list, but what if somebody wanted to? "People who say such things have no idea what they are saying," he says. "Female rishikas such as Maharishika Lopamudra, Maharishika Maitreyi and Maharishika Indrani and many others have been written some of the verses in the Vedas. If women wrote these scriptures, why can't they read them?" 
I was still soaking in all this information when Tripathi dropped another bomb: "We have had transgender rulers." Whoa, what? "Yes, the Chandravanshi clan was founded by a woman called Ilá. After some time, she became a man called Ila. She was a transgender. See, we have stood for everything that the modern world is rooting for. We just need to look closer," he says. 
Sure, I can do that. Although with 330 million Gods in our scriptures, it's going to take me a few rebirths to get to each of them. But there's one observation that I have certainly made over the decades of closely observing Durga idols at pandals. Lurking around the massive Durga idol, there is always a teeny-tiny photograph of Lord Shiva. I always found it fascinating because Durga Puja is the celebration of the daughter's (Durga/Parvati) homecoming with her kids. So why was the husband hiding behind her? My dadi and Tripathi had a common explanation: "He was madly in love with His wife and couldn't live without Her," says Tripathi. "So, the legend goes, He would follow Her to Her maternal home. He isn't shy of showing His emotions. That's also what a modern man must aim for."