Affordable decor ideas you can steal from your favourite celebrity homes
Budget buys and DIYs
Everyone is finding it a little difficult to cope with my new love of all things interiors – DIYs, decor ideas, impulse buys, and rearranging furniture every three minutes.
"What's the point of a plate if you can't eat in it?" my father asked, genuinely confused, as I squealed with delight while unboxing a wall plate. My dogs are borderline distressed when I disturb their afternoon nap by moving the planter from one side of the couch to the other, and back to the exact same spot, only to move it again five minutes later.
I also feel an intervention coming. My last DIY left a few splatters on the freshly painted walls. I call it abstract art, they call it "Nikhita, hobbies are great as long as they aren't destructive or expensive, or both." My mother also calls it "Can you just stop it?" on occasion.
Even from across the newly made-over living room, I can feel my parents think "We do miss her when she's away, but…"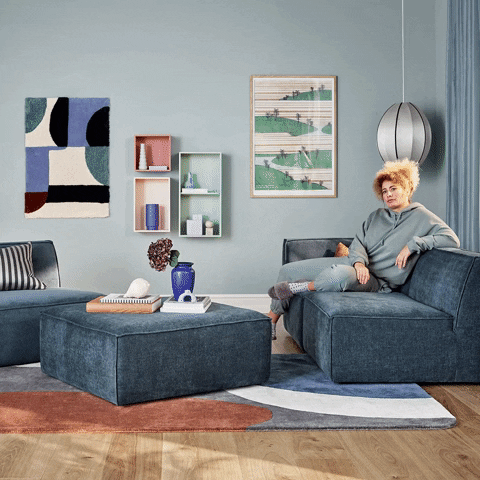 "Changing your environment is one way to interrupt boredom."
This was a piece of advice from Kate Greene, who spent four months in human isolation, pretending to live on Mars for a NASA experiment.
According to her, changing the way your home looks in some cases alleviates loneliness, and also helps break away from monotony. Probably why the lockdown has woken the decor dementors in us.
And now that I've equipped you with a valid argument to justify your all-things-decor addiction, here's a peephole into my blackhole of decor ideas. Borrowed from some of the most stylish celebrities, these decor ideas are all the interior designing inspiration you will need.
And don't go off on a rant about how your budget is nowhere close to your favourite star's bank balance just yet. The decor ideas come with budget-friendly counterparts, and DIY decor tips that will help you achieve the same aesthetic.
Decor ideas you can steal from celebrities and make your own
Alia Bhatt's rustic accent wall 
Alia Bhatt's home has what we like to call the perfect coming-of-age aesthetic. Mature textures and colour choices, with bursts of playfulness, reflective of the child within. The abundance of decor ideas in this one frame has you covered for a while.
Make it your own:
DIY swing shelf from Brit.co
Material required:
1 15×6-inch piece of wood
1 60-inch piece of jute rope
Drill
Ruler
Pencil
Scissors
Directions:
Take your pre-cut piece of wood and measure one inch from the top and one inch from the left. Mark that spot, then repeat on the other side. Repeat, but this time measure one inch from the bottom. Mark the spots with your pencil.
Drill to create four holes at the spots marked.
Take your piece of rope and cut it in half.
Thread the first piece of rope through the top holes and tie a knot to secure the loose end in a way that the rope doesn't slip through the hole. Repeat with the other piece.
White bricks textured wallpaper from Amazon.in, ₹ 1,699 for 57 sq ft
Katrina Kaif's distressed furniture
The door to Katrina Kaif's home seems like a portal to a bohemian universe. The vintage finish tying together her key pieces lends an otherwise urban apartment a softer, more romantic touch.
Things like magazines stacked on the floor, bookended by wooden candle stands give the space an air of organised chaos. We love how everything comes together to make the home feel lived in and warm, and still stylish.
Make it your own:
Ladder bookcase from Amazon.in, ₹ 2,800
DIY distressed furniture from Hgtv.com
Material required:
Object to be distressed
Paint
Wood stain for the top coat
Painting tools
Candle
Medium-grade steel wool
Sandpaper
Tack cloth
Polyurethane to finish (optional)
Directions:
Lightly sand the object you want to distress. If the object already has a finish (previously painted or varnished), sand all surfaces well. After the sanding, wipe the piece with a tack cloth.
Paint the entire piece in the base coat colour you've selected.
When the base coat is dry, start sanding off areas that would naturally end up distressed — places where hands would have held it, or corners that could easily get nicked.
If you want a second colour to show through in the final result, rub candle wax on those area, including the spots on the edges and corners. This way the second coat of paint won't cling to the area under the wax, making the colour of the first coat visible.
Paint the second coat over the whole piece of furniture, including the waxed areas.
After the paint dries, rub the steel wool over the areas you've waxed. (The steel wool won't harm the rest of the paint enough to worry about — remember, the piece is meant to be distressed, so use it to find the waxed areas.) Wipe off the piece with the tack cloth.
Apply a finish if desired.
Twinkle Khanna's green reading nook
Khanna specialises in creating cosy corner around the home that you can co-opt as your R&R station. If you're a dedicated plant mama who loves curling up with a hot Early Grey and Tweak's recommended page-turners, this easy-to-replicate decor idea can transform any unused nook.
Make it your own:
Twilight seagrass basket from Nicobar.com, ₹ 1,750
Cheeky candle by The Faraway Tree X Tweak India, ₹ 3,875
Taapsee Pannu's living art gallery
If you love colour, then you need to be stocking up on decor ideas from Taapsee Pannu. This plant-infested gallery wall is a simple way to embrace the rainbow without making it seem like you've fallen headfirst in unicorn poop (it's beautiful and playful, but not messy or overwhelming).
Make it your own:
DIY gallery wall from Studiodiy.com
Here are some things to keep in mind when creating a whimsical non-symmetrical gallery wall like Pannu's.
If you're shopping for mostly new art for your gallery wall, it is easiest to pick a colour palette and stick to it. But if you're pairing art you already have, try to repeat colours across your pieces two to three times to tie everything together. That is to say, not every piece needs to have the same colour as the next, but every piece should have 1-2 other pieces that share a similar colour or tone to it.
Mix multiple styles of art and photography. It gives the wall depth and ensures each piece can shine and not detract from the other. Similar to the colour rule, try to repeat each style of art (photograph, abstract art etc.) two to three times.
Gallery walls generally look best when they feature pieces of different sizes. Pick a maximum of three larger pieces and fill the rest in with small and medium-sized art. Similarly, avoid picking all vertical or all horizontal pieces.
Always add personal touches – family photographs, children's art, and other mementos – to make the wall one of a kind.
Handcrafted TIKI masks from Aakriti.store, ₹1,499 for a set of three
Roshni Chopra's opulent dressing space
Regardless of how small the nook might be, you can still make it pop, and that's exactly what Roshni Chopra's decor ideas will school you on.
In her dressing area, Chopra's paired a pop-coloured wallpaper with a statement mirror. While the wallpaper adds drama, the mirror, a great way to create the illusion of space, provides a sense of relief, and also reflects light to make the room seem brighter.
Make it your own:
Peel and stick vintage flower wallpaper from Amazon.in, ₹ 398 for 200 x 45 cm
Statement mirror from Ikea.com, ₹1,890
Dolly Singh's summery living room
Make your home seem so happy that you can't help but smile when you walk in – not a Whatsapp forward but what we feel Dolly Singh had in mind when putting together her living room.
Contrasting colours, bursts of greenery, and statement pieces – this space is made up of all things happy.
Make it your own:
Bamboo hanging planter from Urbano.in,₹209
Cat lady cushion by Chumbak,₹846