Representative photo: Nordwood Themes/ Unsplash
If you haven't baked banana bread yet, are you even doing quarantine correctly?
All the #CoronaCooking quarantine food trends that have taken over the internet
We're not stepping out or eating out for a while, and we're slowly warming up to this imposition. It's almost like the Mystery Box Challenge we've religiously followed through 11 seasons of MasterChef Australia. We are boxed in our apartments with mysterious ingredients and falling one step deeper into the rabbit hole of social media-fuelled quarantine food trends.
Our neighbourhood Sanjeev Kapoors have opened fire in their stoves and ovens. Bread and dosas have made a feisty comeback, while phenti-hui coffee is having a controversial revival of its own.
You must follow suit to show that you are coping well with the situation. I mean realistically, what are our options to kill time during the lockdown other than disappearing into the kitchen and stuffing our faces?
Do it for the 'gram, do it for the fam and do it for yourself, because you're your own isolated master chef.
"Baking is definitely in. Banana bread is a crowd favourite. I saw the Dalgona Coffee challenge, but I refuse to try it out. I like my coffee strong, a good espresso," says Rachel Goenka, founder and CEO, The Sassy Spoon.
"One-pot meals is an important trend as it can feed the whole family without turning your kitchen into a battleground. These quarantine food trends are good as long as nothing is wasted."
5 quarantine food trends to ace if you haven't yet
Dalgona coffee:
Since that global pineapple-on-pizza debate, world peace was untouched on the kitchen front. Now, this lockdown has managed to create a stir. Say hello to the TikTok of the coffee world: Dalgona Coffee.
Popularly known as phenti-hui coffee, DC is bringing out the divisive best in people. Coffee connoisseurs are calling this internet sensation nothing but a reverse mechanism.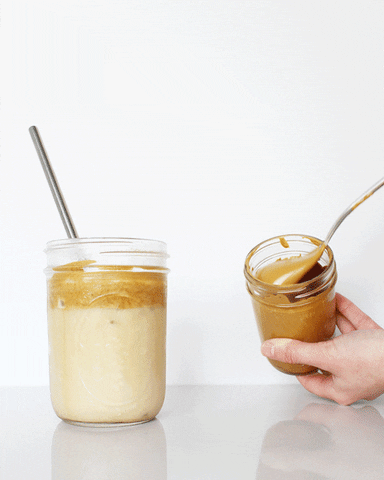 "My roommate and I were bored, so we tried this Dalgona challenge. We didn't beat it enough because honestly, it takes ages to create that fluffy structure on top. It's essentially cold coffee after you stir it, and that was delicious. Might try it again just to get the perfect photo," says Antara Sengupta, student, University of Glasgow.
Ingredients:
2tbsp instant coffee
1tbsp sugar
2tbsp hot water
50 ml milk
4-5 ice cubes
Directions:
Mix instant coffee, sugar and hot water.
Whisk until your arm falls off or about 12-14 minutes.
When it turns frothy, pour it over ice cold milk.
You can now proceed to either devour it or frantically document this concoction for Snapchat and Instagram. Either way, you're now ready to Dalgona and chill.
Pro-tip in the words of Michael Jackson: "Just beat it".
Recipe: TraderJoesCravings/Instagram
Pasta:
You patted yourself for not being that annoying hoarder with a truckload of methi that's degenerating faster than your brain cells right now. But you failed your holier-than-thou self when you emptied that pasta shelf.
Now you're sitting atop that pasta pile. That's how pasta has made it to every dining table and feed possible: Twitter, Facebook, Instagram, Pinterest, you name it.
Yes, pasta is arguably the most efficient non-perishable product in your pantry after desi ghee.
Goenka justifies this impulse purchase, and says, "Pasta can be made in bulk for the entire family. In that sense, it is a lockdown-sensitive dish. Since a lot of us outgrew dal-chawal in the second week of lockdown, we are craving something slightly more creative. The pasta packet and sauce bottles can be easily sterilised, so that's not an issue."
Chicken pasta bake
Ingredients:
4 tbsp cooking oil
1 onion, finely chopped
2 garlic cloves, crushed
¼ tsp chilli flakes
8 chopped tomatoes
1 tsp castor sugar
6 tbsp cream cheese
4 skinless chicken breasts, sliced into strips
300 g penne pasta
70 g grated cheddar (you can also use Amul cheese)
50 g grated mozzarella
½ small bunch of parsley, finely chopped
Directions:
Heat oil in a pan over a medium flame, and fry the onions gently for 10-12 minutes.
Add the garlic and chilli flakes; cook for a minute.
Add the tomatoes, sugar and seasoning to taste.
Simmer uncovered for 20 minutes or until thickened, then stir through the cream cheese.
Heat oil in a non-stick frying pan. Season the chicken and fry for five-seven minutes, or until the chicken is cooked through.
Heat the oven to 220°c/200°c.
Cook the penne. Drain and toss with the remaining oil.
Add the pasta into a medium-sized ovenproof dish. Stir in the chicken and pour over the sauce.
Top with the cheddar, mozzarella and parsley. Bake for 20 minutes or until golden brown and bubbling.
Serve hot.
Recipe: Rachel Goenka, founder and CEO, The Sassy Spoon
Cookies:
When you're officially out of bread, pasta and chawal, remember Marie-Antoinette's famous words, "Let them eat cake".
Get that cookie cutter out and give in to your anxiety's BFF — sugar.
"A lot of people are baking cookies. But my approach is to eat healthy on a regular basis because this is the new normal right now. It's not a vacation to cheat. Don't make cookies in bulk if there's not enough people to eat. It's beneficial only if there's no wastage at this point," says Goenka about the growing baking trend.
Eggless chocolate chip cookies
Ingredients: 
125 gm butter
125 gm castor / powdered sugar
1/4 cup milk + 1 tsp sugar
150 gm flour
125 gm chocolate chips
100 gm melted chocolate for decoration
Directions: 
Whip butter and sugar until light and fluffy.
Stir the mixture with milk. Add flour and chocolate chips.
Place in spoonfuls on a lightly oiled sheet and bake in a moderate oven at 180C for 10-20 minutes until they turn golden in colour.
Cool slightly before removing from tray.
Recipe: Ndtvfood.com
Bread:
If you haven't made an Instagram-worthy banana bread yet, maybe you've missed that quarantine life memo. Now that Alia Bhatt, too, has joined the bandwagon, what are you waiting for? Just go bananas with the bread.
"Banana bread is becoming popular because it's one of the few fruits so readily available. People have flour at home and you don't need many ingredients to make banana bread," says Goenka. And most importantly, you don't need to be a master chef or any chef to make these at home.
Dough'nt be a nut, just rise to the occasion.
Banana loaf
Ingredients:

3 ripe bananas
80g butter or coconut oil
75g castor sugar
200g flour
2tsp baking powder
1tsp soda bicarb
50ml milk
150g cookie butter
Salt to taste
Directions:
Preheat the oven to 180°c and mash the bananas until pureed. Add butter and sugar, beat together.
Add flour, baking powder, salt and milk. Mix well.
Pour half the mixture into the loaf pan, add dollops of cookie butter over the first layer.
Then pour the rest of the mixture.
Bake for 35-40 minutes until golden.
Recipe: SarahsHealthyKitchen/ Instagram
Dosa:
Now that the local udupi has stopped entertaining our whims and fancies, we are taking the batter into our own hands, and transforming it to paper-thin foodgasms. Pair it with pickles, chutney or stuff it with last night's leftovers. A favourite among the quarantine food trends in India, dosa is forever single, always ready to mingle, and at the end of the day, that's an affair to remember.
Rava dosa
Ingredients:
1 cup fine sooji (semolina)
1/2 cup rice flour or plain flour
1tbsp oil
1/8tsp soda bicarb
2 1/2 cups buttermilk
1tsp coriander, finely chopped
2 green chillies, finely chopped
Salt to taste
Directions:
Blend all the ingredients together.
The batter should be relatively thin (pouring consistency). Add salt to taste. Keep aside for 20-30 minutes.
Heat griddle to very hot, sprinkle some water till it sizzles and quickly pour a large spoon of batter on it. Spread by gently rotating the griddle.
Lower the heat, and when the edges begin to rise or brown, put some oil (1/2 tsp) over dosa, and trail some around it.
When the edges begin to rise, ease out the dosa with the spatula under it. Serve hot with chutney or sambhar.
Recipe: Ndtvfood.com