9 food shows to feast on when you're done bingeing Masterchef Australia
It's streaming hot… bon appétit
I was six when dadi stood between me and the door of the kitchen and announced, "Shaadi ke baad toh khana pakana hi hai, so don't let her enter the kitchen before that." My culinary activities were restricted to hulling peas as mom whipped up aloo matar, and watching Tarla aunty and Sanjeev uncle create magic in their kitchens. Food shows on-screen and IRL took over my binge-watching patterns early in life.
Marriage didn't push me into the kitchen, survival did. When living away from home for the first time, between video calling mom for help and watching bite-sized recipe videos on Tasty, I realised cooking wasn't my strongest suit or deepest passion. And it was so much more than the glamorous #foodporn that I was consuming on screen.
Whisking eggs in swift circular movements, glazing the turkey, pouring honey on waffles in slow motion is drool-worthy. But replicating the same in your kitchen can be a recipe for disaster. It didn't stop me from binge-watching food shows like Masterchef Australia or Anthony Bourdain's No Reservations though.
Most hopeless chefs and lazy cooks have the biggest appetite for these mouthwatering food shows, as it amazes us to watch others excel where we so miserably fail.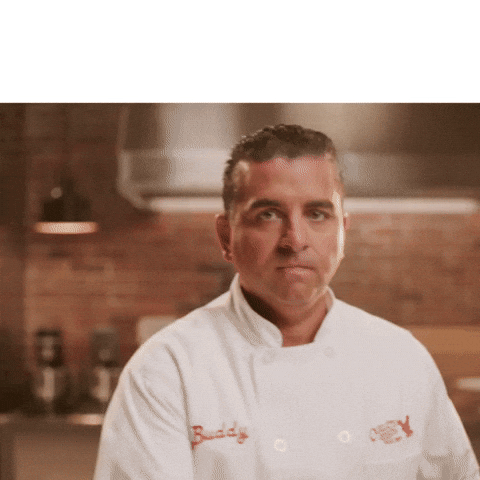 Naturally, we went on a food trail across streaming platforms to find some of the most flavourful food shows to tickle our tastebuds. We found two fat ladies (we swear we aren't body shaming), a grey-haired poodle and a bunch of hungry foodies to keep us company.
PS: We'd like to observe two minutes of silence for the heartbreak we felt when we didn't find our girl crush Padma Lakshmi's kitchen antics streaming anywhere on Indian platforms. We'd do anything to watch her julienne an onion while cooking up a storm with her kids and cousins.
Somebody Feed Phil, 2018
Host Phil Rosenthal (creator of Everybody Loves Raymond) is more excited than a toddler left unsupervised at Hamleys. Why? Because perennially hungry Phil gets to travel across the world, to be fed by the locals.
He confesses that he isn't a culinary expert, he just loves eating more than anybody on this planet, and will go to great lengths to try local recommendations. From fish and chips in London to Lisbon's pasteis de nata (egg custard tart).
The best is saved for the end of each episode (and it's as sweet as dessert). Phil FaceTimes with his elderly folks to share tidbits from his day's feasting, and it will melt your heart ( if the main course didn't already).
Netflix, keep feeding Phil so that we can binge on the best comfort food out there.
Watch on Netflix
Hell's Kitchen, 2005
Lessons in micro, kitchen and anger management are all served hot in this pantry reality show, Hell's Kitchen, where Chef Gordon Ramsay creeps up on participants trying to manage a restaurant kitchen.
Food is at the heart of this show, but the secret ingredient that makes it a rage watch? Ramsay's flaring histrionics whenever a participant falters. For instance, someone stirs a gravy four times instead of five, and all hell breaks loose.
On good days, Ramsay will scream, on most other occasions, he will toss the plate at you. This is probably what hell's kitchen actually looks like.
Disclaimer: if you can't bear the heat, kindly step out. But if you can get used to Ramsay's rampage, Hell's Kitchen never gets cold.
Watch on Prime Video
Cooking with Dog, 2007
In November 2016, the internet mourned the demise of Francis, the adorable grey poodle, who was also the co-host of Japanese food show, Cooking with Dog.
While the middle-aged chef remains unnamed, Francis, the sous chef garnered immense popularity for quietly supervising the preparation, narrating the recipe in English (with a heavy French accent) and adding the fluff factor to the YouTube channel for almost a decade.
Millions subscribe to the channel for its 500 easy and traditional Japanese home-cooking secrets (ramen and sushi to lesser-known coffee jelly, takoyaki and melon pan), and to ogle at the attentive poodle at his best behaviour.
Binge this show to acquire some pet parenting skills so that you can whip up a batch of cookies with your pet this weekend.
Watch on YouTube
Two Fat Ladies, 1996
From the bottom of the barrel of food shows, we've dug up a British classic like no other. Two cynical, meat-loving, middle-aged chefs, Clarissa Dickson Wright and Jennifer Paterson, sped through the streets of London on a Jai-Veeru motorcycle in search of their next kitchen – preferably in a dilapidated castle or mansion.
Originally aired on British television between 1996 and 1999, Two Fat Ladies cooks up exhausting recipes while sassing over news from across the world, occasionally breaking into a Shakespearean sonnet or Victorian poetry.
Each episode culminates in a gregarious gathering of a diverse kind — from nuns to clerks and the local football team.
Their recipes can be hard to replicate but if you love your chicken saucy, and conversations, saucier, thank the YouTube gods for streaming this show for us.
Watch on YouTube
Nadiya's Time To Eat, 2020
If Masterchef Australia was the marathon of the kitchen Olympics, Nadiya's Time To Eat is a sprint of quick meals. The winner of The Great British Bake Off (2015), host Nadiya Hussain's show is a delicious reminder that 'less is more'.
Hussain's show is a masterclass in hassle-free (quarantine) cooking with dollops of culinary cheat codes, hacks and short cuts to make everyday phenomenal. Her recipes for parmesan scones, fish stew and banoffee waffles are our favourites
This one's not for gourmet enthusiasts. Hussain won't wake up before dawn and send you to some remote farmer's market to source ingredients to cook her recipes. All you need to do is pop over to the local kirana (and macchi market).
Watch on Netflix
The Chef Show, 2019
The Chef Show celebrates a food-bound friendship like no other. Director-actor Jon Favreau's first collaboration with Chef Roy Choi, founder of the Kogi taco trucks in Los Angeles, was on the sets of his film, Chef, where Choi was the chef consultant.
Their friendship and love for food found an extension on Netflix a couple of years later.
The duo shares the love for hearty meals with us and break down the latest food trends for easy consumption, but don't skip any steps in preparing long, elaborate spreads.
PS: We devour the starry amuse-bouche the show offers — Robert Downey Jr, Gwyneth Paltrow, Seth Rogen and their culinary revelations. Don't miss actor Tom Holland's first oyster-eating experience.
Watch on Netflix
Raja, Rasoi Aur Anya Kahaniyaan, 2014
While Rick Stein's India is a primer on Indian culinary secrets, Raja, Rasoi Aur Anya Kahaniyaan is true-blue khaana khazana. The show sinks its teeth into our palates and presents the real taste of India to the world.
The show invites us into the royal kitchens from Kashmir to Kerala and spills the tea, erm, sometimes, a steaming cup of Kahwa too.
Did you know that the south Indian staple sambhar is a Maratha brainchild? Or the celebratory biryani was a labourer's daily meal in the 17th century? Well, you'll find out here.
Watch on Netflix
Salt, Fat, Acid, Heat, 2018
Host and creator Samin Nosra's Salt, Fat, Acid, Heat is a four-part documentary-style offering that doubles as a travel show. Much like Anthony Bourdain's legacy and a host of other food shows online.
What sets it apart? It's spiked with the imperfections of cooking. She doesn't hide her tears as she chops away a pile of onions and burps on camera too.
The show is a foundation course in cooking, as Nosrat breaks down each word of the title in a different part of the world.
In search of 'Fat', she heads to Italy to learn about the fats in our food – cheese, eggs and olive oil.  In Japan, she discovers the art of mixing 'Salts' to create that perfect seasoning and sauce (soya sauce). Her 'Acid' trail takes us to Mexico to unearth extracts from rare bees. And ultimately, in 'Heat' she is homeward bound to California to meet her mentors and fine-tune the art of steak-making.
It's the kind of culinary journey that makes cooking look easy.
Watch on Netflix
Street Food, 2019
This Netflix show from David Gelb and Brian McGinn, the creators of Chef's Table,  prepares you for what you've been missing the most during lockdown – feasting on greasy, neon-hued delicacies in crowded streets.
The show takes our love of food to the streets and into the lives of the cooks who feed thousands of impatient, growling stomachs every day across the world.
The first season takes place across Asia, and travels to Bangkok, Delhi, Seoul, Osaka and so on. In Bangkok, we meet the famous street food cook Jay Fai, whose open-air stall has earned a Michelin star. In Ho Chi Minh City,  Truoc is carrying forward her father's legacy of cooking snails to earn livelihood.
Street Food packs in as many flavours as cultural layers. It's a show with a big heart and appetite.
Watch on Netflix