Looking for a dress with pockets? We've hunted down 11 just for you
Only women (and their overburdened partners) understand this joy
Puppies leaping out of cardboard boxes is heartwarming, chancing upon a crumpled hundred rupee note tucked away in your jeans is a great surprise too, but discovering that the dress you've been eyeing has pockets evokes a feeling of unadulterated joy. On a scale of zero to "I just found out that I'm the princess of Genovia and my hair has suddenly gone from frizzy to silky smooth," it's all the way up there with inheriting a nation and acquiring frizz-free hair.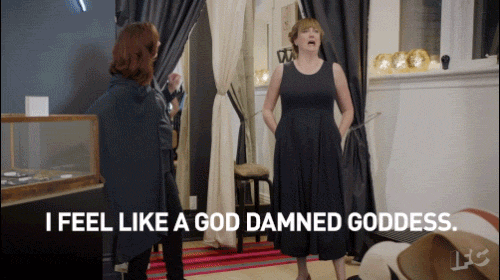 A prerequisite of wearing a dress with pockets is telling absolutely everyone about it – "Really? You like this dress? Did you know it has pockets?" "Of course you can use my phone, let me just fish it out of the pocket my dress has." "You like tomato soup? So does the girl wearing a dress with pockets aka me."
A dress with a pocket is functional and fashionable. It lets you have your cake, eat it too, and then sneak some into your pockets to take back home with you. A dress with pockets is to a woman on the go what a shot of tequila is to a bad dancer – all you need to feel invincible.
Perfect for every mood — when you want to mask your food baby, floor everyone in the board room or bring down the house with your girls.  We found 11 stylish options, so you're spoilt for choice.
A dress with pockets for every mood
This charcoal-coloured classic from Summer House makes us long for picnics on a beach in Goa with a golden retriever and our favourite book. ₹ 4,800
With a forgiving silhouette that can be belted on days you're not camouflaging a pizza baby, this Zara cotton midi has major WFH uniform potential.  ₹ 2,990
This Ancestry dress will help you fully embody the elegant woman who doesn't accidentally spill hot chai on herself you've always wanted to be. Slip on a pair of pop-coloured churidar pants and make nani smile when you visit her for Sunday brunch.  ₹ 2,793
One of Nicobar's most popular styles, this figure-flattering wrap dress gets a traffic-stopping update.  ₹ 7,500
You may still be trying to figure out how to pronounce Bhaane, but there's no second guessing this highlighter yellow dress with delightful petal sleeves. ₹ 4,700
What do you and Kareena Kapoor Khan have in common? An undying love for kaftans, and the French fry addiction they're designed to accommodate. This striped style from O'Frida won't force you to change into something more socially acceptable for an emergency grocery run. ₹ 6,800
If the feeling of slouching into your corner of the couch for a Sunday Seinfeld marathon could be captured in clothing, we're pretty sure this snug sweatshirt dress from H&M would be it. ₹ 1,499
Impish, intricate and impossible to ignore, the Ruby Woo dress from The Jodi Life lives up to its lipstick namesake. We're bringing the energy to Monday's Zoom meeting in this sheath. ₹ 4,340 
How many boxes can one item of clothing tick? Sustainably made, check. Versatile enough to wear in different ways, check. Inclusive to different body types, definitely check. Doodlage makes the pitch for including this tunic in your capsule wardrobe. ₹ 5,800
Supporting local craftsmen while scratching your shopping itch — how's that for karmic balance? This hand block-printed angrakha style from Okhai featuring mirror work is the Indian version of the classic wrap dress. ₹ 2,700 
The joy is in the details of this maroon cotton dress from The Loom, like the delicately hand-embroidered neckline and pockets. Upgrade this to festive wear with a pretty pair of mojris and your mother's heirloom chandbalis, the only item more precious to her than Tupperware dabbas. ₹ 6,499