Photo: Freepik.com
7 graveyards to die for
Maybe skip them on Halloween
You perhaps believe that graveyards and cemeteries are grim, dark and all things Ramsay brothers enjoy. But I am what they call a tombstone tourist or a taphophile. Let me convince you that you haven't visited the right ones yet. Or you haven't found the right time to hang out with the spirits. And most importantly, you haven't separated beauty from the macabre. 
When you grow up in a noisy, crowded metro like Mumbai, you hunt for silence as resiliently as zombies scour for blood. You may argue that one could go to the beach or waterfronts, but I don't want to disturb couples and their quality time. MNS does it enough anyway. 
Studying in a convent school, there was always a graveyard close-by. Often after school, we would spend an hour or so walking around the graves — careful not to step on any — and read the eroding epitaphs. Years later when I was living in Canada, there was a National Historic Site (Mount Pleasant Cemetery) barely a couple of kilometres away from my house. It became my safe place, mostly to spot the changing colours of autumnal foliage, clock in my 5km walk and expand my amateur portfolio of nature photography. 
However, my friends still get furious every time I post my #wanderlust photos from cemeteries. "Doesn't your mother get angry that you visit graveyards so often?" No, in fact, we have both visited them together. "No normal person visits graveyards for fun." Fine, about time I stopped sharing graveyard photos.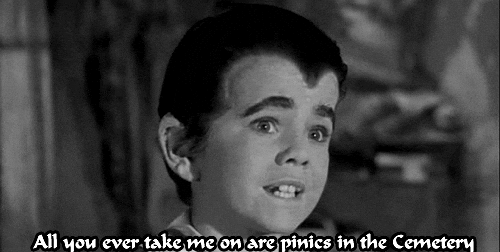 Nevertheless, it's a conscious exercise in finding something interesting in the mundane. From a distance, they may look like identical tombstones with generic RIP plaques. But often, it's about the people who are buried there. In some cases, the boneyards also double as performance venues. Imagine watching a Bugs Bunny film screening right next to Mel Blanc's grave (he immortalised Bugs Bunny with his voice). While you may be rolling on the floor laughing, his spirit might be turning in his grave. 
Hollywood Forever Cemetery, Los Angeles:
George Harrison, Mel Blanc, Chris Cornell, Judy Garland. You'll be too starstruck to register that you are in a graveyard. Also, it has quite an upbeat vibe, considering this necropolis regularly hosts gigs and performances, including Lana Del Rey, Snoop Dogg and Arctic Monkeys. Thousands of people gather on Fairbanks Lawn after sunset to watch classic Hollywood movies projected onto the sides of mausoleums. Talk about restoring and maintaining headstones; Hollywood does provide a lesson or two in that department. 
Host the perfect Halloween party here: Bring your picnic baskets, along with blankets and chairs, and enjoy treats while tricking people into believing in ghost stories. 
South Park Street Cemetery, Kolkata:
I have visited this boneyard every year for two decades. It's more than just cookie-cutter epitaphs here. This moss-covered Kolkata cemetery inspires more than just sadness and despair. Filmmaker Satyajit Ray found this to be the most befitting setting for one of his Feluda adventures: Gorosthane Shabdhan (Secrets of the Cemetery). This eight-acre queen of graveyards was also claimed to be the largest Christian cemetery outside Europe and America in the 19th century. Here, celebrity tomb spotting can lead you to mausoleums of Sir William Jones and Sir Henry Derozio. Britishers have indeed left the country, but their souls and spirits still pretty much rule here.
Only note of caution, cawing crows provide a haunting soundtrack to this tombland. Maybe caw back at them.
The Merry Cemetery, Săpânța (Romania):
This Romanian graveyard in the sleepy town of Săpânța is all things you would never associate with catacombs. True to its name, the Merry Cemetery is where pictures are really worth a thousand words. Souls are immortalised into cute, little illustrated headstones depicting their life stories. In some cases, they also document the way they died. Families of the deceased write funny limericks instead of done-to-death elegies. And, no, they don't make it all sacrosanct. Cheating husbands, alcoholic wives and flippant children are all celebrated. For instance, one of the heartfelt tributes reads: "Underneath this heavy cross, lies my mother-in-law poor
… Try not to wake her up, for if she comes back home, She'll bite my head off."
This burial ground combines three things we love: irreverence, wit and confrontations with our own mortality. The Merry Cemetery also made it to Netflix last year. For a trailer of sorts, watch Jack Whitehall: Travels with My Father S02 E03.
Cimetière du Père Lachaise, Paris (France):
Imagine attending impromptu concerts in graveyards. At Pere Lachaise in Paris, one of the most popular boneyards in the world, it's not just a figment of your imagination. Jim Morrison's grave continues to be a crowd puller here, and local artists often break into impromptu tribute gigs. It's safe to say that it's a star-studded necropolis. Morrison's soul rests alongside the remains of Oscar Wilde, Gertrude Stein and Edith Piaf, among several other big names. To be honest, you don't need to worry about haunted activities post sunset here. Perhaps, be more concerned about how these artists manage to co-exist out there? Do creative differences cease to exist posthumously?
If you're visiting this cemetery in search of some solitude, please go somewhere else. The Old Jewish Cemetery is one of the most visited tourist attractions in Prague, and naturally, always crowded. At least, you don't need to fear that ghosts will chase only you. 
It's the third oldest Jewish cemetery in Europe, and the newest tombstone here goes back to the 18th century. It literally packs in 12,000 tombstones wrestling for space. The engravings on each headstone isn't as informative as the motifs on the tombs. Motifs define the profession of the deceased. A quill for a writer, a pair of scissors for a tailor and so on. An occasional crown is a symbol of a big fortune that the inhabitant left behind.
Varaždin Cemetery, Varaždin (Croatia)
From a distance, it seems surrounded by thousands of green ice cream candies. A closer look will unravel what a botanical genius this cemetery is. In 1905, Herman Haller, the keeper of the graveyard, decided to plant 7,000 trees — maple, birch, cypress and magnolia. It's an architectural marvel and tourists call it one of the most beautiful graveyards in Europe. But guess what's the coolest thing about this burial ground? Varaždin Cemetery has its own smartphone app. You can navigate through the graves and also request the keepers to put flowers to any grave that you want. Now that's technologically advanced.
Okunoin Cemetery, Mount Koya, Japan:
In 2004, Japan's largest Buddhist graveyard made it to the UNESCO World Heritage Site list, and deservingly so. This is perhaps the only cemetery in the world that honours people as well as pays tribute to termites and other creatures. Okunoin Cemetery essentially is the site of the mausoleum of Kobo Daishi (also known as Kukai), the founder of Shingon Buddhism. The lights and lamps around his grave have been burning constantly since his death more than 1,000 years ago. While you admire the larger-than-life drama in this cemetery, do not miss the humongous coffee cup built in memory of the former employees of a coffee company. That's a rather sweet sentiment, we feel.