A daydreamer's travel guide of the best fictional places to mentally escape to
And a cheat-sheet to how you (and your kids) can get there anyway
When I was nine, a hip surgery left me bedridden for four months. I emerged with a superpower. It wasn't the power to eat everything without putting on weight, unfortunately. But I can teleport.
Boss running a three-hour long meeting that could have been an email? I'm in Narnia — and Aslan's dropping wisdom to get you through 56 slides on a PPT.
Waiting at the dentist's office for impending doom? I'm fighting fire with fire, inhaling Willy Wonka's chocolates, before the demonic doctor extracts the remnants. If you're wondering if I'm still on painkillers from my operation all those years ago… if only.
Being bed-bound in the dark ages before unlimited access to the Internet, streaming services and Amazon's one-day delivery, meant 28 hour-days and very little entertainment. So, I daydreamed, spending hours living in the fictional places I longed to visit in real life.
Teachers might protest against daydreaming with as much vehemence as Tiger King's Carole Baskin pleads that she didn't kill her husband, but daydreaming inspires productivity and creativity.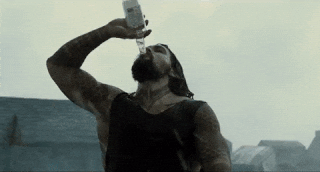 It's stress relieving, relaxing and helps you focus. What better creative boost for a struggling writer than visualising yourself in the fictional places you'd rather be in?
According to research published in the Creativity Research Journal, daydreaming is associated with greater creativity in children as well — fantasies form a basis for social activity with friends, and a way to hone their interests.
To get you started on your journey and out of the walls that are closing in on you, we've drawn up a list of the fictional places we'd love to teleport to, inspired by our favourite books, shows and pop culture icons. And a cheat-sheet for you to actually get closer to them in real life.
Because down in Gotham City, Batman would definitely know what to do during a pandemic.
The fictional places we wish were real
Hogwarts School of Witchcraft and Wizardry
As if the idea of being able to turn your enemy (or annoying spouse) into a bouncing ferret for just a minute isn't reason enough, you have the magical meals, that are basically Indian wedding buffets on acid.
Like in space, let's just assume weight works differently in magical places. *wink*
You're also living in a castle with room service a wand swish away, surrounded by acres of wooded forests and magical creatures like unicorns to run into.
Introverts will agree that the Room of Requirement is a game-changer. A space that's designed to give you exactly what you need at the time, and one you can disappear into to get away from annoying colleagues, classmates and match-making chachis.
Perhaps that means on a lonely night, you'll stumble upon a fellow lonely soul looking for companionship — and your dry spell will finally end.
Read: The Harry Potter series by JK Rowling, you muggle
Watch: The Harry Potter and Fantastic Beasts and Where to Find Them series, you squib
Discover: The Wizarding World of Harry Potter, Orlando, USA; The Making of Harry Potter at Warner Bros Studios, London, UK; King's Cross Station, London, UK; Greyfriar's Kirkyard, Edinburgh, Scotland (keep an eye out for the real-life grave of Thomas Riddell)
The Shire
Think of the Hobbit haven as a retirement home for the mind of the over-worked millennial. If I were to go on sabbatical, I'd pick Tolkien's Shire, in Middle Earth. Firstly, their meal plans are on point (Breakfast – 7am, Second Breakfast – 9am, Elevenses – 11am, Luncheon – 1pm, Afternoon Tea – 3pm, Dinner – 6pm, Supper – 9pm)
Secondly, it's an idyllic settlement nestled in an expanse of greenery where the furry-footed folk practised agriculture, didn't have to wear shoes, (heels, be-gone), but weren't industrialised — so you're living in simpler times.
Gandalf stops by for the occasional visit and rager of a party (and fireworks). What more could one want? That and the feeling of grass between your toes at all times, and in your pipe.
Read: The Lord of the Rings series by JRR Tolkien 
Watch: The Hobbit and The Lord of the Rings series
Discover: Hobbiton, Matamata, New Zealand
Atlantis
View this post on Instagram
The obvious benefits are escaping from the drudgery of shore life, permanent beach waves and living in an expanse of blue, filled with the most gorgeous marine life.
Apparently the mythical empire of Atlantis, at its peak, was the most powerful and technologically advanced nation on the planet. Who knows what kind of cool contraptions they had (have) down there?
While Plato wrote two entire books on this sunken city, it remains shrouded in mystery and we can only make far-fetched assumptions about whether or not it will one day emerge to reclaim the earth.
The film Aquaman also gave us the stunning visuals (read: Momoa) that make me want to beg sea-witch Ursula to transform my legs into fins.
Read: The Aquaman comics
Watch: Aquaman, The Little Mermaid series
Discover: Gold Coast, Queensland, Australia
Asgard
This might be a uniquely me-problem but I'd love a run-in with Thor's hammer, especially if Thor is shirtless and occupying the body of Chris Hemsworth.
The realm of the Norse gods, Asgard, ruled over by Odin, the all-father, has a few perks (it is home to superpowered deities): Asgardians can live for thousands of years and have many hacks to preserve their long lives, and don't really need the anti-ageing beauty treatments mortals tends to experiment with.
The first Asgardian was also allegedly licked into existence by a giant cow. Pretty sure Eve would have preferred that to the painful version of childbirth she had to go through. Not to mention Asgardian ale sounds kind of wicked and with slow ageing, the hangovers that best us the minute we hit our 30s probably come far later.

Read: Norse Mythology by Neil Gaiman
Watch: The Thor series, The Avengers series
Discover: St Abbs, Scotland 
Pandora
Lush like the islands of Hawaii and Borneo, this is an alien moon where the plants glow, shoot poison leaf tips and communicate. The world takes its inspiration from real flora and fauna, and the Na'vi even have certain similarities with humans — meaning this majestic world is one that many humans longed to be a part of after watching the movie.
It's here we discovered the helicoradian – an orange plant that folds up and disappears when touched. That's one skill I'd like to pick up, especially when my neighbour catches me smoking on the building terrace.
For that alone, and for being able to live light years away from deadlines and desi internet trolls, I'd love for Elon Musk to keep me in mind when he's testing his next space ship.
Read: James Cameron's Avatar: The Na'vi Quest
Watch: Avatar
Discover: Zhangjiajie National Forest Park, China (alleged to have inspired the movie creators); Avatar Flight of Passage, in Pandora – The World of Avatar, Disney's Animal Kingdom Theme Park
Orbit City
Flying cars with a departure pod-system, conveyor belts literally everywhere (imagine how amazing that 0.5km walk from the station to work would be with those babies under your feet), auto-hygiene machines like a shower head that does all the work, including lathering, rinsing and repeating on your slimy hair — Orbit City, home of The Jetsons, made the future look incredible.
While ours… involves men using TikTok to record videos of them crying. Is there tech out there that can zap me into this alternate dimension? I'd kill for a drone-delivering pizza right now.
Watch: The Jetsons

Willy Wonka's Chocolate Factory
"Everything inside is eatable. I mean edible. I mean you can eat everything."
From an entirely edible garden to the everlasting gobstopper that you can suck and suck and will never get smaller (unlike tiresome human body parts), the acid trip that is Willy Wonka's factory makes us to want to dance under the chocolate waterfall that lives there, stat.
Logistically, if we worked (read: owned) the factory, we'd definitely come out with better willpower (to resist all those sweets).
A boost in creativity (coming up with more fantastical treats).
And eternal happiness — because that's what chocolate is, and does.
Read: Charlie and the Chocolate Factory by Roald Dahl
Watch: Willy Wonka & the Chocolate Factory / Charlie and the Chocolate Factory 
Discover: Cadbury World, Birmingham, UK; Hershey's Chocolate Tour, Pennsylvania, USA
Wonderland
A woodland haven with intoxicating mushrooms, mysterious drinks that make you shrink down (or size up), animated playing cards, talking animals — if that isn't a more interesting world to inhabit than the one where you're talking to gadgets and the only things that help objects size up is plastic surgery and bloating, then I don't know what is.
Read: Alice's Adventures in Wonderland by Lewis Carroll
Watch: Alice in Wonderland; Alice Through The Looking Glass (If only to hear Alan Rickman in what was to be his final film role)
Discover: Alice in Wonderland ride, Disneyland, Los Angeles, USA; Alice in Wonderland sculpture, Central Park, NY, USA
Carroll's Wonderland brings to a full circle what this story is all about — while Alice finally does wake up from her nap, she leaves us with an important lesson, "If I had a world of my own… nothing would be what it is because everything would be what it isn't. And contrary-wise; what it is it wouldn't be, and what it wouldn't be, it would."
Stretch your imagination, and let it float away to absurdity because – like a wise wizard once said — just because it's happening in your head, doesn't mean it's not real.
That, and we're all going to be stuck at home for a long long time. And these are the only trips worth taking right now.