Photo: Designecologist/Unsplash
What happened when I quit smoking for a week
I found my new best friend: Chakli
There were no red flags in our relationship. We met for a post-lunch rendezvous, as usual. If I had known it was going to be our last meeting for a while, I would have held on to that moment a little longer. Held you closer to my lips. I wouldn't have shared you with my colleague. 
Anyway, I went back to work and suggested we write a piece on quitting smoking— cold turkey. No, I don't know why I suggested that, but I did. Suddenly, my editor convinced me to give up the coffin nails for a week to document my journey. And insisted I quit smoking right away. If only I had known…
It was an uphill task. After all, ours was a two-year steady association. Stronger than an M-Seal bond, maybe not as strong as Fevicol ka jod. Ice Bursts woke me up in the morning, put me to sleep on most hectic days and checked on me from time-to-time during the day. And now, it all went up in smoke without any notice period. Well, I took up the challenge, not because I secretly felt like a Roadie, but it was a thought crossing my mind every now and then. I did want to quit smoking at some point.
Quit smoking: Chakli to the rescue
I never reached the smoking-on-the-pot stage, so that was a saviour. I was enthusiastic and stressed about the challenge in equal parts. Chilling with fellow smokers during smoke breaks was out of question, so I took on some additional writing and chained myself to desk. I did have the lighter on me, and I could easily bum a smoke off someone. But every time that urge knocked, I made a call to a friend to distract myself. Additionally, I befriended Happydent. At least my jaw muscles were having a good gym day.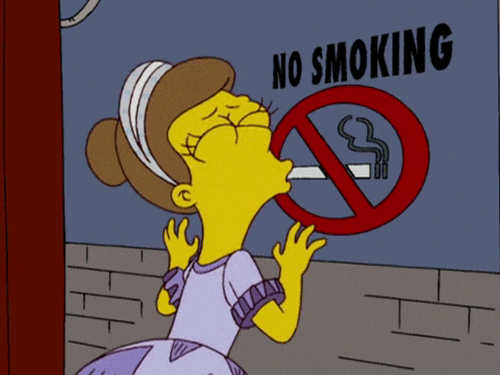 But things got excruciatingly difficult post-lunch. That ritual was two years old. I desperately needed a substitution. And there it was: Butter chaklis, my newfound heaven of wheat flour. I had a dozen of those. And I picked up some more fried snacks on my way home. Forced myself into a two-hour long nap before dinner. Smoking clearly killed my lungs, my appetite and time. I was living in some 6th dimension. Nolan, are you listening? Time stops moving after you quit smoking. 
Quit smoking, but can't stop coughing
Lesson of the day: smoking causes a cough, and breaking the habit also takes a toll on your throat. Either way, you lose and get drunk on cough syrup. There were also sudden bouts of headaches. It wasn't the usual episode of migraine or sinus. The pain was dull and soon moved to my neck. Coughing became a permanent fixture for the next few days. So did chakli and chips. 
A sniff of passive smoke ticked me off. I ditched my smoker friends and their dinner plans in favour of meeting random relatives. It made sure I stayed distracted and in an environment where nobody would smoke. Of course, colleagues and friends cheered me on as I made constant efforts to drag myself away from my favourite drags. But sleep eluded me. I was wide awake at nights and finished Modern Love on Amazon Prime Video (please, please watch the show, guys. Keep a box of tissues handy). 
Comfortably numb
After the fifth day, you stumble upon a pattern: feel the urge to smoke — fight the urge to smoke —  take on more tasks at work — fight the urge to scream and shout and cry all at the same time — keep eating random stuff. But yes, it got (relatively) easier after the first couple of days. I was still uncomfortable around smokers. I was finishing a pack of Good Day biscuits (while having not a very good day) as they finished their Classic Milds. 
But the parched throat was gone. I drank more water in a day than I previously did in a week I guess. Staying hydrated helped to a great extent. I also motivated myself to go for a 3km walk. Ah, it's time to buy that FitBit I suppose.
However, at some point, my editor shared a genius story about a cigarette-smoking cockroach. At that moment, I wanted to be that cockroach more than anything else. But I promise that was a passing, delirious thought. I was way too excited to reach the finish line of this severe exercise. I couldn't wait to take my first drag after a week-long hiatus in less than 48 hours. And then came that moment of truth.
What was it going to feel like? Would I attain Nirvana? Would I feel nauseated like I did the first time I ever took a puff. I finished my lunch faster than usual to rush to my Sach Ka Saamna moment. And what a bummer that was. I think my throat had a mental breakdown the moment I took the first drag. A coughing fit was followed by an instant heavy head. I forced myself to finish that cigarette, and didn't take another smoke break that day. That bitter taste the cigarette left was bothering me more than I thought it would. Perhaps, I was used to that taste previously and never registered it being more bitter than karela.
It's been a couple of days since that unproductive experience, and I haven't bought a pack yet. I don't feel terrible about skipping smoke breaks, and it's been four smokes in three days as opposed to a pack. It's been a blessing to my pocket, and I'd like to believe that it's doing some good to my system too.
I don't think it was a life-changing experience and I haven't emerged a non-smoker. Nonetheless, it's a baby step towards a smoke-free world. Perhaps my next moment of truth will be when I am invited to a party with my smoker friends. I hope they still invite me—especially after all the plans I avoided last week when I quit smoking, temporarily.