Representative Photo: Pexels
Time to expand your mind and vocabulary this Pride Month 2020
Because being an ally means saying the right things…
After being locked up with his parents for almost three months, a friend came out to them. To his pleasant surprise, he found a pair of immediate allies. Considering it's Pride Month, I shared this feel-good story for all ages on yet another weekend family Zoom call.
A series of expected sighs, smiles and gasps was followed by an uncle's barrage of doubts.
The story had stumped this distant relative, a retired army officer. He bellowed: "Came out from where?" "Allies for what?", "what's this pride month all about?".
I had to schedule a separate shock-absorbent call to update his vocabulary and woke meter.
Indian society is just about opening up in support of the LGBTQIA+ community. Don't forget the landmark judgement to decriminalise consensual same-sex relations (read Section 377) in India only turns two in September 2020.
Companies are beginning to draft policies to recognise LGBT employees and their partners. And there's even more positive representation of the community in pop culture.
To be a true ally, it's about time we learn the correct terminology and make an effort to use it as accurately (and sensitively) as possible.
In celebration of Pride Month (June), we created a nano-dictionary of terms to add to your vocabulary: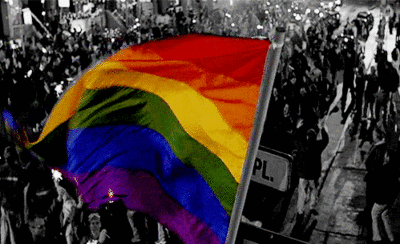 A know-your-terms guide to celebrating Pride Month and beyond
Ally: A straight person who supports and advocates the rights of the LGBTQIA+ community. An ally consciously uses the preferred pronouns and respects people's sexuality and gender identity. Be an ally, always. There's no legit excuse to be anything else.
Usage: "He was an ally to his sister when she decided to come out to her parents."
Androgynous: An adjective used to describe an individual who shows both traditionally masculine and feminine characteristics. It can also be used to describe women who adopt a style that is socially considered masculine.
Usage: "We need to see more androgynous women on screen."
Asexual: Used to describe people who do not experience sexual attraction, desires or drives. (Asexuality is the noun).
Usage: "I am asexual, but that doesn't mean I don't love him."
Bi-curious: It refers to people who are still exploring and experimenting with their sexuality. Bi-curious individuals are in the process of figuring out whether or not they're sexually attracted to people of the opposite gender, the same sex or both.
Usage: "Sneha's dating both men and women, she's bi-curious."
Bisexual: The term is used to address a person who can be sexually attracted or romantically involved with people from their own gender as well as other genders. Sometimes, the word is shortened to 'Bi'.
Usage: "Did you know aapro Freddie Mercury was bisexual?"
Cisgender: The term often used to refer to people who identify as the gender assigned to them at birth. Not to be confused with sexual orientation.
Usage: "I've started referring to myself as a cisgender woman to support my transgender friends."
Coming out: The not-so-simple act of acknowledging your sexual orientation and revealing it to others — at home, at work and in society. Sometimes, this can take years or even a lifetime.
Usage: "She came out to her family, and it was more dramatic than the season finale of This Is Us."
Gender fluid: The term refers to people who do not identify with a single, fixed sex, and their gender identity may see several shifts throughout their life.
Usage: "Gender fluid people often use the pronoun them/they instead of he/she. It's OK to ask a person their preferred pronoun if you want to be respectful."
Drag queen: Generally, a cisgender man who loves to dress up as a woman and perform for an audience is a drag queen.
Usage: "I learnt how to contour from the drag queens on RuPaul's Drag Race."
Graysexual:A person who usually does not experience sexual feelings, but may occasionally sense the attraction. It refers to somebody who experiences limited or rare sexual attraction.
Usage: "He is not asexual; he's graysexual."
Non-binary or Genderqueer: These terms are often used by individuals who identify their gender outside the spectrum of the conventional man and woman. They may consider their gender somewhere between the two and thus, feel a sense of fluidity. The term is not interchangeable with transgender. The preferred pronouns are they, them and their.
Usage: "Last year, my cousin told me that they identify as non-binary."
Pansexual: An individual who is able to form romantic and sexual relationships with any person, regardless of gender.
Usage: "What does it mean to be pansexual? It means I'm attracted to your personality, not your genitalia."
Transgender: This umbrella term refers to people whose gender identity does not align with the sex they are assigned at birth.
Usage: "We are still fighting for transgender rights."
Cross-dresser: The term is used for someone who wears clothes which are generally and culturally associated with the opposite sex, as a form of self-expression. The act of cross-dressing may be considered gender non-conforming behaviour.
Usage: "My brother used to love cross-dressing when he was a kid — he learnt to walk in heels before I did."