What arranged marriage did to my parents (and me)
It's not all choreographed dance moves and cute requests for grandkids (wink)
I've only felt like a piece of fresh meat being naap-toled, twice in my life. Once was at a nightclub in Ibiza —there was a high-chance you would be taken home and properly sizzled. The other was when I found myself at an arranged marriage meeting. And the one doing the weighing wasn't even my prospective groom — it was his chachi, his cousin, his mother, his father. The branches of the family tree emerged sporadically, like possessed Matryoshka dolls trying to turn me into one of their own.
Arranged marriage meetings are safer than Tinder dates, theoretically — parents go through 'bio-datas', birth dates, bank accounts — I mean backgrounds, before they deem the candidate suitable for their spawn. Which means they're unlikely to murder you on your first date. (Your parents likely have a copy of their aadhar card and know their blood group, such is the intensity of information exchanged in an arranged marriage setup). Practically, there are hiccups—  your perfect man is the love child of Adam Levine, Marc Maron and Johnny Depp, while Salman Khan's simpering 'Prem' is who your parents would pick.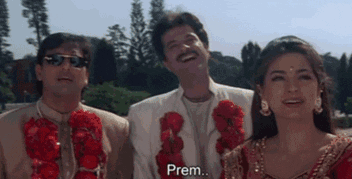 I have nothing against the concept of marriage —  lifelong co-dependency and watching someone slowly lose control over their bladder sounds like a party in the park. And while I don't grudge people who've achieved marital bliss through arranged marriage, I grudge what the archaic system can do to the overly-concerned parents of an unwilling (and vocally so) child. The desperate measures, permutations-combinations adopted in their endeavour to get their errant children to 'settle down' makes you question when your parents transformed into Reema Lagoo and Alok Nath from the '90s.
Love the way you lie
The bio-data. Even in metropolitan cities, the exchange of the 'personal cv' is still rampant. Of course, after numerous rejections just based on bio-datas and images shared, your parents start playing with beauty box filters, increase your height by a few inches, check 'veg' when the prospective groom does…
Lesson: They'll find out what you look like when they meet you— and could you really hide your love for chicken tikka from a 'pure vegetarian' husband?
The rookie mistake
You're extremely lucky if you're allowed to meet the man you're supposed to agree to marry one on one. It means both families are 'open minded' (score!). In my case, it meant coming back to a marauding mother who demanded, "You had a beer? You smoked? Did you tell him you didn't want to get married immediately?" Followed by me yelling, "who told you?" ( guy told his mother who told the kaki playing middle man).
Lesson: Just like with regular men, don't bring up commitment on the first date. And make sure the guy is not a blithering snitch.
We are family
You may not be the serve-tea-and-biscuits kind of bahu in the making, but if you've developed a reputation for being mouthy, you're doomed to being chaperoned by your parents for all meetings. Cue awkward dinners with your parents and his — a truly uncomfortable experience that you should reserve for when you've been married and have a kid they can dote over.
Lesson: Only agree to this form of harikiri once you've been allowed to meet the guy one-on-one once (refer above).
Outsmarted
You've messed up the one-on-one, the family meet — so your parents pull the 'Meet the Parents', i.e sans the kids. If all goes well, then you're allowed a one-on-one.
Lesson: Never mess with your parents. Start saving to move out.
The ambush a.k.a. 'send your kid to therapy' move
You have now avoided all possible meetings and threatened suicide, so you're going to be tricked with the 'we're visiting a sick relative' move. The stage is set for relatives of an eligible boy to show up to observe you in your not-entirely natural habitat. For me, this was the last straw and happily the ensuing tears, recrimination, and bills of two years of therapy nailed my 'never doing a forced arranged marriage meeting again' demand.
Lesson: Move. Out.
If your parents turn to courting pandits, or gemstone therapy — rose quartz pendant on the heart, topaz ring for immediate marriage — they've given up on real life and turned to the gods. For those who are in the arranged marriage racket voluntarily — I salute you, and your thick skin. tathastu.
For those who have been emotionally blackmailed, hit with the "My house-my rules' or given in because you're finally sick of the 'bobs, vagene and deer' messages on your dating apps — from one survivor to another, take your chances where you get them. Whether it's on Bumble or Shaadi.com
Being coerced to endure sexist proposals, been rejected by 'educated' boys for being under 5ft 4 inches, meeting men who had girlfriends but not the gumption to stand up to their parents, being x-rayed by ladke ki chachi ki behen ki beti were experiences I could have lived without. I could have lived without hating my parents for 3 long years too (how long these pheras went on). And the self-esteem issues that gnawed at me, wondering how people I should have rejected had the guts to reject me first.
I did however meet the person I love and want to spend the rest of my life with.
Me.
JK. I'd love to meet a tall drink of water — as long as he doesn't have (too many) mommy issues.