Representative photo: Mayank Mudnaney
9 weirdly useful desk essentials that add a cheer to your WFH mode
So you can stop working from the couch
Some of us haven't been promoted to the dream corner offices yet, but remote working has given us all a chance to reimagine and recreate our versions of the sacrosanct cubicles. While some home cabins resemble a pillow fort on the verge of collapse, others have embraced the dining table with a leaning tower of pizza boxes. For many, it's a Chesterfield couch strategically positioned in front of the TV, connected to PS5, for recreation.
And for the rare, disciplined kind, they have actually envisioned and designed their corner office to amplify productivity, multitasking and self-care, all rolled into one Mega Desk. With a green patch here, an interactive paperweight there, this highly motivating workspace is furnished with accessories that will cajole you into working each morning.
But of course, it's a tricky business to strike that balance between the client's (your) demands and what the client actually needs. We ventured into the digital marketplace for some preliminary research and found some of the coolest desk essentials to turn your workspace into a Pinterest-worthy flat lay. We returned with insights and products that make trudging through another weekday feel like a vacation.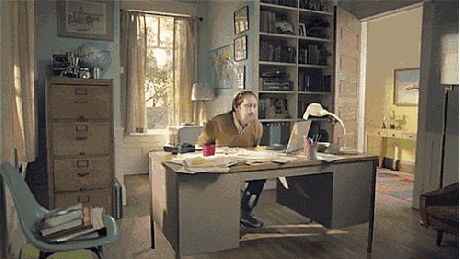 The selection includes a giant clip that holds your coffee, a silent devil of a fan to keep you company when things get heated, and a multitasking pyjama to make you a worthy runner of this coveted, corner desk, among others.
Trust us, if this WFH desk was on The Devil Wears Prada, they would say, "Millions would kill for this desk space."
9 desk essentials to help you power through the work day
A paperweight that calls the shots
This multitasking paperweight keeps all your paper and notes in one place, and also wants to share your load of decision-making. A regular WFH workday on an average requires us to take at least 15 major calls: "Should I send the follow-up mail today?", "Should I work from bed now?", "Must I send the email before taking a pee break or after?" and so on.
It's excruciating, but it doesn't need to be so. Simply pass the buck of taking calls to this clever decisive wheel. When in doubt, spin.
Amazon.in, ₹1,789
Pyjamas are not only forgiving, but also motivating
While we have normalised pyjamas as work attire now, it's only fair to invest in a pair that can double as a shirt for those Zoom meetings that need you to put in an extra dose of sartorial effort.
"This special Tweak India collaboration with Mint Cotton is an 'eye'-catching pyjama that you can lounge in all day. Just roll up the sleeves and it turns into a shirt for all those Zoom calls," says Tweak founder Twinkle Khanna.
Mintandcotton.com; ₹1,800
Something to take care of the mess you create
If you haven't snacked or grabbed your lunch at your desk, at least a few times this year, are you even working from home? And by now, you probably have an infestation of nano chivda crumbs around your keyboard and mouse. We understand you're too hard-pressed for time to be bothered with cleaning your desk everyday, and so we found a dust-buster for you.
Available in fun pastel shades, this futuristic wireless, battery-operated (2 AA) desk cleaner is a sucker for dust and crumbs. Trust this cute vacuum cleaner to get rid of all those bread crumbs, pet hair, cigarette ash, dust and paper scraps off your workspace.
PS: You'll be forgiven for thinking it's a lovechild of Vespa and Amazon Echo Dot.
Amazon.in, ₹859
A memorandum to remember
Each time you need to jot down an important message during a call, a loose crumpled sheet of paper magically appears from some unidentified source. But it mysteriously disappears faster than your Instagram stories. Always.
And that's how you miss the agenda of the upcoming event, never turn up for the meeting that, yes, could just have been an email, and have developed trust issues because your ageing brain can't remember much anymore.
Ikea's SVENSÅS, the magnetic memo board has taken it upon itself to reduce paper waste and track your To-Do list. You can also use this multi-tasking accessory to add a bit of nostalgia by pinning photographs and your favourite restaurant menus.
Pro-tip: Hang it in your line of vision and don't lose the marker.
Ikea.com; ₹799
(Don't) spill the tea
Klutz alert, this one's for all of us who manage to fall off stationary chairs or create modern art on surfaces by casually dropping food and beverage without intent.
This cup holder for work desks is a gigantic clip (you may use it to keep your future thesis together too) that holds down the fort, even when you don't. The clip is sturdy yet cute, creates additional space on your desk and can hold open-container beverages.
A note of caution: Maintain safe distance between the cup holder and your wires because to err, is a clumsy human, and spills aren't 100% inevitable.
Wish.com; ₹221
A plant buddy for a desk neighbour
Even as the insides of your brain resemble an absurd mishmash of spreadsheets and marketing decks, your desk can still appear zen with some colourful stones, decorative gemstones, a micro sand pit and a plant you can't kill.
A glass terrarium doesn't demand too much attention, sunlight or a green thumb, but this self-sufficient ecosystem pays you back in abundance. Terrariums purify the air and improve the quality of oxygen we breathe.
Add some life to your desk with this mini plant so that at least one of you looks fresh each morning. No prizes for guessing who that's going to be.
FernsnPetals; ₹699
We all need a fan
Strangely enough, I wrote this bit right after the massive electricity grid failure in Mumbai recently. I have never felt this grateful for a fan. The five hours without power made me rather powerless, my batteries felt drained and I woke up to the worth of a battery-operated, mini desk fan.
Without hogging too much space, this little fan called 'Smart Devil', as some reviewers point out on Amazon, will blow you away. And thankfully, it isn't as noisy as the fans in the old branches of Central Bank of India. Bring home this silent devil and beat the October heat without going overboard with AC bills.
Amazon.in; ₹1,299
A blanket for your beverage
You make yourself a warm cup of tea. By the time you arrive at your desk with the beverage, there's a Zoom meeting to attend, a deluge of emails have just hit your mailbox and the Amazon delivery has arrived, and thanks to the times we are living in, you need to step downstairs to collect it from the gate.
Half an hour later, masala chai is reduced to a milky, sugar syrup with a hint of adrak. *Bleh*
While you stay cool with the desk fan, we ensured that your beverage doesn't go cold with this cute disk-like object. The ceramic hotplate, which looks like a big brother of the iMac mouse, allows you to choose the temperature and then lets you relax.
This is the blanket your brew deserves on a busy day.
Amazon.in; ₹1,299
Gym while you're working
Just because a last-minute meeting ate into your walking time doesn't mean you have to sulk or give up on your cardio or step count for the day. And home workouts don't necessarily need to resemble some back-breaking, hot yoga postures.
In fact, if you can act cool, you can get your cardio while attending a snooze-fest of a webinar too with this indoor mini bike. It works your muscles of both upper limbs and legs, and your cardiovascular system to strengthen your breathing and increase muscle flexibility.
The in-built tracker tracks your performance, the distance you covered, the number of calories you burnt and so on. Clearly, you can now pedal through your workday, burn some calories and actively avoid burnout.
Decathlon.in; ₹3,499
Photo credits
Styling: Divya Gursahani, HMU: Mausam Gandhi, Model: Suzanne Nayana/Anima Creative Management
Jumpsuit, Mango