Representative photo
We found 7 money-saving challenges that aren't subject to market risks
Challenge accepted
Growing up, there were three New Year's Eve traditions I looked forward to. Celebrating dadaji's birthday (December 31) with red wine — served in shot glasses to the kids. Watching the Manikchand Filmfare Awards — uninterrupted TV time until midnight, with no complaints from the paarents. And finally, breaking the earthen piggy bank that I carefully slipped coins into all year long. It prepared me for the strenuous, commitment-building money-saving challenges to follow.
A new earthen pot was handed to all the kids on January 1 to start the exercise. A 5 rupee coin was a rarity, there were hundreds of 25 paise and 50 paise coins. It built a mini collection of Happy Meal toys, colouring books and some Faber Castell pencils.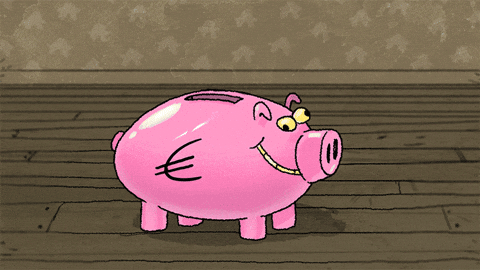 Years went by, I graduated from wine in shot glasses to shots worth a wine bottle. Manikchand quit Filmfare, and the piggy bank (plus the 25paise and 50s paise coins) didn't stand the test of time.
On crossing the thresholds of childhood and teenage years, I became an adult with a job, a debit card I loved, a credit card I despised, never-ending bills, and an incomprehensible Form 16. But I told myself, "I'm not alone." Everybody around me was drowning in some sea of debt, and our in-house finance ministers, err… parents willingly connected us to their financial advisors to sort our money dilemmas.
Yet, at the end of every financial year (or December) the limited savings didn't help me launch that dream company, or fund my world tour.
Turns out, the crowd-pleasing money-saving challenges — mutual fund schemes and LIC policies — like human beings, take years to mature, and are also "subject to market risks". Besides, alongside long-term commitments, millennials, from the age of instant gratification require a slew of speed dating, umm, speed saving hacks that can help us buy that dress we have been eyeing for months, or as a colleague pointed out, a Good Earth quarter plate, as an heirloom for the progeny.
Presenting not one, but seven money-saving challenges that don't ask us to part with our entire savings, plus some well-functioning organs. Minimum resources, maximum output.
PS: Prepare to be honest with yourself and show some self-control.
7 money-saving challenges to make you the finance minister of your life
The No-Spend month 
This is the oldest piece of advice in every father's rule book, and the greatest nightmare among shopaholics. Two words: don't spend. This money-saving challenge tests your commitment towards savings, and comes with a deadline, so you'll reap tangible rewards by the end of the month.
Sure, pay your rent, spend on CNG, settle the bills and buy groceries, but don't add anything else to cart, just because you're having a bad day. No more Swiggy treats, no more eating out. Cancel morning Starbucks runs and stop buying dresses without an occasion to wear them on.
Hit the brakes on non-essentials, and watch some serious cash accumulation at the end. For a more transparent experience, maintain a budget journal and write down every time you had an urge to buy something and how much you saved by not giving in.
Super-saver weekends
It's been a long, exhausting week. You want to buy yourself some TLC, go out for drinks or drive out of the city.
They all sound like legitimate plans, but often at the expense of a big hole in your pocket. Instead, try staying in, or exploring the city on foot, or coming up with innovative weekend plans that don't need you to swipe the card frantically.
If the No-Spend month feels more challenging, try this shorter version of the same. Some ideas for No-Spend fun weekend can be: de-clutter your closet (and even make some extra money by selling your never-worn-before pieces), read a book, binge-watch a show, call your friends and family, the possibilities are plenty.
The Rs50 challenge
This money-saving challenge works if you want to save up for a particular item — but not a very expensive one. Every time the shopkeeper or the rickshaw wale bhaiya hands you a Rs50 note, save it.
The only rule is that you save every Rs 50 note in your wallet. If a day goes without getting a 50-rupee note, donate that amount towards the challenge. Rest assured, you'll save at least Rs 1,500 very quickly. Which may not seem like a massive saving, but annually, you can tuck away up to Rs 18,000 this way.
PS: If you're feeling adventurous enough, scale up to a Rs 100 challenge.
Chillar challenge
Most of us have an ever-growing pile of change in the dark corners of our totes or wallets. On those rare Sundays, when you decide to declutter the bag, carefully transport all the change to a bowl or a jar in your room. Make it a daily habit. Every day, empty the wallet and save the coins, including the chunky Rs 10 coin.
We can't estimate the figure you'll end up with at the end of this money-saving challenge. But no matter how small the amount is, it won't hurt. Alternately, convert the coins to notes at intervals and keep saving them in a bigger jar.
Cancel challenge
It's the only cancel culture we wholeheartedly approve of. Peer through the endless list of subscriptions for music and entertainment options that are leaning heavily on your monthly budget. Temporarily prune the overlaps — especially getting rid of the ones you only paid for 6 months ago because you only wanted to watch that one show the whole office was talking about. Once you drop the excess fat and track which subscriptions are actually used, you can decide which services deserve your hard-earned money.
The fast forward
No, this doesn't require you to sleep away the entire year. This year-long challenge is divided into 12 month-long segments.
Each month, you 'fast' on something or give up a particular expense. The 12 categories are: restaurants, booze, retail therapy, sugar in any form, meat, festival shopping, outdoor weekend plans, OTT subscriptions, beverages — coffee, tea, soda, alcohol, no buying gifts for anyone — DIY, fast food, beauty or skincare products.
This one is the strictest challenge of all with a twist every 30 days, but it's also designed to help you save big. You can thank us later.
Save, Share, Spend jars for kids
This is money management 101 for your little ones, and perhaps for you too. But before you get into money-saving mode, invest in three mason jars and label them Save, Share, Spend. Every time you receive some money from elders, relatives, pocket money, set aside 50% of the sum in the jar called Save. Divide the remaining 50% into half. One quarter of it goes into Share (for charity, causes) and the rest of it, you can spend however you like, no questions asked.
While it's mandatory to add money into the Save and Share jars, it's up to you to choose to spend at the end of the month or accumulate more wealth and spend later.