A still from Aisha
Beauty horoscopes: Makeup looks to perfect, based on your Zodiac sign
Just reach for the stars
Only in the wake of emergencies do we pay attention to the alignment of the stars. For instance, with Saturn in my seventh house and Mercury rising in the first house, I'm prone to injuries — that's why I've avoided gyms all my life.
With a healthy dose of skepticism, we turn to horoscopes for financial advice, relationship counsel and fitness guidance. Is a Pisces-Scorpion match destined for ishq wala love? Should I invest in property during Mercury Retrograde?
Now with salon experts social distancing from our split ends and gel nail disasters, it's time to ask the stars (with help from makeup artist Mausam Gandhi) what beauty rituals to concentrate on this summer.
Beauty horoscopes: what should be in the stars for your sign
Aries:
The Aries go-getter doesn't like to wait around or get phased by competitive vibes. You're the most productive of them all, and like to boast about it from time to time. We all know how much standing out from the crowd thrills you.
Makeup regime: Subtle looks won't work for an Aries girl. Since you aren't afraid to go all out, try a loud glitter lip or a chunky glitter eye. Dear Mars girls, be extra, be dramatic, be Shah Rukh Khan jumping off a Yashraj helicopter.
Supplies: Lip balm, foundation, matte liquid lipstick, glitter
Directions:
Prime your lips with lip balm, then apply foundation.
Apply a matte liquid lipstick.
Apply the glitter while the lipstick is still wet.
Taurus: 
If your life resembles a balance-sheet, you're a true data-first Taurus. You're more methodical than BSE analysts and your cheap thrills include following strict routines and weeding out unnecessary clutter – metaphorically and otherwise.
Makeup regime: In the beauty department, you like to keep it minimal and hassle-free. A long nail-care regime, popularly known as the French manicure will excite you and add that much-craved structure to your beauty hour. I'm sure you'll find a way to add more steps to the process.
Supplies: French manicure kit, or buy some sheer pink and white polish to DIY
Directions:
Trim your nails to desired length.
Shape your nails (either rounded or square).
Dip your fingers in warm water; soak them for a minute or two. Using a cuticle pusher, to push your cuticles back.
Apply base coat or the sheer pink polish. Let your nails dry for a few minutes before applying the second coat.
After the base coat dries, place the nail guides to carve the white tip on top.
Paint on your white nail colour on the nail tips. Let them dry fo a few minutes before applying a second coat.
Remove the nail guide and apply a final layer of sheer pink polish or the base coat. Let it dry.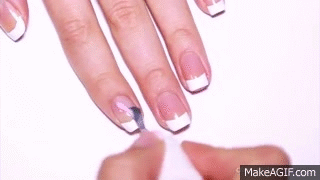 Gemini:
You, children of Mercury, enjoy the reputation of being crazy in the most twisted way possible. That's only because you're in a constant tug of war between your two dominant personalities. You're child-like yet mature. You're an introvert deep-thinker by day and moonlight as a regular at the neighbourhood nightclub.
Makeup regime: You're expressive, but you don't want to go overboard or steal the spotlight. Try a deep black winged tri-liner. Yes, the tri-liner. It's not your regular eyeliner, so you have a challenge to overcome, but it's not too outlandish. Guests won't be dying to take selfies with your eye but they will stare at you just a minute longer.
Supplies: Black pencil eyeliner, liquid eyeliner
Directions:
Use the pencil to draw an extended line (wing) on the outer edge of your eye. Angle it with your brows.
Where that ends, draw another line that slightly curves and runs towards the inner corner of your eye. You can divide the process into two parts. It will be easier that way.
Fill the gap between the upper and the bottom line to shade the wing.
Draw a basic elongated line along your lower lash line.
For the additional third line, leave a 2mm space above the upper lash line and mimic the elongated line.
This is optional, but for a bolder wing, use liquid eyeliner to trace along the lines. The liquid eyeliner will cover up the rough edges to give a perfectly smooth finish.
Cancer:
When Prateek Kuhad wrote the song, 'Cold/Mess', he was thinking of you. Your Tinder bio reads, "I'm complicated", but you aren't. Okay, you may be a little self-made complication.
Your constant need to blame yourself leaves you anxious 28 hours a day. You are the champion of the mental health movement and with you around, there's never a dearth of TLC.
Makeup regime: Water girls often focus on their eyes. Add some drama with multi-tonal eye makeup. Finish off the look with some waterproof mascara to avert any impending mascara meltdown episodes, considering your feelings often use your eyes as outlets.
Supplies: Eyeshadow palette, makeup sponge, makeup brushes, primer, mascara
Directions:
Choose your colours or a vibrant eyeshadow palette. While it's important to select shades that complement each other, experiment with colour blocking. If you're a beginner, avoid matte shades because they can be difficult to blend. Use shimmery ones instead.
Before you start paintings your lids, prep them with a primer. It smoothens the surface and creates an easier canvas for your artwork.
To start your two-toned look, use a thick brush to apply the lighter colour. Start from your lash line and move towards the crease.
Use a thicker brush to apply the darker shade to fill in your crease. Begin applying from the outer corner of your eyes and go right in.
Once you have added the two colours, start blending to eliminate harsh lines.
Finish off the look by applying mascara. Leo:
The personification of Karan Johar's filmography. You're the brand of drama that we love to see unfold over and over again. But you are the Queen of the Zodiac — nobody expects any less of you. You love the spotlight, but won't beg for it.
Makeup regime: Your nonchalant hair flip is a head-turner, and that's mostly because of your famous Leo mane. Leos should do up their hair in big textured waves. Reconnect with your best friend dry shampoo, grab that tong and go curling.
Supplies: Serum, hairdryer, styling wand or tong, anti-humidity spray
Directions:
1. Apply serum to the hair. This will protect your hair from damage. Don't apply it close to the roots though.
2. Blast dry your hair until it's 80% dry.
3. Section your hair to dry it further.
4. Apply an anti-humidity spray.
5. Using the tong, curl sections of your hair. Set it to 180°C temperature to create waves and add volume to your hair without any damage.
Virgo:
On top of every Type A ladder sits a relentless Virgo. You have worked extremely hard to reach the summit, and have more imaginary peaks to climb. You're unstoppable. You're accustomed to being called emotionally distant, and quite honestly, you aren't bothered. Or at least that's the shield you generally wear.
Makeup regime: A Virgo's contour game is invariably better than every Instagrammer's baking game right now. They just don't know it yet.
Since they're all about strategising, Virgos should give highlighting and contouring a shot. It will calm your restless brain and we all know you will pull it off effortlessly.
Supplies: Liquid foundation that matches your skin tone, concealer which is slightly lighter than your skin tone, concealer or foundation in a slightly darker colour than your skin, face powder, blush, a powder brush, beauty blender
Directions:
Apply foundation all over your face with the sponge.
Use the lighter concealer and apply it all the way from your T-zone to the centre of your nose tracing down to the middle of your chin. Apply the lighter concealer under your eyes to hide the eye-bags. Also apply above your cheekbones and jawline to structure the cheek bone.
Take the sponge to blend all the makeup on your face so that you can't tell between the lighter and the darker foundation shades.
Apply the darker foundation to the side of your nose, under your cheekbones and hairline. Blend.
Use powder all over your face to help everything set.
Apply blush on your cheeks in the direction of your temples.
Libra:
'To be or not to be?' is every Libra's forever mood. You are indecisive and often depend on others to take calls. And then you're not exactly pleased because your standards are too high. Mediocrity bores you as much as being in the company of like-minded people inspires you.
You are a connoisseur of art, retail therapy and all-inclusive luxury experiences. Unfortunately, due to lockdown, you can't step out for your usual retail-therapy sessions, neither can you splurge online.
Makeup regime: A nude lip doesn't require intense decision-making. It will make you feel at ease during all those overwhelming Zoom calls every morning. But since that won't satisfy your overachiever instincts, try your hand at an interesting graphic liner design to create a bolder look.
Scorpio:
You are so much more than the bad rep you've consolidated over centuries. We know you've retreated to your shell of solitude a while ago and don't care about the cheerful lot out there.
You are intense and independent. You don't need company or validation to know your worth. There's a lot to learn from these unafraid and undeterred souls.
Makeup regime: Your fearless disposition makes you the prime candidate to try the boldest looks from the catalogue. Go ahead and get bold galaxy-inspired lips.
Supplies: Coconut oil, powder, sugar, small makeup brush, liquid lipsticks – black, pink, blue, white
Directions:
Exfoliate your lips to create a smooth base for your products. Whip up your own lip scrub with coconut oil and sugar. Mix to make a paste, and apply on your lips.
Outline your lips with a black lip liner first, then apply opaque black lipstick. It forms the base for galaxy lips and helps other colours stand out.
Apply purple liquid lipstick to the inner rim of your lips. Using a small brush, blend the colour. Don't leave stark edges.
Apply drops of pink liquid lipstick. These should look like random pink spots on your lips. Let the spots rest for a minute before you blend using a brush.
Paint 'clouds' using a blue liquid lipstick. Blend it using a brush too.
Add a bit of light powder, or highlighter, to create 'stars'.
Using a tiny brush, you can paint white dots (white lipstick) to symbolise cluster of stars. Don't blend.
Sagittarius:
You, children of Jupiter, are truckloads of sunshine and oddballs of energy. Sometimes a bit too fierce for people around. You wake up before the sun rises and start moving mountains. But chances are you'll get bored even before you reach the base camp, and there's the end of that story. Off to the next summit.
Makeup regime: Flatten your energy curve and practise patience-building with eyebrow tinting (in pop colours – electric blues, neon reds, pinks, rainbow hues). Because nothing's too outlandish for the eccentric Archer.
This will also challenge you to stay still for more than five minutes.
Supplies: Brow tint kit, hair colour, cotton pad, makeup brush
Directions:
Prepare the tint mixture. Mix 20ml dry cream from the kit with three drops of colour.
Prepare your skin by removing all makeup. Apply moisturiser around your brows to avoid staining.
Get the tint on a brush and comb through brows.
Wait for at least 20 minutes to see the colour.
To remove, wet a cotton pad and wipe the mixture off.

Aquarius: 
If there was a modern-day Noah's ark situation, you'd patiently wait for your turn and not create a ruckus. Because you, Aquarian, perform best under pressure. If the current lockdown is taken into consideration, you'd prefer to isolate with fellow Scorpions because only they understand your love for solitude and peace.
You are patient in your endeavours and that's what puts you in the winner's circle.
Makeup regime: Challenge yourself with a gel manicure. It requires superlative attention to detail, the brand of calm you see before a storm and a new mother's patience.
You know these gel nails will last for weeks, so you don't mind investing your time and brain space. Also, the challenge of an elaborate removal process also (secretly) excites you.
Supplies: Gel base coat, gel top coat, nail cleanser, gel nail polish, nail dryer (optional), nail bonder, cotton ball
Directions:
Remove the old paint, and wipe the nail with a nail cleanser.
Apply the base coat. Remember to make it a very thin layer.
Dry your nail using a nail dryer; let your nails dry for a minute.
Apply gel nail colour in the same way you applied the base coat. Dry them for three minutes.
Apply a second coat and dry again.
Apply a thin layer of the gel top coat and let it dry.
Wipe the extra paint on the sides using a nail cleanser and cotton.
Capricorn:
If we had to guess Miranda Priestly's zodiac sign, we'd close our eyes and go with Capricorn. You call yourself ambitious, but we know you're secretly a workaholic. You can be reckless, restless, relentless, and in most cases, all three rolled into one colossal package of BDE.
Makeup regime: You are hardworking enough to try a sexy brown matte smokey eye. Being perfectionists, Capricorns are the only sign I trust to not return with a massive panda eye after trying this gradient.
Supplies: Eyeshadow palette with multiple shades of brown, a dark brown liner
Instructions:
Apply a light colour on the inner corners; this forms the highlighting base of your smokey eye.
Use a slightly darker shade of brown to fill up the crease, but don't touch the brow bone and avoid the inner corner of your eye.
Take the darkest shade of brown and apply to the outer corners of the eye. Then blend it over the other shades on your eye.
Use a dark brown liner to line the inner rim of your eyes and the lash line. Do it slowly to avoid any mess. Take breaks in between if you aren't used to.
Pisces:
Cheers to the eternal Mummyjis of the Zodiac. You are fiercely protective, oversensitive and your tear ducts show up mostly without invitation. You also have the tendency to be the self-proclaimed martyr and sacrifice your mental peace and pieces of your heart unnecessarily for the grumpy Scorpions (apparently, your best match) and the rest.
Makeup regime: Since you're a big bag of emotions, we suggest you wear all your feelings on your lips. Indulge the artist in you and go crazy with ombre lips.
Supplies: Lip balm, blush, pink lipstick, face powder, coral lipstick (or any bright shade of your choice), beauty blender, concealer
Directions: 
Use your lip balm to moisturise your lips. To avoid pigmentation, apply a tiny amount of concealer. Dab with a sponge and apply powder to let the concealer set in. It also gives a neutral colour to your lips, thus making the lip colours pop.
Use the darker shade of the two lipsticks to outline your lips.
Using a beauty blender, smudge the line to smoothen it out.
Apply a coral lipstick or any brighter shade of your choice on the centre of the lips. Blend with the lip liner.
To make the colour pop, apply some blush.