Photo: Curology/Unsplash
Twinkle Khanna's hairstylist on the tricks she uses to maintain haircare during lockdown
Kanta Motwani on how to make a DIY hair oil, homemade mask for shiny hair and hide those greys
For many women, the salon is like an alternate reality away from their kids' schedules, work deadlines and domestic chores. This is where figurative facades are put aside to put on tropical face masks and spill some cathartic tea.
"I keep getting calls from clients to just chat. The salon is an escape where they come and vent without any inhibitions. With the lockdown, they miss their group therapy sessions," laughs Kanta Motwani, celebrity hairstylist and founder of Kromakay Salons and Academy.
Apart from missing our therapist/hairstylist, we're also worrying about proper haircare during lockdown.
"People are asking about everything from how to trim a fringe to covering up greys," Motwani says.
If you're hitting road blocks when navigating haircare during lockdown, the celebrity hairstylist offers the kind of hacks only pro insiders know. Add these to your black book.
Hacks to acing haircare during lockdown
Tame the frizz without conditioner
"A shampoo doesn't nourish your hair, it just cleans it. So, using a drugstore shampoo for a while is not harmful. It's the conditioning that you should focus on," says Motwani.
But if you've not managed to stock up on quality conditioner, try this instead.
For curly hair, take an empty spray bottle, pour in about one tablespoon of baby oil, fill the rest with water and give it a good shake. You can spray this onto your hair after a wash as a leave-in conditioner. "The best part is that the baby oil doesn't weigh your hair down and leaves it feeling frizz-free yet voluminous," explains Motwani.
For straight or wavy hair, using a few drops of body lotion as a leave-in conditioner should do the trick. It is not very greasy and keeps the frizzy fly-aways in check.
Getting rid of the greys 
There really isn't a sturdy alternative for hair colour, but Motwani equipped us with some ingenious fixes to ensure our greys don't make an unwanted appearance in our work-from-home selfies.
The easiest way is to be creative and throw on a bandana or scarf or indulge in some easy no-heat hairstyles. Here are a few ways to style the scarves you bought but never knew what to do with.
Another way to mask your greys is to add some texture to it. And you don't even need fancy tools to pull off this hack. All you need to do is braid your hair when it's still damp, and let it air dry or use a hairdryer if you're short on time.
If you're still not convinced then here is actress Neena Gupta validating this hack that makes haircare during lockdown so much simpler.
View this post on Instagram
For all those looking to quickly touch up their greys for a last minute conference call, all you have to do is rummage through your makeup pouch and use your mascara to cover up the roots.
Surprisingly, Motwani endorses permanent marker too. "They're great for quick and temporary fixes, I used it on myself a few days ago. Also, since it's just ink, it isn't toxic."
If you have a little time on your hands, and feel especially creative, then you can take an artistic approach towards covering your roots. Pull out those paintbrushes, and use your eye shadow palette instead of paints.
"Take black or brown eye shadow, wet it slightly and use it to mask your greys. You can get rid of the clumpy bits by brushing them off when dry. To ensure it stays put, finish off with some hairspray,"explains Motwani.
Post-colour haircare during lockdown 
No one anticipated a lockdown while getting their unicorn-inspired hair colour job, and now find themselves using their colour-protectant shampoos and conditioners more sparingly than their quickly disappearing supply of coffee.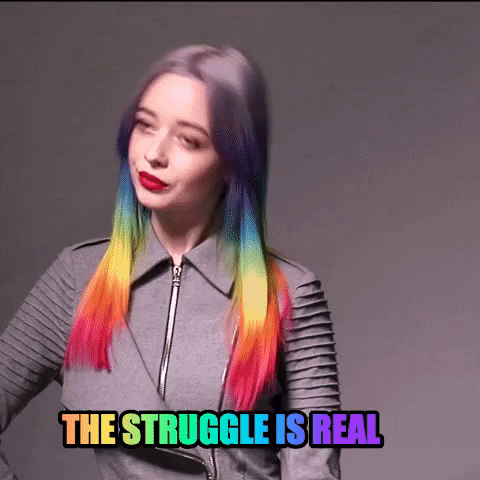 Even though no products will do as good a job as the designated products, try these tips to combat desperation.
Use a sulphate-free shampoo to help colour last longer.
You could also use mild shampoos or baby shampoos. "They usually have low sulphate content and are gentler," says Motwani.
Wash coloured hair with cold water and avoid using hot styling tools. Heat usually strips colour and damages bleached hair.
Use your pantry to make up for your hairstylist's absence
Just like staring at your fridge cures your boredom, rummaging through your pantry might be the answer to all your haircare during lockdown dilemmas. Don't go overboard and whip up a new hair pack everyday, but as long as you use ingredients responsibly, here's how groceries could be your new grooming heroes.
Infused oil for nourishment
Barter/bribe/beg your housemates for a good old fashioned champi. "It increases blood circulation in your scalp and promotes hair growth," she explains.
A way to make your head massages even more fruitful is infusing your oil with some goodness from your kitchen cabinets, and here's how you can do it.
Ingredients:
Oils (choose one or a combination)
Castor oil
Olive oil
Coconut oil
Additional ingredients:
Neem or curry leaves (oil or powder)
Aloe vera pulp
Aloe vera roots (washed and sun-dried)
Fenugreek (methi) seeds
Honey
Amla (dried or powdered)
Onion seeds (kalonji)
Cinnamon sticks
Multani mitti
Oats
Egg-white powder
Milk powder (unsweetened)
Glycerine
Directions:
Add one or a few of the additional ingredients to the oils, then store in a glass jar or bottle.
Let the ingredients infuse the oil for a few days.
Use the infused oil to massage your hair.
Moisturising hair mask
Finding a remedy for listless locks tops people's haircare during lockdown list and Motwani has just the cure for it.
The core ingredient might take a while to get used to – onion juice – but promises great results. "Onion is rich in sulphur, protein and biotin, which promote hair growth , nourish your hair, moisturise your hair, and make it strong and shiny," says Motwani.
Ingredients:
1 onion
Coconut oil
Castor oil
Glycerine
Lime juice or vinegar
Essential oil of choice
Directions:
Juice the onion and strain the juice.
Add equal quantities of onion juice and coconut oil to a bowl.
Add a tablespoon of glycerine and castor oil to the mixture.
Put in a few drops of essential oil, and a tablespoon of the lime juice or vinegar.
Apply the mixture on your scalp with a cotton ball . Massage it gently and leave it on for a couple of hours. Then wash off with shampoo.
A DIY conditioner to ace haircare during lockdown
Don't fret if you've not managed to stock up on enough conditioner, this home remedy will make up for that, and leave your hair feeling soft and frizz-free.
Ingredients:
2 tsp coconut cream
1 tsp almond oil
1 tsp castor oil
1 tsp glycerine
1 tsp vinegar or lime juice
1 tsp baby shampoo
Directions:
Combine all ingredients in a container and mix well.
Apply to the length of your hair, starting a few inches away from your scalp.
Once applied, cover hair with a hot towel to help prevent frizz.The steam will also help the product mix to penetrate the hair shaft and soften it, leaving the hair shiny and easy to detangle.
Use a very gentle shampoo with a cap full of vinegar to wash off the mixture.
WATCH NOW: Taapsee Pannu on how to maintain curly hair