Representative photo: Pexels
Makeup tool or kitchen appliance? A beauty noob investigates 11 weird products that actually exist
From eyeliner stencils to mascara shields, we've covered all our bases
Our league of extraordinary mistakes includes wearing a white shirt to a nine-course buffet, liking an ex's photo in the deep recesses of his social media and attempting to buy alcohol during lockdown. But if you're a Nykaa noob like I am, the list also features tragicomical trysts with weird (and regular) makeup products.
For instance, applying lip balm after somebody has painstakingly helped you get a glitter lip. Or slapping some foundation on top of concealer.
Bottomline: I can't keep up with the ever-changing multi-billion beauty industry. Also is it just me or are there more crystals and gemstones in beauty products than in our panditji's jhola.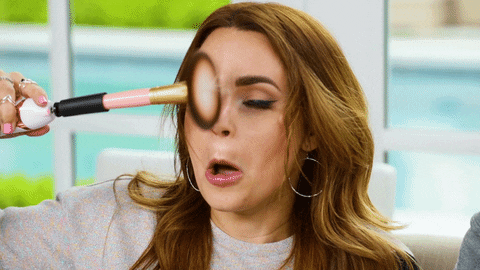 At the epicentre of my rising confusion stand Sephora and Nykaa as honourable gatekeepers. If you thought watching SRK's last few releases was painful, wait till you watch me interact with Sephora aunties. Especially while trying their armoury of torture devices (erm, their makeup kit).
Homegrown makeup artists  and parlour didis aren't making life easier either. They have paved their way into my Instagram feed with stress-inducing tutorials. While they scream, "Skip me if you can", I wonder if I really can. Forever.
Perhaps not, considering my well-meaning colleagues decided to give me an education on the subject. After taking part in an office makeup challenge — which failed gloriously — our persistent copy chief took it upon herself to design a virtual exercise to give me some makeup gyan.
She shared photographs of 11 state-of-the-art products, made me guess their purpose and sent me off to research them.
Surprisingly, the research took me to parts of Japan, teleported me to ancient China, and brought me back to Sephora's checkout page. Confession: Turns out, most of these bizarre innovations are utilitarian.
I'd be lying if I said I wasn't tempted to purchase that nail dryer and cat-eye stencil, STAT.
Laugh at me or with me as I share my first impressions of these believe-it-or-not-it-exists makeup tools.
11 weird makeup products that go beyond face value
Jade roller:
First impression: I've seen Deepika Padukone use what is called a, wait for it, Twin-Ball Massager. This looks like a low-hanging fruit of that same family tree. I'd assume this to be some pebble-for-your-face contraption you could exploit on a hard day's night.
PS: That tiny rock looks pretty though. Might repurpose the stones as Diwali return gifts.
What it actually is: It's not just another Made in China hoax. The jade roller finds its roots in ancient Chinese medicine. This massaging tool promises to de-puff the skin, increase circulation and eliminate inflammation. Simply roll this mini paint roller across your face in a back-and-forth motion for a few minutes to reap benefits.
Jade, of course, enhances the cooling effect. It can maintain a low temperature even when exposed to body heat. Perform a simple test to verify the gemstone. If it warms up within minutes, you've been duped.
Buy the jade roller here. 
Nail dryer:
First impression: Clearly stolen from someone's office supply, this doesn't resemble anything apart from a punching machine or a heavyweight stapler. But my wild beauty-oriented guess would be an ironing tool.
What it actually is: This UV or LED lamp for nails is the only way to stop those nail tragedies that happen when you're drying them naturally. These lamps are time-efficient and the only disaster management unit in this regard. Keep one handy.
Because waiting for your creative nail art to dry can often feel like those pirates staring at their screens waiting for torrents to complete 100%. It's agonising and dangerous.
Buy nail dryer here.
Gua Sha stone:
First impression: Remember that shapeless alum our forefathers used to purify water in the 20th century? It looks like a refined version of the same.
I'd probably just use it as a self-defence object to protect myself from Parlour didi's interrogations.
What it actually is: Thank you China for introducing crystals to our beauty regimen. This ancient Chinese stone took a giant leap of faith and landed on our Instagram last year.
The Gua Sha massage technique releases tension in the facial muscles, boosts circulation and aids in lymphatic drainage. Ardent users have vouched for this stone's ability to reduce headaches and jaw pain. Three birds, one stone, as many would say.
Buy Gua Sha stone here.
Makeup sponge:
First impression: Excuse me while I celebrate my Eureka moment. Finally, something I could recognise after months of being a spectator on work shoots. I managed to absorb some recurring motifs, and this is one of them.
This sponge is used to get rid of the million layers of makeup, and sometimes, it's also used in applying the whole laundry list of facial products.
What it actually is: You can use the sponge to apply foundation, blush and other makeup without leaving streaks. You can also use this to apply skin-care MVPS, including moisturiser and sunscreens. However, avoid the common mistake of using the sponge dry. Always use it damp.
Buy makeup sponge here.
Level-setter razor:
First impression: At the cost of sounding like a complete schmuck, I must admit that these truly resemble the Sharpie pens I hoard. At least from the photograph I saw. These could also be toothbrushes, but since I've been forced to think "beauty and makeup", I'd go with coloured eyeliners.
What it actually is: These disposable stainless-steel razors effectively remove unwanted facial hair. The curvaceous handle makes the process more precise and smoother. Only con: these may not be the best option for acne-prone skin.
Buy level-setter razors here.
Tangle Teezer:
First impression: First, why so blingy? A closer look gives a glimpse of bristles. Is it safe to assume that it's some form of a brush to tame the crow's nest on my head? And if I'm anywhere close to the correct answer, I'd demand one to use as a paperweight.
Most of these products come with a potential to diversify themselves into more useful avenues.
What it actually is: Once upon a time, professional hairstylists would have these in their ammunition dump to untangle the beautiful mesh called your hair.
The exclusivity has worn off, and you can now go pro with a tangle teezer at home. This two-tiered hairbrush swiftly glides through your hair – wet and dry – and detangles without a fuss or an ouch.
Buy Tangle Teezer here.
Gold vibrating bar:
First impression: Why do most of these products resemble a dildo? Perhaps, it's because everything ultimately finds its roots in the book of self-love. My seventh wild guess today would be an exorbitant gold-plated razor? If it's actual gold, this one's going straight to my bank locker.
If I may, it also looks like some yet-to-be-identified tool from my dad's tool box.
What it actually is: 
This 24-karat gold vibrating bar is a skin-sculpting tool used for facial toning and contouring and it doesn't discriminate on the basis of your skin type either.
Additionally, it reduces puffiness and relaxes facial muscles. Good riddance to those eye bags and wrinkles, we say.
Buy gold vibrating bar here.
Cat eyeliner stencil:
First-impression: Encore Eureka moment. You get what you see. It seems like a stencil for some crazy rangoli ft. your eyes. I'm investing in these to save myself from future embarrassment.
What it actually is: This may be the oldest cliché in the eyeliner catalogue – across Hollywood, Bollywood, Egyptian monuments and your Halloween looks –  but we have only recently found the trick to ace it. These cat eyeliner stencils ease the process of eyeliner application.
Rest assured, your cat liner won't resemble a bat or a snake anymore.
Statutory warning: liquid eyeliner works better than the pencil, according to compulsive users online.
Buy cat eyeliner stencil here.
Beauty spoon:
First impression: Last time I saw something similar was in my niece's kitchen set. This better be some sort of cutlery. This close copy of a spoon might be used for those frozen-spoon-on-eye treatments.
What it actually is:
You don't have to bid farewell to your foundation or mascara bottles without scraping the bottom anymore. This beauty spoon, although many call it a gimmick, reaches where your fingers can't.
Invest in this handy tool to scoop out the final bits of any product out of the pot. Saving starts right here, right now.
Buy beauty spoon here.
Ice-roller face massager:
First impression: Looks like this is going to be my fake mic for my fake home concert on a real karaoke app.
But if I try hard not to digress from the beauty approach, this looks like an NRI cousin who was born when the jade roller and the massager decided to make babies.
What it actually is: This massage tool works on the principles of therapeutic cooling. It's on a mission to eliminate all that puffiness and calm down that blotchy, red patch of skin.
The device is filled with water and gel. All you need to do is store it in the freezer, and before your red-carpet appearance at yet another shaadi or farewell party, roll it across your face. It instantly firms the skin.
There are medicinal benefits too: The ice massager can be used during an episode of migraine for temporary relief too.
Buy ice-roller face massager here. 
Mascara shield:
First impression: Whoa, this one's straight out of some kinky movie involving role play. I've stared at it for almost a minute now; my brain is mush. I think this is a trick product again. It's definitely a mask for Halloween or some masquerade ball. I've successfully given up.
What it actually is: 
This heavily contoured shield protects your eyelids from the every-day mascara massacres. Place the shield behind the upper lashes and gently press against the eyelid before applying mascara. For the bottom lashes, place it under the lashes before application. Go curling, no more mascara meltdowns.
Buy mascara shield here.