15 hilarious memes that perfectly explain what anxiety feels like
Turns out laughter is an effective medicine after all
Don't let these coherent sentences fool you. The inside of my brain is more complex than Christopher Nolan's universe. In it, there are 15 Shashi Tharoors debating with each other across dimensions. They are pulling off all-nighters and giving me long spells of sleepless nights. It's a big mood – massive boulders of self-doubt and an endless loop of second-guessing.
A few years ago, I embraced the disguise of a narcissist to hide the notorious face of 'feeling anxious'. Then I fell into the dark, but funny rabbit hole called the internet and met GIF King and Meme Lord.
They made my anxiety-ridden life much simpler. Goodbye to texting anxiety. I didn't need words anymore. I just blindly trusted the GIF of a confused monkey – the most accurate self-portrait in most cases.
Memes convey the sentiment and make you the funny one in the group – only online though.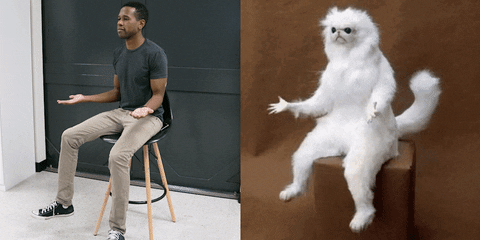 For fellow anxious pigeons, we know anxiety is no laughing matter, and the stigma surrounding it is palpable.
"Anxiety is our brain's natural response to any new change, transition or a crucial moment in life – job interviews, returning to office after lockdown. But if it continues over a longer period of time and affects your daily functioning, that's when anxiety can turn into an emotional disorder and needs professional help," says Prachi Vaish, psychologist.
Mental health discussions at dinner table can skyrocket your Dad's acidity levels and will not go down well as a conversation starter even on the fifth Tinder date. But Meme Lord has found a more palatable way to help digest the difficult subject.
Experts at the Anxiety and Depression Association of America also recommend using humour as a strategy to cope with anxiety. Another study done by a group of researchers at Nuffield Department of Clinical Neurosciences, University of Oxford, England states that "memes can destigmatise mental health illnesses for those who have it, and help them feel a sense of community."
With the blessings of the experts, we decided to calm those nerves a bit.
We found 15 hilarious memes that make you go, "Yes, me too."
We, the panic-stricken pigeons, are born with an in-built wake-up call in our nervous system and sadly, we don't have any control over it.
On most days, our body's alarms blast our cerebral cortex way before sunrise and right after midnight. Too bad they don't come with a snooze button.
We don't really have an appetite for your morning chirpiness.
Dear Little Miss Sunshine (read roommates with serotonin overdose), please maintain safe distance until lunch, will you?
What do you want to ask us, anyway? Just add it to Splitwise and no, we aren't getting cats. We already discussed that.
Just when you underestimated Zoom's ability to peep into your soul, your manager's fixed gaze will come to haunt you.
Well, that look is enough to freeze you for the rest of the foreseeable future.
But repeat after us,"You aren't getting fired. You're doing your best, and you're enough."
Lately, grocery runs have been triggering a power outage in our brains.
We memorise the grocery list, rehearse it in front of the mirror and also note it down on our phones. But the moment our eyes lock with the shopkeeper's, electric sparks fly in our mind (stress-induced), and we are dumbfounded.
Now we are convinced life isn't going to forgive us for this heinous crime.
Texting anxiety is real. We tend to turn off read receipts and fly straight into Airplane mode.
To be fair, we're only buying ourselves more time to frame our thoughts better before we hit that once-said-never-returned Send button.
We are into Unlock 2.0 now. The society committee hosted a Zoom call last evening to discuss the easing rules.
I had a three-pager keynote speech ready. Sadly, it's now covered in shapeless doodles I created while nodding in agreement to whatever was being decided.
It's not stage fright; it's stage apocalypse. "What if I stammer or forget a line?" They'll mute me anyway.
By now, we have normalised faded pyjama bottoms and sabzi-stained T-shirts as part of the work wardrobe. But that doesn't mean we are blind to the dal-dyed texture.
Naturally then, when colleagues say, "nice T-shirt" during morning meetings, our brains cannot help but perform a quick autopsy of all the possible sentiments attached.
Sarcasm, sass, hatred and fake pleasantries. It's a gamut of unwelcome emotions on a Monday morning.
My neighbour helped me with two pods of garlic so I could make that Chindian chilli chicken at home.
I've spent the past three days making lists of what to give her in return: Four pods of garlic? A lifetime supply of borrowed cheeni and chai patti? Naming rights to my firstborn child?
Making birthday videos during lockdown has been as stressful as awaiting the PM's debut press conference.
Personally, recording videos, or even worse, voiceovers for anything is as good as committing harakiri.
Where's the autotune software I can attach straight to my vocal chords? It is 2020, after all.
We shudder at the idea of social gatherings larger than two people. "Two is company, three is a crowd."
Anything more than that is a potential stampede.
We thrive on overthinking, over-scrutinising and overanalysing our actions, your gestures, their silence and sometimes even Mercury's retrograde movements.
It's the kind of excess you may not understand unless you belong to the league of the chronically anxious.
Just when you tick the last item off your to-do list, there's a siren that cuts through that rush of joy.
An alarming reminder of all the million other things we procrastinated on yet again: doing dishes, folding clothes, sending that fifth follow-up email to the client and renewing our Netflix subscription.
Anxiety-riddled humans have more tea options than Indian moms have Tupperware dabbas.
Call it a placebo, or the anchor when we're drowning in a sea of stress, but this tea — Earl Gray, chamomile, orange pekoe or even masala chai — is one that we're definitely not spilling. Or sharing.
And then there are days that feel scripted by candy floss queen Nora Ephron.
Nothing can go wrong and we are bursting with hope.
Lastly, bring on some Abba for good cheer because "Mamma Mia! Here we go again…"