A still from Bigg Boss 14
5 survival skills I learnt from watching Bigg Boss
They range from ridiculous to sublime, not kidding
The nation wants to know why singer Rahul Vaidya left used toilet paper in the washroom, why actress Nikki Tamboli dropped someone's tray of glasses filled with soda, and if controversial god woman Radhe Maa has some evil spells up her pallu. These are pressing issues, according to Google News push notifications. If you're still busy connecting the dots, let's just say Russian behaviourist Ivan Pavlov, his 40 dogs and our entire nation can't keep calm. India's favourite khuraafati social experiment — Bigg Boss — is back.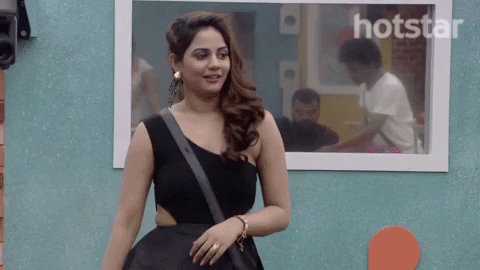 But for me, it only means an endless supply of new memes to squash Monday blues. Bigg Boss is the kind of show I wouldn't recommend even to my worst enemies, and because I'm a massive '90s Bollywood buff, I'll recommend Saajan Chale Sasural instead.
For the last 14 years, I compulsively avoided it like Swiss Bank account holders dodge tax collectors.
From a distance, I figured that Bigg Boss gave the country the vicarious pleasure of watching celebrities play ghar-ghar with access to minimal resources.
But 2020, as we know, is different. Confined in our houses for months, Bigg Boss is kahaani ghar ghar ki.
Statements like "Mera aloo bhujia kyon khaya?", "Jhaadu lagana seekh le pehle" and "Aaj bartan tu karegi" are now resonating in the Bigg Boss house as well as our homes.
So as the new season dropped, and my editor asked if I wanted to jump down the rabbit hole to learn some life lessons, I leapt.
From bits and pieces of old episodes on YouTube, I somehow dug up an interesting research study, titled Understanding Selected Concepts of Organizational Behaviour from Bigg Boss Perspective. A certain Quora user pointed out that she "learnt many tips from BB about social communication, planning, handling stress, handling boycott and dealing with emotional attachment."
I must confess there indeed were a few handy survival skills, if only we hit the suspension-of-disbelief button at the beginning.
PS: Once upon a time, a participant did a jugalbandi with a crow. True or false? Watch for yourself.
How to survive life, Bigg Boss style:
Survival 01: Food is the cause of, and solution to, all heartburn 
Participants in the house aren't as petty or ridiculous as they are hangry. From my limited viewing, it seemed like the only state of mind. It all stems from the meagre resources they have and the ever-depleting snack cart. Naturally, some steal food and stock up, and when they get caught, they are crowned Jaani Dushman.
The key to surviving life is a well-fed stomach. I am devouring a bowl of mishti doi as I write this.
Survival 02: When screaming and crying fails, faint
This act can take years of practice to perfect, or you can go on a hunger strike for some method acting.
But according to Bigg Boss contestants, this is a sure-shot way to win and end arguments. Their mantra is simple: "My way or I am fainting".
Don't believe us? YouTube fainting on Bigg Boss, and you'll see that every season has featured at least one contestant fake a faint — Sapna Chaudhary, Gauhar Khan, Shehnaz Gill, Dolly Bindra, Yuvika Chaudhary, Karanvir Bohra and the list goes on.
Survival 03: Shut up and bounce
Bigg Boss enthusiasts claim that lazy couch potatoes stand a better chance at ruling the house than motormouths with chronic verbal diarrhoea.
Observing all hell break loose silently helps control noise pollution as well as presents you in a better light.
Well, dear trolls, hope you're reading this.
Yet raising your voice in conflicting situations is necessary to shed your image of a diplomat. It's not the G7 summit after all. And past seasons showed that apparently, the winners indulged in more banter and debates than the contestants eliminated earlier in the show.
Bottomline: Gossip in moderation.
And, on a more serious note…
Survival 04: Jhaadu, pocha, bartan are gender-neutral skills
And it's not a woman's domain. Thank you Bigg Boss for normalising men frying puris, chopping vegetables, cleaning toilets and doing their own dirty laundry.
Sure there are some who throw tantrums like a sizeable chunk of the male population of the country, and they get schooled by the females in the house and Boss himself.
Can we please petition to send all the men who refuse to pull their weight around the house to the Bigg Boss set?
Survival 05: Tolerance is key
I tolerated the show's antics and survived, well, that's a lesson right there. Jokes apart, this is perhaps the most important survival skill the show teaches. There's no room for intolerance in the house — religion, caste, class and sexual orientation aren't up for scrutiny here.
And if there's anything we would seriously imbibe from this madhouse, it's this virtue. Live and let live because, well, Bigg Boss says so.