A still from Amélie
8 foreign-language films that transcend borders
Read between the subtitles
Quarantine has turned me into a multitasking masochist. On the 45th day of lockdown, I self-inflicted a bout of motion sickness. I spun in my chair while responding to work messages and ran in circles to touch the daily step count of 5,000, before sinking into the couch to read movies.
Yes, read a movie. The blame and credit is solely on Parasite.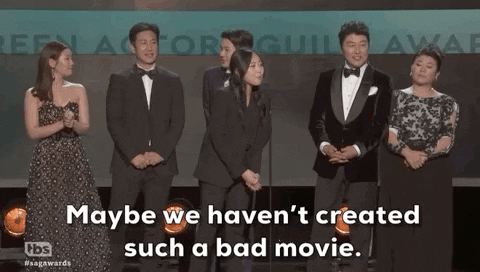 Bong Joon-ho's clean sweep at the Oscars earlier this year put the spotlight on foreign-language films, which were previously confined to the premises of film institutes and self-proclaimed cinephile friends.
The cheatsheet to faking it with these filmi-pedias used to be simple though.
Namedrop Akira Kurosawa (weave in Rashomon and Seven Samurai), François Truffaut (just say Jules And Jim), appreciate Wong Kar-Wai's muted colour palette (in Chungking Express and In The Mood For Love) and obsess over Jean-Luc Godard's love for bad boys (mention Breathless).
Keep the observations vague and open-ended to escape unscathed.
But foreign films aren't foreign territory anymore. They transcend language barriers, boost concentration, teach etiquette (maintain silence, please) and inculcate the habit of reading (even if it's just subtitles).
Most importantly, they give you superior film cred.
Bonus? They literally open up a whole new world of options to binge watch if you've run through the usual suspects on streaming platforms.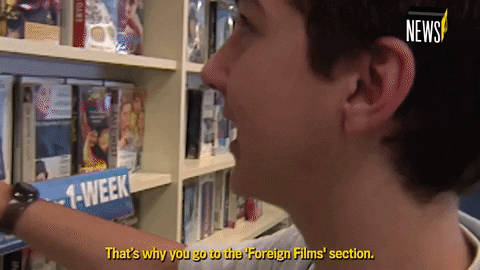 So consider adding foreign films to your watchlist, before your friends start rambling about French and Korean dramas, and it all sounds Greek to you.
PS: Their films have enough masala to get you hooked.
Beat the FOMO by adding these foreign-language films to your watchlist
Amélie
Language: French
This 2011 French slice-of-life movie is the kind of feel-good drama the world needs more of.
The movie follows the eponymous protagonist (played by Audrey Tautou), whose childhood was spent in confinement and away from human interactions because her father feared she had a heart defect.
Years later, she starts working as a waitress at a Parisian café, and after she notices that a tiny act of kindness can make someone's day, naïve Amélie makes it her life's mission to spread happiness and smiles on a daily basis.
Through the course of making others happy, she learns the most important life-lesson: the act of self-love.
Yann Tiersen's music deserves a special mention because Amélie without the background score is like Holi without bhang.
Watch it and hate yourself for not watching it sooner.
Watch on Google Play
Shoplifters
Language: Japanese
This Palme d'Or-winning family drama by Hirokazu Kore-eda is Japan's spin on KJo's stance – It's all about loving your family.
As the movie opens, you're stuck in Osamu Shibata's claustrophobic house with his family – wife and two kids. What protects the audience from suffocation is the family's ability to find joy in nothingness and the endless supply of love to keep all well-fed.
Soon you're invited to an off-beat father-son bonding activity – shoplifting. They spend their evenings exchanging nonchalant glances and cues to steal goods.
Until one evening, they find a young girl stranded on the streets.
They bring her home knowing there's not enough bread to feed the existing four. And just as you warm up to the extended family, tragedy strikes, testing new and old family bonds.
Your tear ducts won't be able to put up a brave show.
Watch on Netflix
The Invisible Guest
Language: Spanish
In this faster-than-light thriller, our hero Adrián Doria (played by Mario Casas) wakes up next to his dead mistress, and almost immediately becomes a prime murder suspect.
He claims they were attacked by an outsider. Sadly, no one saw any visitors, the door was locked from the inside and the windows, sealed. Thus, no alibi.
This superlative murder mystery has more twists than Abbas-Mastan could pack in their entire filmography. The final reveal may just punch you in the gut. Don't say we didn't warn you.
Fun fact: Sujoy Ghosh's Badla is the official Hindi-language adaptation.
Watch on Netflix
A Separation
Language: Persian
In this award-winning Iranian marriage drama, Simin (Leila Hatami) wants to move out of Tehran to find greener pastures for her 11-year-old daughter. She wants her husband, Nader (Payman Maadi), to come along. But he wants to stay back with his father, who suffers from Alzheimer's.
Will the daughter stay with her father or leave with the mother? The final act is heart-wrenching, and we'd recommend multiple viewings to soak in the emotional complexity in all its shades.
Also, because we couldn't find Kurosawa's Rashomon online, we decided to go with A Separation.
Similar to the Japanese tour de force, this film brilliantly recounts an incident from multiple perspectives and ultimately leaves us with an intense visceral takeaway.
Watch on Amazon Prime Video
Roma
Language: Spanish
In his previous outing, Gravity, Alfonso Cuarón took us to outer space. With Roma, he allows us to invade his personal space. The Mexican movie makes us believe that emotions, indeed, transcend all language barriers.
The film is set in Mexico City, 1970. Our protagonist Cleo is based on the house help who helped raise Cuarón. The movie is a heartfelt tribute to her and is layered with immense respect and nostalgia.
It examines the class system and social unrest while putting the spotlight on women who battle everything to keep things together.
Slow down and watch this feast of a movie. We recommend multiple viewings because the first time around, you'll be busy wiping those big, fat tears. Your vision may become blurred as a result.
Watch on Netflix
Nocturama
Language: French
Bertrand Bonello's dark thriller, Nocturama is divided into two equally engrossing chapters. The first half of the French film introduces us to a bunch of youngsters who take us on a guided tour of Paris – in trams, trains, on boulevards and pavements.
They seem to know each other, but we aren't entirely sure until the director drops the bombshell on us – the drifters are planning a terror attack on the City of Love and are planting bombs across the French capital.
Nocturama suddenly turns into a slow-paced, lazy depiction of what the youth actually enjoys – retail therapy and window shopping. The crew spends the night holed up in a shopping mall where they go about soaking in some fine consumerism.
The director decisively doesn't point at any bombings or mass shootings that have taken place in France in the recent years, but he does shed light on a disillusioned generation.
Watch on Netflix
The Salesman
Language: Persian
Farhadi's films are so nice, we had to recommend them twice. The director uses Arthur Miller's Death Of A Salesman as a silent and a not-so-subtle mise-en-scène throughout this gripping moral drama.
Two theatre actors (played by Shahab Hosseini and Taraneh Alidoosti), who are also a married couple, are in the middle of rehearsing for the famous Miller play.
Due to the crumbling state of their current house, they decide to move into a new apartment. The previous tenant's dark history comes back to haunt them, and the wife is attacked out of the blue by an unidentified man.
What follows is a moral dilemma of whether to open a police investigation and revisit the horrifying incident. As the husband decides to take matters into his own hands, we dive deep into a cerebral drama tracing themes of pride, self-righteousness and justice.
Watch on Amazon Prime Video
Lady J
Language: French
French period drama, Lady J, has a widow, a large estate, an irresistible libertine, and it all culminates in an epic period romance.
But it raises a contemporary question: dump or be dumped, what's your Kryptonite?
Set in 1750, the movie follows Madame de la Pommeraye (played by Cécile de France), who falls for young and sprightly Marquis des Arcis (played by Édouard Baer). After Marquis tires of her and they mutually enter the friend-zone, it turns out, the break-up wasn't as mutual as we thought.
Madame turns bitter and hatches an OTT revenge plan that could put K-Serial showdowns to shame. The revenge is indeed served cold in blue porcelain crockery with a generous side of passion and infidelity.
Watch on Netflix.