A still from Joker
A mental health expert analyses our favourite villains
What made Thanos want to wipe out half the world?
We started the year obsessing over one of celluloid's "nicest" villains —  charming and intelligent bookseller Joe Goldberg in You. While his stalker-ways and evil acts leave no room for redemption, his cheerleaders are unperturbed. He may even be just a few memes away from snatching the Internet Boyfriend tag from Keanu Reeves. 
While Joe is gathering online girlfriends, another legendary villain is racking up Oscar nods. Eleven, to be precise.
Joaquin Phoenix's portrayal of Joker in the Todd Phillips film offers a rare view into the damaged mind behind the mask, one that's broken and beaten down by society until it cracks.
Unlike past caricatures, this film insisted that heroics and villainy don't exist in black and white.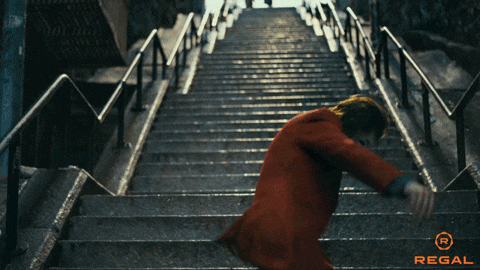 This nuanced approach is exactly what makes Joker stand out.
In an effort to better understand the method behind the madness, we asked psychologist Prachi Vaish to psychoanalyse some of our favourite villains of all time.
Amy Dunne in Gone Girl (2014)
In the bone-chilling adaptation of Gillian Flynn's novel by the same name, Ben Affleck's Nick Dunne comes home on his fifth wedding anniversary only to find that his wife, Amy, has gone missing.
Facing immense pressure from the police and media, Dunne becomes the prime suspect in his wife's disappearance. While the audience wonders if Dunne killed his wife, the truth is far from what meets the eye.
"Amy displays clear psychopathic tendencies. She projects an inability to empathise or feel remorse. She is driven to achieve what she wants without any understanding of the pain and destruction she causes. Even when it means inflicting self-harm; she stops at nothing," says Vaish.
Joe Goldberg in You (2018-present)
This 2018 romantic thriller series by Netflix follows Joe Goldberg, a dangerously intelligent bookstore manager whose obsessive behaviour often leads to gruesome crimes. The internet is still divided in its opinion: do we love him or do we hate him? Sure, we can't escape him.
"Joe can be quite a heartthrob for many women. Who wouldn't want this adorable, unassuming, book nerd who is willing to do anything, even kill for his lover? But the reality can be quite different.
What Joe has is what is known as an obsessive attachment style or obsessive love disorder. Although this has not found  a place in the standard psychiatric diagnostic classifications yet, the signs of it are hard to miss.
It includes a tendency to control or run their partner's life, feeling jealous or threatened even by the same gender friends, swinging between idolising and resenting the love interest and an unhealthy fixation on that person."
Mehak Deo in Phobia (2016)
In Phobia, Radhika Apte's Mehak is an artist who develops severe agoraphobia, and is petrified of the outside world. But when her apartment's tenant mysteriously disappears, Mehak is convinced that her house is the most dangerous place of all. Is it all in her mind or is there a real danger haunting her?
"Although the name of the movie is Phobia, Radhika Apte's symptoms are more congruent with Post Traumatic Stress Disorder.
The main elements of this disorder are vivid flashbacks of the traumatic event, physical anxiety symptoms when the flashbacks occur (e.g. racing heart, blurry vision, palpitations, sweating, dry mouth etc.), intrusive thoughts about the event where the sufferer tries very hard to push the thoughts away but they don't go, and avoidance of things and places that remind the individual of the traumatic event."
Harley Quinn in Suicide Squad (2016)
A secret team of super villains, recruited by the government, are sent off on a mission to defeat an enigmatic entity. However, the group soon realizes that they weren't picked to succeed but chosen for their culpability. From there on, all hell breaks loose.
Harley Quinn was so in love with Joker that despite his mental illness and despite being a psychologist herself, she never hesitated to develop a relationship with him, which was a severe ethical violation for her.
This tells us that she had problems with personal and social boundaries. Her extreme rebellion and temper flares makes it a perfect recipe for Borderline Personality Disorder.
Her relationship with Joker was also interesting. She was ready to do anything for him, even if it meant harm to herself or to others. This is a clear indication of co-dependency where one partner has no boundaries with the other, and it usually stems from low self-esteem."
Arthur Fleck in Joker (2019)
Todd Phillips's Joker is an American psychological thriller following Arthur Fleck, who is navigating his way through Gotham's fractured society. He is a clown-for-hire by day, and aspired to be a comedian at night, but mostly ends up becoming the joke himself. Fleck's one bad decision escalates into a series of horrifying events in this disturbing drama.
"Joker's character points to a combination of many mental illnesses (which is rare in real life). His mood, as a result of the failure to succeed as a comedian, points to depression; his exaggerated belief that he can make it really big as a comedian hints at an idea of grandiosity.
The presence of both depressive as well as manic features usually mean a bipolar disorder. He also displays hallucinations which takes his bipolar symptoms into the realm of psychosis.
There is also post traumatic stress because of the treatment he gets meted out by the society (the beatings and ridicule) and that makes him snap eventually.
He also has a condition where he laughs uncontrollably. That condition is known as Pseudobulbar Affect. It is a neurological defect.
There is a very important message in his character and that is his discontinuation of medication. In mental illnesses where medication is essential for recovery, discontinuation can lead to severe deterioration and relapse.
However, as a psychologist, I'd like to point out that in real life, a mentally ill person is first more likely to be subjected to violence by people rather than turning violent towards them himself.
Violence from a mentally ill person is usually retaliatory in nature."
Kabir Singh in Kabir Singh (2019)
Shahid Kapoor stars in this story of a megalomanic surgeon who turns to substance abuse when his girlfriend is married off to someone else.
"Although very different in the way they manifest it, Kabir Singh displays symptoms of obsessive attachment.
Even though the movie ends in a 'happily ever after', in real life if a guy were to do the things he did to his lover, she would have felt immensely suffocated and ended the relationship.
He also suffered from addiction which destroyed his personal as well as professional life."
Thanos in the Marvel Universe
Thanos, the antagonist of the Avengers series, planned to kill half of all life in the Universe. Believing the Universe was running out of space and resources, and that wiping out half the population would restore the balance, he took matters into his own gauntlet.
"Thanos believed that only he can save the world. And in that quest, all the deaths seemed justified to him. This is a clear indication of a manic thought process.
More specifically, it is a thought disorder known as megalomania. In simple terms, it is defined as delusion about one's own power or importance."
Raghav Purohit in Badlapur (2015)
In this revenge drama, Raghav's (played by Varun Dhawan) life turns upside down after his family gets killed in a bank robbery gone wrong. He waits for 15 years to plot the perfect crime of vengeance.
"While Varun Dhawan's character in Badlapur doesn't fully qualify to be an indicative of a mental illness, his actions could be signs of complicated grief and post traumatic stress."