Representative still: Dil Dadakhne Do
We asked all the wrong questions about wine, so you don't have to
Swirl, sniff, sip, hic
Pardon my naivety, but I believe wine is the Fyodor Dostoyevsky of beverages. It's high-cultured, formidable and intimidating. And drinking it is no less than some performance art. Without a guide to wine, you'll resemble a whirling dervish as you swirl the ruby red, on the brink of losing your grip on the stem of your glass.
For years, I avoided the wine experience and stuck to the tried-and-tested crowd puller, rum and coke.
In unfortunate occasions where I landed myself in all-wine gatherings, the grapevine deemed me a disaster. Wine geeks (arguably more judgemental than grammar Nazis) didn't want to extend a second invite.
I wouldn't blame them though. I almost fell silent after they shot looks of disgust at me when I confessed, "They all taste the same – bitter". I didn't stop there. From adding ice to my glass of shiraz and guzzling it down without smelling it, to touching the 'bowl' of the glass, and of course, struggling to pronounce cabernet sauvignon (in my defence, I was already a bottle down), I've done it all.
Wine is so layered and high-maintenance that it unknowingly triggers simpletons like me. It leaves stains so you resemble a vampire more than a sommelier, and comes in more hues than an Asian Paints booklet. But there is great joy in winding your way through a great bottle of wine.
Sommelier Gargi Kothari, founder of Magic Cellars, shared her guide to wine while answering some ridiculous yet valid FAQs so that freshers like me could finally cross over to the deep, dark and delicious side.
A beginner's guide to wine — drinking, sniffing and swirling
I thought there were only two kinds of wine — white and red, until I was made fun of. How many varieties actually exist?
It can be confusing. There are over 200 kinds of wine in the world. But freshers can start with these:
Sparkling wines have bubbles in them. They are made around the world and not all of them are called Champagne. Champagne comes from the Champagne region of France. Prosecco, the famous Italian bubbly comes from the Veneto region. Cava is the sparkling wine of Spain and Germans call their sparklers Sekt.
Top pick for beginners: Chandon Brut NV, ₹1,650
White wines are made with white or black grape and are fermented without the skin of the grapes. These are light and zesty, and show more citrus and tropical fruit notes with a medium to crisp acidity. White wines fermented along with the skins are called orange wines and are heavier and more full-bodied.
Top pick for beginners: The Daily Dose White, ₹750 and Oakwood Vineyards Bella Blanc, ₹600
Red wines come from red grapes fermented along with the skins. That's where red wines get their red/ruby colour from. Red wines also have tannins (a naturally occurring polyphenol found in plants, seeds, bark, wood, leaves, and fruit skins), which give the wine a mouth-drying effect along with the capacity to age.
Top pick for beginners: Riesha Shiraz Reserve, ₹850; Reveilo Nero d'Avola, ₹745 and Vallonné Merlot, ₹1,320
Fortified wines are wines in which alcohol has been added separately. These are sweeter and consumed in smaller quantities, usually at the end of a meal.
Top pick for beginners: Harveys Bristol Cream Sherry, ₹5,149
Dessert wines are sweet, complex and can age for decades, commanding very high prices. Examples include Sauternes from France, German Trockenbeerenauslese and Eiswein, and Vin Santo of Tuscany.
Top pick for beginners: Arka Honey Wine, ₹1,050
Is calling the wine full-bodied offensive? Am I body shaming it?
Wine comes in three body types – light-bodied, medium-bodied and full-bodied.
Imagine a sip of water versus fresh fruit juice versus a swig of milk. Water feels the lightest (light-bodied), fresh fruit juice is slightly heavier (medium-bodied) and milk feels much heavier and the taste lingers on (full-bodied).
Light-bodied ones have high acidity and contributes to the lightness, while full-bodied vino will have a high level of tannins and are richer in flavours. Ageing wine in oak barrels also adds structure and tannins, making it heavier.
Why can't I just drink wine in my coffee mug?
Why limit yourself to the coffee mug? Use a pitcher, saucer, or better still, the kadhai. Whatever gets you wasted. But, if you want to enjoy wine to the fullest, let's start from the bottom — a wine glass always has a stem because you aren't supposed to touch the bowl of the glass as the warmth from your hand gets transferred to the temperature of the wine and changes its taste.
Pour wine only till the widest point in the bowl because the wine needs space in the glass to aerate and interact with oxygen in the air to express aroma.
Seventy percent of your palate is made of olfactory senses, so what you smell is what you taste. Always choose a glass with a narrow mouth as it concentrates the aromas and sends to your nose.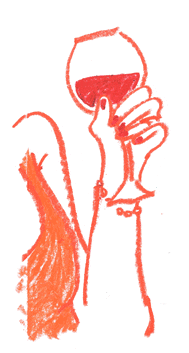 I lose my hand-eye coordination while drinking wine. Why does every guide to wine insist on the drinker smelling the glass?
It can be a task. A five-step task:
First, see it. The colour could help to determine the grape varietal. Sauvignon blanc will always be lemon green in colour as compared to Chardonnay, which has a lemon yellow tinge. Shiraz is slightly purple, while a pinot noir will be ruby in colour.
Second, swirl it lightly twice or thrice. Vino packs in a lot of aromatic compounds: phenolics, esters and carbon compounds which are responsible for its aroma. Let these interact with the oxygen.
Third, sniff it. Take small sniffs to activate your olfactory senses.
Fourth, sip it. Take a small sip, about 20-30ml. Let it run across your palate to activate all the taste areas for a complete experience.
And finally, savour – drink up.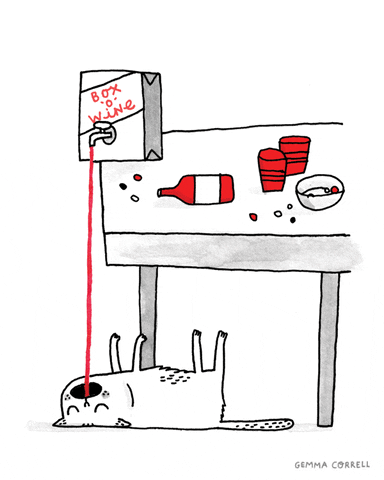 Can I store wine in the fridge and microwave it before serving?
If I could, I'd roll out lifetime imprisonment to every drinker who nukes the rosé, the ruby or any wine.
Store them in the fridge, including the reds, yes. And take them out 20 minutes before drinking, so they warm up a bit. Cold temperatures ensure stability of the wine, preserves its freshness and delays ageing. It's also the reason why most wine cellars are located underground or in the basement where the temperatures are lower than usual.
In your guide to wine, does changing colour mean it's going bad?
Red wine, like our hair, loses colour as it ages. But you won't notice any change once you've opened the bottle. If that's happening, we fear you're drunk already.
Red wine goes from deep ruby to scarlet to brick red, and ultimately settles for an rustic brown. White wines goes from light lemon to slightly golden to a deeper golden and lastly, a brownish shade. Like they say, wine gets better with age (applicable to only five-10% of the top wines in the world, most wines are meant to be consumed within two-four years) — the only cause for concern is if it begins to look murky and hazy.
How do I avoid looking like a vampire after drinking a glass of red? Can I brush my wine teeth off? 
Although you don't appreciate wine's efforts to replace MAC's rouge lipsticks, red wines take their alternate career really seriously.
Some have a highly concentrated colour, especially, the full-bodied ones. They will colour your teeth and mouth, and make you Halloween-ready. The colour goes off a little bit when eating, but there's no great escape here.
Don't brush after drinking red wine since it has acids that can erode your teeth enamel. In fact, the evenings you indulge in red wine, skip brushing before going to bed to protect your pearly whites.
Guide to wine slang — talk like a sommelier:
Tannin: The natural compounds add the bitter dryness in wine. These guys are found in red wines as red wines are fermented along with the skins and the tannins come from the skin of the grapes. PS: Blame the tannins for the dryness in your mouth while drinking the wine, and the headaches that follow the morning after.
Acidic: A wine that boasts of high acidity causes that mouth-watering feeling. It's more dominant in white wines than reds, and provides the freshness and lightness to the drink. But too much acidity can turn make the wine taste too tart, thin and off balance.
Balance: It means 'all is well' and harmonious in the glass. No flavour is eyeing for dominance, or screaming for attention. It's equal parts sweet and fruity, bitter and acidic. It's a match made in the cellar.
Fruit-forward: Pretty self-explanatory, the flavour is driven by fruits. Although fruity wines are often considered the underdogs of the snooty wine cellars, fruity vinos can often cut down the excess acid and tannin to achieve the 'balance'.
Earthy: It's generally used to describe a red wine that doesn't express a sweet, fruit-forward flavour. Think mud, grass and soil.