Photo: Amazon Prime Video
Doordarshan defined our childhood. Now at 60, it's itching for a comeback
Ok Boomer, you win
June 25, 1983: 40 people packed into a room like commuters jostling on the Kolkata metro during peak hours. Cups of chai emptied and bhajiya disappeared faster than they appeared. Collectively orchestrated screams, swears and laughter formed an eight-hour long performance.
Notwithstanding the bouts of load shedding that plagued the afternoon, the day remains one of my father's favourite memories. It was the first-ever watch party he hosted, like many Indians across the country. "We were the only ones with a TV in our neighbourhood. Doordarshan (DD National) telecast the match live, and the entire para (lane) came to watch the World Cup final at our house," he says.
As Kapil Dev lifted the trophy after defeating the West Indies (Can't wait to watch Ranveer Singh recreate that moment next year in cinemas), Doordarshan made sure nobody missed it. And over the next decade, DD established itself as a prime catalyst in family bonding, community building and superlative PG-13 content. 
The Make-In-India broadcaster, turned 60 this year, but unfortunately, most of us streamers and binge-watchers will never understand the hype. It's rather sad that DD is little more than a televised Wikipedia of agriculture, i.e Krishi Darshan. And a very vague memory of Mowgli's 'Jungle, jungle baat chali hai'.
Be kind, rewind to Doordarshan's hay-days
Times weren't always this bleak. If you don't believe me, ask your parents, grandparents, and if you have access, Shah Rukh Khan. After all, he made his screen debut on Doordarshan with Dil Dariya. Back in the '80s, it was a launchpad for many household names. 
Actor Shernaz Patel, who also made her debut on DD National with Mahesh Bhatt's tele-film, Janam, almost tears up as she remembers the golden age. "If you opened the front door at 9pm on a Wednesday night, you'd hear Khandan's title track play in every single house," she says.
When her character got pregnant on the show, strangers on the streets congratulated her. Doordarshan gave India her first generation of accessible celebrities. "Today, people are spoilt for choice. Back then, it was a new medium that everybody was discovering together. It brought people together," says Patel. 
Doordarshan in the '80s
Times were simpler and the plotlines, even more so. "We made stories for the family, rooted in Indian ethos. Everything was realistic," says Patel.
We agree: nobody on DD went to sleep in heavy zardosi saris and woke up with their mascara in place. The makers weren't obsessed with screeching saas-bahus either. There was something for everybody: breakfast was with Mahabharata, Simi Garewal was still talking to celebrities (It's A Woman's World), and sitcoms (Dekh Bhai Dekh, Shriman Shrimati and Zabaan Sambhal Ke) chronicled every Indian family's daily adventures.
You call it basic, they call it memorable. Patel sums it up rather succinctly. "We were million years ahead of the '90s TV shows, and even with all the content being created on streaming platforms, I'd still say Doordarshan's content was in a different league."
Doordarshan in the time of Netflix
Now there are more OTT platforms than hours in a day. At 9 pm, my Dad streams Arnab Goswami's scream fest on Hotstar, mum is raging with Raja, Rasoi Aur Anya Kahaniya on Netflix and I am bingeing The Office on Amazon Prime for the 6th time. It's a nightmare to host a watch party because finalising a show is as difficult as ordering just enough khaana for a house party.
Doordarshan is still a channel we are forced to watch when it comes to sports. Remember that time when rain disrupted your Tata Sky and WiFi connection and India was playing New Zealand in the World Cup semis earlier this year? Yes, DD may have been the last resort, but it didn't let us down.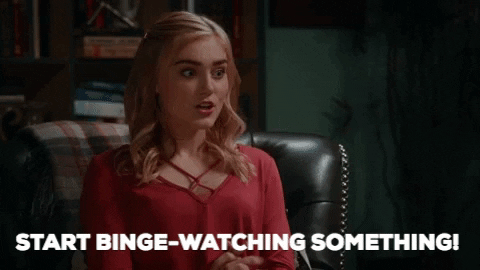 Fun Fact: In January 2019, Doordarshan also announced that it is working towards launching its own OTT platform; it will bring back the content that made the entire country go into a frenzy. A classic case of old wine in a new bottle. While we wait for that to happen, a lot of Doordarshan shows are already streaming online.
Here's what you can catch up on:
Malgudi Days:
RK Narayan's short stories showcase the trials and tribulations of people living in the nondescript town of Malgudi. Available on Voot
Bharat Ek Khoj:
Shyam Benegal's legendary show based on Jawaharlal Nehru's book Discovery of India is a lesson in India's 5,000-year-old history. Available on YouTube
Dekh Bhai Dekh:
The much-loved family comedy explores the daily struggles of three generations of the Diwan family. Available on Hungama Play
Shaktimaan:
Before Marvel and DC took over, desi superhero Shaktimaan saved the day with teleportation, telekinesis and telepathy, among other powers. Our favourite superhero in maroon cape is back. Available on Amazon Prime
Fauji:
Three words, one name: Shah Rukh Khan. He made a mark on this Doordarshan show about trainee commandos in the Indian Army before making his Bollywood debut. Available on Amazon Prime