Sweet, messy and memorable, this May watchlist is like devouring a dozen Alphonso mangoes
For aam janta's eyes only
As I gorged on the first batch of dasheri and mom made ghar ka favourite summer drink, aam ras, I realised there's nothing aam about the month of May this year. Mercury is rising on the weather app and across our temperaments too. The layers of patience are being haphazardly peeled off, as we trudge into the the hottest month of the year, surrounded by a pandemic that won't quit. Our collective mood feels like watching a juicy Alphonso being divided between family and ending up with the seed.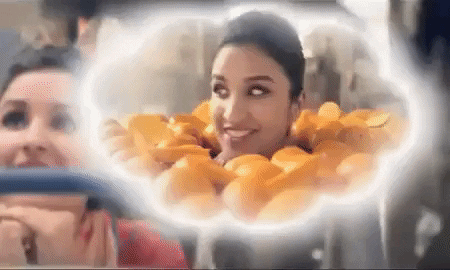 But if we are going to get through this together, remember that before you look after anybody else, you need to take care of yourself first — physically and mentally. Even if it means falling back on that tried-and-tested coping mechanism: escaping to the streaming universe.
Pat yourself for managing to couch hop from one show to another movie, while safely distancing from the outside world: it's on top of our daily to-do list too.
Last year, we entered the crowded marketplace of arranged marriages in Indian Matchmaking. Some days were single-handedly won by re-runs of old favourites, while on others, we looked for new potboilers to stir our imagination. This May, we've loaded a watchlist with family drama, popular book adaptations, documentaries and a touch of Anne Hathaway and Morgan Freeman. Of course, we can't resist it. Much like the post-dinner mango(es).
This May watchlist promises to be a sweet, messy experience
Sardar Ka Grandson
We can all use a feel-good family drama right now, and director Kaashvie Nair's debut seems to have heard our wish.
In Sardar Ka Grandson, an ensemble drama, Neena Gupta plays Sardar, the effervescent matriarch of the Amritsar-based family, whose only wish in life is to travel back to her ancestral home in Lahore.
Her grandson, (Arjun Kapoor) tries every way possible – legal and other jugaads – but when he only faces rejections, he switches the narrative, and decides to move the ancestral home to Amritsar instead. Because… it's all about loving your family, remember?
Will his OTT plan find takers and how far will he go for his grandmother?
Watch on Netflix from May 18
Solos
Seven solo acts, seven brilliant actors, one idea: how to keep humanity alive even during our most isolated moments. Relatable much?
Prime Videos's upcoming drama is a seven-episode series starring Morgan Freeman, Anne Hathaway, Constance Wu, Helen Mirren and others. Each of them takes us on a lonely, isolated journey in an unidentified time and place, to touch upon stories of human connection, finding light at the end of the tunnel, dealing with difficult days, heartbreaks and finding peace in solitude.
Since the platform hasn't dropped the trailer yet, we don't have enough details, but a show with a star cast like that, we'd be fools to skip.
To release on Prime Video later this month
The Woman In The Window
Based on AJ Finn's 2018 novel by the same name, Joe Wright's adaptation locks us up in an apartment with Dr Anna Fox (Amy Adams), an agoraphobic who is confined to her New York flat after a car accident. She starts observing the world from her window, and strikes up a strange friendship with Jane Russell, a woman who lives in the building across the street.
But soon she witnesses an incident in the Russell household and that throws her down the rabbit hole of conspiracies and investigation.
PS: Alfred Hitchcock enthusiasts, who have watched Rear Window 430 times, can cue this up with no second thought. It's right up your psychological thriller alley.
Watch on Netflix from May 14
Alma Matters: Inside the IIT Dream
What's the price you're ready to pay for your dream education and job? And what if there's no room for negotiation here?
Netflix takes us into the campus of IIT Kharagpur, where every year a new batch of aspiring engineers sacrifice more than just their social life and mental peace to stay focussed on the bull's eye – the shining degree.
Director Pratik Patra and Prashant Raj uncover the inherent sexism, stiff competition and every IIT-ian's battle to protect their identity in this three-part documentary. Adding a touch of dark humour is comedian Biswa Kalyan Rath, an alumnus of the premier institution.
Watch on Netflix from May 14
The Underground Railroad
Finally, the wait is over.
Colson Whitehead's 2017 Pulitzer Prize-winning novel by the same name is coming alive on screen, thanks to Barry Jenkins's (of Moonlight fame) 10-part web series. A piece of alternate history, the series is set in 19th-century, where Underground Railroad is a tunnel that American slaves used to flee to freedom.
The series chronicles Cora Randall's (Thuso Mbedu) exit strategy from Georgia Plantation, to find the fabled Railroad, and eventually, azaadi. Once she reaches the destination, she meets engineers and conductors in the secret network of tunnels, but she is being pursued by bounty hunter Ridgeway (Joel Edgerton), who plans to bring her back to the plantation.
Freedom, equality and a fight for one's rights are towering themes in The Underground Railroad, the novel, and we believe it will translate magnificently on screen.
Watch on Prime Video from May 14
Move to Heaven
There's something about K-dramas. They're as addictive as K-serials, they are loaded with melodrama, sappy songs and every emotion in the human vocabulary. Most importantly, there's a new one in the offing.
Director Kim Sung-ho's Move to Heaven is inspired by "Things Left Behind", an essay by Kim Sae-byul, a former "trauma cleaner". Gu-ru, who has Asperger syndrome, and his uncle Sang-gu (Lee Je-hoon) meet at the death of Gu-ru's father. They start a crime scene cleanup business, and through their new job, they discover the past of the deceased and undergo a sentimental and emotional upheaval.
Watch on Netflix from May 14
Out of Love (season two)
In the picturesque hills of Coonoor, we are drawn into the life of Dr Meera (Rasika Dugal), who begins to suspect her husband Akarsh's (Purab Kohli) loyalty. In season one, we saw her dig up evidence and lose her sanity as she catches her husband red-handed.
Now, in the second season, Akarsh is back to reclaim the relationship, make amends and bond with his estranged son. While the show still revolves around Meera, the complexity of emotions have grown manifold, as she navigates her life after a broken marriage, in a town, where she feels like an outsider.
This is an emotional roller coaster that isn't wrapped in niceties or sugarcoats the aftermath of an extramarital affair.
Watch on Disney + Hotstar
Toofan
It's been eight years since Bhaag Milkha Bhaag released. The director-actor collaboration of Rakeysh Omprakash Mehra and Farhan Akhtar returns with yet another sports drama.
Akhtar plays Ajju Bhai, a small time gangster from Dongri living the thug life busy with con jobs. But after he falls in love with Pooja (Mrunal Thakur), he decides to give life a second shot, and trains to be a national level boxer.
As Akhtar's character steps out of his comfort zone to reshape his life, Toofan is a reminder that no matter how down and out we feel, there's always a room for a second chance.
Watch on Prime Video from May 21