Photo: Mayank Mudnaney
'I quit shopping and saved nearly Rs 2 lakhs in one year'
Confessions of a reformed shopaholic
Fifty pairs of shoes — stilettos, wedges, mules and boots. Trunk loads of accessories and several racks of clothes — some with the tags still intact. Mumbai-based filmmaker Tunali Mukherjee's ever-expanding wardrobe looked like a factory outlet.
For over a decade, shopping has been a sense of validation. Swiping her own money made her feel powerful, in control of her life. She admits to spending approximately lakhs expanding her wardrobe without actually wearing most of it.
"I shot a wedding in Udaipur once and bought 15 pairs of jootis on that trip. Another time, I was at a casino in Singapore and won 500 dollars. I spent the whole amount on shoes I had spotted earlier that day."
Most aged in their boxes without seeing the light of day.
In 2018, she lost her dog and went through a rough patch. As a form of escape, she went on a Vipassana retreat, where she wasn't allowed to carry any accessories or flashy footwear, even slogan T-shirts were banned.
Mukherjee calls it "freeing". "I realised the excess I was holding onto, and thought that somebody else could make use of it all. The clothes and shoes deserved a better life."
She quit shopping, and gave most of her wardrobe away, to friends, colleagues and charities.
Her friends didn't believe she was serious. "We'll see how long this lasts," they challenged her. Her mom – an impulsive shopper and designer – was aghast. She often dragged her to Westside and other stores to lure her back to the cart.
But her father could see the lack of utility behind those closed cupboard doors and her partner, a minimalist himself, who swears by sustainable living, became her unofficial vigilance officer. "Every time he caught me scrolling through any retail site, he reminded me, 'What happened to your plan to quit shopping?'"
Mukherjee purged her wardrobe, first discarding everything she hadn't worn in the last six months, then bringing the filter to two months.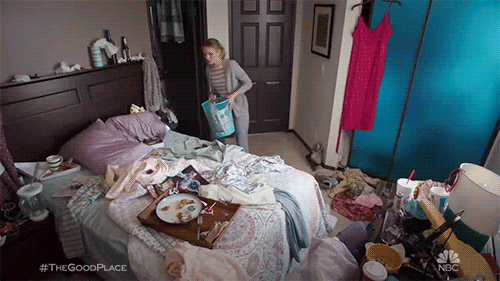 She deactivated her virtual money wallets, set limits on her credit card and debit card expenditure, and installed GPay on her father's phone."Anytime I needed to buy something, I had to go via him. He didn't stop me but it became like a check box. I also added items to cart without buying them to calculate the money I saved — close to Rs 2 lakh the first year. It was incredible to think of all the places I could travel to with the savings," she says.
As the guilt of buying things she wouldn't use receded, an imaginary dumbbell was lifted off her chest — Her clothes, like her conscience, had more space to breathe, and she held onto only the pieces that really mattered: her favourites, a few objects of sentimental value and a couple of investment pieces.
There were triggers every now and then — sale advertisements, shopping apps and their notifications — but the withdrawal symptoms didn't throw her off the edge.
During Durga Puja, where wearing new clothes on all five days of the festival is a norm, she struck a deal with her parents. "I told my mom that this idea was planted in the older generation's heads because people didn't shop often. So they made an event out of it. Now if I want to, I can shop at 2am if I'm not getting sleep. When mom refused to listen, I asked her to not get me a full outfit, but just a pair of pants or a blouse that I could wear in multiple ways," she says.
A pair of pink-striped pants that she paired with an unused sari from ages ago, resolved the crisis.
But a major roadblock was waiting for her in 2020, a year into her quit shopping movement. Covid thwarted all her plans, including her wedding, and Mukherjee "relapsed really badly". "Just waiting for a package seemed gratifying. I bought one too many bikinis, but when the realisation hit a month later, I gave most of those away too."
She diverted the shopping triggers to a letter-exchange project. Mukherjee completed Yale University's Science of Well-Being course, and discovered the Happiness Lab Classroom on Facebook, a community of people sharing joy in various forms. She posted a cry for help there. "Guys, I need postcards. Send me stuff from wherever you are, and I will write back to you as well."
Between September and December, Mukherjee sent 30-40 postcards across the world.
Quit shopping, embrace minimalism
While the wardrobe and the shelves feel lighter, watching the items finally being used or reused gives her a new kind of high – the joy of giving.
All the space in her closet opened new doors of perception for Mukherjee. She paid off her credit card debts, and introspected on her own needs. "If I spend Rs 40,000 on a ticket to Iceland, at least I'll see the northern lights and feel great about it. But nothing about shopping makes me happy anymore. Travelling has complemented my purging spree," she explained.
She now avoids marketplaces and doesn't feel the pressure to hop on trends or compulsively spend money. "When I get married, I'll either rent my trousseau or get a friend to make it. I am done pumping money into the fast fashion machinery. I value handmade, artisanal things now, which may be slightly more expensive, but this is my way of supporting local businesses."
If you're inspired to quit shopping and follow in her footsteps, Mukherjee advises you to lower your expectations. "People won't support you. Be ready for the backlash. Ask yourself if you're doing it for social cred, or to feel good about yourself. That's the only way you'll know that your heart and wallet is in the right place."