Twinkle Khanna had a third baby, raced against a Wimbledon champ and thankfully, didn't need drugs to do it
Looking back on this rollercoaster of a year as Tweak India turns one
I am either incredibly productive in December or, more likely, terribly drunk, because inevitably all my babies have popped out, nine months later in September. Including Tweak, who turns all of one this month.
I started this quest with gleeful excitement. Along the way there were a multitude of mishaps and adventures. Some were minor. Like when we decided to launch Tweak with a short video. Taking the notion of giving birth to an idea rather literally, I found myself on a bed with a pillow masquerading as a pregnant belly. I was then meant to huff and puff, pretending that I was in labour with a digital platform stuck up my uterus.
This clip, like many of my celluloid ventures, eventually ended up as nothing more than part of a bloopers video, that you will see at some point this month.
We were chugging along when the pandemic delivered its sucker punch. Like the rest of the world, we withdrew into our homes, turning our beds into makeshift desks. The future seemed bleak as businesses started shutting down.
Tweak surprised us with its resilience and its loyal readers as we went from strength to strength. We engaged 1.9 million people with our stories. Our videos across platforms garnered over 39 million views. We even managed to start our very own book imprint with two books coming out this month.
It has been a year with a steep learning curve. A period filled with adversities, some that I still have trouble processing, but it has also been a time of contemplation. I thought I would share some of the things I have discovered. I hope that some of you find it beneficial, in a small way perhaps, as you navigate through your own altered landscape.
1. If enough bricks are thrown at you, you can use them to build a house.
It was the beginning of the pandemic. I thought dancing to Tamma Tamma Loge would be the Wonderbra to my drooping spirits. God decided I needed to be punished for my bad taste in music. I broke my foot.
When the cast came off, I began a virtual rehabilitation program. My physiotherapist pushed me a little and I slowly started doing squats and planks. At 46, two months after I fractured my foot, I started running. Something I had not done for over two decades.
I began by racing against my dog.
A month later, I decided to challenge an ex-Wimbledon champion to a short dash. I lost. But the race itself had been my victory.
My partner laughed at me, "Did you really think you were going to beat him?"
"Yes," I said, "I thought I had a good chance."
A sense of confidence, misplaced or otherwise, is an asset, but we will come to that a little later.
This one though is about how the worst, in hindsight, can turn out to be for the best.
As the pandemic cracks open our weaknesses, displaying chronic social inequality and a creaking health system, it is giving us time to examine what we truly value. It is teaching us to be kinder to those in need. The air is clearer. Organisations now realise that they can be more flexible as working remotely has proved to be an efficient system.
Perhaps this is the painful rupture we needed, our limping world breaking down completely so that we can learn how to run it the right way.
2. Don't put things on hold, life will disconnect the line shortly.
My grandmother passed away last year. She is the one who placed needles of various sizes in my tiny hands as I learned to knit and embroider. She taught me a lesson, moving fingers help still the mind. Her loss was crushing, but I found comfort in the fact that we had celebrated her birthday three times that month.
There were songs and candles on sugar-free cakes on a trip with the whole family. Later that week, on her actual birthday, she cut an apple pie with a gentle smile and tired eyes.
The time we had spent with her, cutting one cake after another, creating jubilant memories, gave me solace.
I had not been left holding a disconnected line, with silence at one end and regret at another.
3. Confidence is a magic carpet that can take you places, if you just conquer the fear of falling.
Our Tweak editor recently told me that if self-confidence was an Olympic sport, I would win gold. But for most of my life, I let my weight, or social awkwardness or even my inherent clumsiness keep me from doing all that I wanted.
I haven't suddenly become skilled at everything; I'm just not afraid of failure anymore. Each time I am faced with a new opportunity, I now ask myself, what is the worst that could happen? So I take a leap, sometimes I fall flat on my face but you know what, often enough, I do manage to ace that Produnova.
4. If you pay attention, the Dalai Lama will drop by occasionally for a home visit.
The grass was damp and our bottoms slightly wet as we watched a yellow butterfly flit around a shrub. My little one was fascinated, "Mama, butterflies are so amazing! First, they are caterpillars and then they change. They have two different lives! How many do we have?"
I replied, "I think we have just one. It's not that lucky to be a butterfly. They have a short life, most only live for two weeks, some just for a day."
She was quiet, making circles with a stick in her hand and then she said, "It's not short if you don't waste it! It's not how long you live, it's how many lives you can live at one time, isn't that true, mama?"
And just when I thought that the Dalai Lama had been reincarnated in the form of a pigtailed little girl, she said, "You know what else is amazing, mama? Poop! It has the same spelling back and front."
5. Words are powerful creatures.
I received a message from a woman who had been diagnosed with terminal cancer. My book helped show her 'life is what you make out of it and it can be laughter all the way.' It cheered her up immensely and encouraged her to leave a journal for her three kids.
I wrote back to her and as odd as it seems, I cried. For someone I didn't know. It was a tiny word that did it. Kids.
I could feel her despair. It was not around her possible physical discomfort. Pain doesn't frighten mothers as much, our bodies have been ripped in half before. It is the thought of the anguish that our children will feel because of our absence that smashes us to bits.
That one word formed a bridge between her life and mine.
Words are powerful creatures. They are ropes. They are conduits. They are sanctuaries. Mine gave a stranger joy, hers moved me deeply.
I see so many women, especially on Tweak Connect, our Facebook group, forging bonds and finding support as they share their stories. And what are stories except connecting threads, braided out of simple letters, strung across loss and joy?
If last September, someone had told me about all the devastating events waiting around the corner, I would have reacted like Arnab, in that recent viral video. I too would have flailed my arms and screamed, "Mujhe drugs do, mujhe drugs do," so that I could pass the year in a stupor.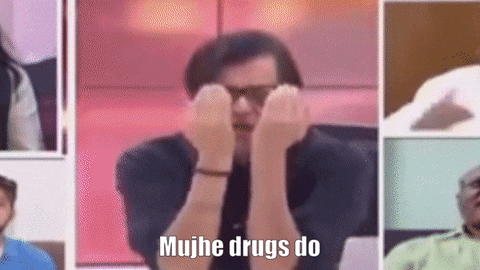 But we survived it all and that itself is worth celebrating as much as Tweak's first anniversary.
Tweak is a telescope that brings distant objects closer. A microscope that takes minuscule elements and makes them bigger.
Tweak is a still puddle, where you can stare at your reflection. Or if inspired, set sail a paper boat on its merry mission.
It is a screwdriver, one you can gulp down, or use to open bolts and peer at moving circuits.
It is a bottle of pills, each one a tangy, chewy, gummy bear.
It is what you want it to be.
Come put on your party hats and laugh with us, (or at us, when you see our blooper reel) all month long.