Representative photo: Jaane Tu... Ya Jaane Na
Was being a rakhi brother the ultimate Indian friend zone?
When people just can't take a hint
Before American pop culture introduced us to the idea of the controversial 'friend zone' — that romantic purgatory where overly-persistent suitors languish, refusing to accept no for an answer — Indian women had already caught onto the dual purpose of the rakhi. Raksha Bandhan started out as a celebration of the love and kinship shared by siblings. But it offered up a socially-approved solution to permanently shut down those Overbearing Omkars or Hopeful Hanifs.
Zara* remembers using it as the final nail in the coffin for one guy who just couldn't take a hint. No matter how politely or subtly she would try and distance herself, or turn down his advances, his flirting didn't stop.
She didn't want to hurt his feelings or be bullied by her teenage peers for "leading him on" — blame for problematic behaviour always laid squarely on the girl — so she decided there was only one thing left to do.
She rakhi brother-ed him. It took Raksha Bandhan for him to finally get the message that it wasn't going to happen.
In the blink of an eye, that sacred string coils itself around the wrist, forever dooming any future prospects. It's the reason teenage boys avoid eye contact with their crushes for 24 hours, like they're in a live-action PUBG tournament.
They'd rather get a friendship band than a rakhi and be called bhaiya. Because pyar dosti hai, remember?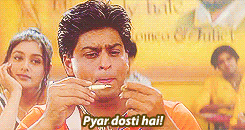 "I was unfortunate enough to be rejected using a rakhi," laughs Samved Agrawal. "I was 15 and a pretty shy guy. I was building up courage to ask a girl out after school. We'd been talking things up for two-three weeks and I thought I was all set. Then I was given a rakhi. How my dreams came tumbling down."
It's 2020 now and hopefully, we're reaching a point where people of all genders can open up and effectively communicate with each other about their feelings.
That those men we've previously had to 'rakhi brother' can take a hint and accept a 'no' for what it is. And rakhis can go back to being a sweet ritual between siblings who don't have a choice but to sit and pose for a photo together because of Mama and then go back to pranking and pinching each other, behind her back.